This is an old blog post that is largely outdated.  But we have a 2023 update at the bottom of the page.
Frequent readers of this blog will be aware of the litigation against Bayer/Johnson & Johnson regarding their drug Xarelto. The cases are consolidated in federal court as Multidistrict Litigation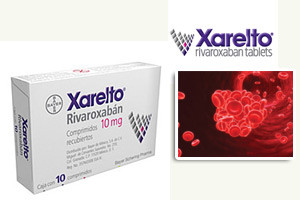 (MDL), and the presiding judge is moving proceedings along.
November 2017 Update: we have not lost three of these cases in a row
January 2018 Update: we just got a huge verdict that will change the course of this litigation forever
Summer 2015 Update
Over the past few years, product liability suits against the makers and marketers of the drug Xarelto, Bayer/Johnson & Johnson, have been cropping up across the country. The suits are mostly filed in federal court, meaning the parties consolidated them as an MDL. Judge Eldon Fallon is the sole judge presiding over the MDL, giving him the ability to make all pretrial rulings. This is the great thing about an MDL; when many different cases are consolidated, the parties can avoid doing the same discovery over and over again, while getting consistent rulings from a single judge.
Judge Fallon has made an important ruling, proposing that fifty plaintiffs be selected for a bellwether trial "pool." These cases will go through plaintiff-specific discovery and then a series of trials to help the parties get a feel for how their cases will play out. Judge Fallon issued a discovery and trial schedule, which called for the first trial regarding Xarelto to begin on August 1 of next year. Three more trials will (hopefully) then take place over the following September. Judge Fallon recommended that the first two trials take place in his district, the Eastern District of Louisiana. The third and fourth cases could then take place in Texas and Mississippi respectively.
Judge Fallon was even treated to a Xarelto science fair, where parties from both sides informally presented information to the court about the medical/scientific issues that will likely crop up throughout the litigation.
Why This Litigation Is Happening
Xarelto is a blood thinner that was introduced back in 2011. It was hailed as a better alternative to Coumadin, which was used to treat individuals who were at risk of blood clots from deep vein thrombosis or pulmonary embolism. Chances are you have probably seen a Xarelto commercial. Chances are you have also probably seen a commercial for a law firm advertising representation for Xarelto cases.
The drug has been a huge cash cow for Bayer/Johnson & Johnson, meaning they have gone all out to market it throughout the United States. All blood thinners indeed have a risk of bleeding injuries, but Xarelto has been linked to an alarming number of issues, including severe bleeding and a few fatalities.
The main draw of Xarelto was that users do not have to undergo blood monitoring like they would if they were on Coumadin. This is being refuted though, with various studies suggesting that Xarelto users would benefit from blood monitoring since it would allow doctors to know who is at greatest risk of bleeding. When Xarelto lawsuits started rolling in, plaintiffs claimed that Bayer/Johnson & Johnson failed to warn patients about the bleeding risks associated with the drug. This was a huge deal considering that no antidote or reversal agent can be used to stop excessive bleeding caused by Xarelto.
Other anticoagulants have also come under fire over the past few years, including Pradaxa. That drug's manufacturer, Boehringer Ingelheim, ended up forking over $650 million to settle the claims against it. Bellwether trials tend to ramp up settlement negotiations and move MDLs along. Hopefully, the same will happen here.
Xarelto Litigation Heading South in 2023
The Xarelto lawsuit have virtually all settled or have been dismissed in 2023.  We are unaware of any law firm taking on new Xarelto cases.