Last year,  the FDA announced a Class I recall of the Baxter Sigma Spectrum infusion pumps due to a defective alarm that has already resulted in 3 patient deaths and 51 serious injuries. Patients who were injured by a malfunctioning Baxter infusion pump may be able to file product liability lawsuits and seek financial compensation from the manufacturer.
This year, in September, there was B. Braun infusion pump recall. We talk about both here.
What is an Infusion Pump?
An infusion pump is a device that delivers controlled amounts of fluids, including medications and nutrients, into a patient's body. They are used in hospitals, nursing homes, and sometimes at home. A trained medical professional uses built-in software on the pump to program the fluid delivery duration and rate. Infusion pumps deliver fluid at precise rates and automated intervals.
Infusion pumps come in different forms, including large volume, elastomeric, syringe, patient-controlled analgesia, syringe, enteral, and insulin pumps. Some are intended for stationary use by a patient's bed, while others are wearable or portable.
Infusion Pump Safety Features
Infusion pump errors can harm patients because the devices administer critical fluids, including insulin, antibiotics, and chemotherapy drugs. For this reason, most infusion pumps have extensive safety features designed to minimize the risk of harm from both user error and device malfunction.
Common infusion pump safety features include warning alarms that activate during a medical emergency. Some pumps alert users when the device detects air or other blockages in the tubing. Smart pumps warn the user when there is an adverse drug reaction risk or when the user-set pump parameters are outside of the safety limits.
March 2022 Baxter Infusion Pump Recall
On March 11, 2022, the FDA announced that Baxter Healthcare was recalling the SIGMA Spectrum Infusion Pump with Master Drug Library and the Spectrum IQ Infusion System with Dose IQ Safety Software. The medical device manufacturer recalled these products after numerous reports of a safety alarm malfunction. The alarm on the pumps was failing to trigger in the event of upstream occlusion events.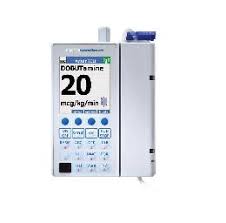 Failure to properly resolve these events before resuming the infusion was preventing the pump from re-alarming. When this occurred, the infusion pump may appear functional with all alarm features operating even when the alarm was not reset properly. The announcement warned that using these affected products may cause adverse health effects, including death.
Baxter's Safety Communication on its Spectrum Infusion Pumps
On February 17, 2022, Baxter International announced that it issued an Urgent Safety Communication regarding the Spectrum V8 and Spectrum IQ infusion pump's upstream occlusion alarms. It reported that an improper setup or an inadequate resolution of the upstream occlusion alarm may affect the medication delivery. This communication was not a recall. Baxter assured customers that they may still use these devices. However, it advised that they should resolve the upstream occlusion alarm before restarting the pumps. The company also reported that an improper administration setup or an inadequate resolution of the upstream occlusion alarms resulted in 51 severe injuries and three deaths over five years.
Baxter's Urgent Medical Device Correction for IQ Infusion Pumps
On August 24, 2021, Baxter announced its Urgent Medical Device Correction for all Spectrum IQ infusion pumps. The company reinforced safety information regarding customer-initiated changes to serve systems and network configuration. Baxter reported that two Spectrum IQ customers informed them of system connectivity errors in several pumps that followed customer-made network and server system configuration changes. These errors halted pump processes, including fluid delivery. The customers reported that they resolved these errors by restoring the server system and network performance to normal levels. Baxter reported these specific errors caused no adverse events or patient injuries. However, it also reported that certain factors, including delay length, infused medication type, infusion volume and rate, patient status, and comorbidities may cause adverse health effects, including death, in the future.
Baxter reported that it created a software update for the Spectrum IQ pumps that assist with the device's response to unstable server systems and networks.  The update will reduce stress on the pump's processing functions and memory if a server error occurs. Baxter announced that this update will be available in 2021's last three months.
Baxter's Dose IQ Software Version 9.0.x Recall
On July 7, 2021, Baxter announced that it recalled its Dose IQ Safety Software. This software program helps healthcare providers pre-program dosing information for medication administration for the Spectrum IQ Infusion System. Baxter recalled it because of a mismatched drug information defect that caused therapy delays and medication infusion errors. The FDA reported that the recall affected healthcare providers and patients who use the Spectrum IQ Infusion System pumps. Baxter instructed healthcare providers to use Basic mode and warn pharmacy departments if the pumps had a missing drug configuration.
Palo Alto Networks Study on Infusion Pumps
A recently published Palo Alto Networks study found that over three-fourths of infusion pumps contained cybersecurity flaws. This means that these devices were at high risk of being hacked. Researchers used IoT Security for Healthcare software to review over 200,000 infusion pump scans from various hospital and other healthcare organization networks. They found that the flaws included exposure to at least one out of 40 cybersecurity vulnerabilities. However, the researchers also found that these alerts and vulnerabilities would be impractical for hackers unless they were already involved in the organization. Nonetheless, they concluded that these cybersecurity flaws posed potential risks to healthcare organization security and patient safety.
Braun Infusion Pump Recall
In fall of 2023, over 10,000 B. Braun infusion pumps have been recalled due to a battery issue that could unexpectedly halt medication delivery, posing serious and even life-threatening risks to patients dependent on these devices.
| | |
| --- | --- |
| Product Names | Infusomat® Space® Large Volume Pump, Wireless and Infusomat® Space® Large Volume Pump, Non-Wireless BATTERY PACK |
| Product Codes | FRN Class 1 Device Recall Infusomat (fda.gov), Class 1 Device Recall Infusomat (fda.gov) |
| Model Numbers | 8713051U and 8713052U |
| Distribution Dates | October 26, 2022, to July 17, 2023 |
| Devices Recalled in the U.S. | 10,655 |
| Date Initiated by Firm | September 21, 2023 |
The FDA recently classified this as a Class I recall, the most serious type, after initial warnings in September. This classification stems from concerns that false alarms from the pumps could interrupt the flow of medication to high-risk patients, increasing their chances of injury or death. There have, the FDA reports, been 51 complaints, one reported injury, and one death related to this recall.
On September 21, 2023, B. Braun Medical, Inc. issued an Important Medical Device Advisory to all customers with affected infusion pumps. In the advisory, the company advised customers to:
Relocate the device to areas where only low-risk medications are delivered, avoiding the use of the device for high-risk medications.
Ensure the availability of a backup pump when infusing high-risk medications, allowing for the continued operation of the impacted device.
Additionally, B. Braun Medical plans to directly contact customers and dispatch technicians to replace the faulty occlusion pressure sensors in the pumps with a second source of qualified sensors.
The decision to recall was made after the manufacturer received over 50 reports of the pumps' battery packs causing false alarms. These alarms incorrectly signal a blockage in medication flow. The FDA has highlighted the danger of these false alarms, noting that they can delay or disrupt the delivery of critical treatments. There has been one reported injury and one death attributed to these issues.