TriStar electric pressure cookers have a design flaw that sometimes allows the device to pressurize without the locked lid. This defect causes the lid to explode when opened and projects scalding hot liquids over anyone nearby.
Users have suffered severe burns and facial disfigurement due to the lid defect.  These injuries are awful to deal with and they did not have to happen.
Our firm is seeking new product liability cases from anyone seriously injured by a faulty TriStar pressure cooker device. Users who suffered burns or other injuries from their TriStar instant pressure cooker may be entitled to financial compensation.
Contact our pressure cooker lawyers today to see if you can file a defective pressure cooker lawsuit at 800-553-8082.
TriStar
The defendant in these pressure cooker lawsuits this post focuses on is TriStar.  There are other pressure cooker lawsuits defendants as well.
Tristar is a New Jersey company that makes consumer products such as the Copper Chef Cookware, PowerFit, the Jack LaLanne Power Juicer, Contour (pillows), Genie Bra, and the pressure cookers at issue in these product defect lawsuits.  In 2023, Tristar was purchased by Wisconsin-based. Spectrum Brands, Inc.
Pressure Cookers
Electric pressure cookers (also called instant pots) have become very popular in recent years. Pressure cookers utilize pressurized hot steam inside a sealed canister or pot to cook food faster while keeping it moist and tender. All pressure cookers create steam by applying intense heat to the liquid contents of the pot (e.g., broth or water).
The pot of a pressure cooker must be tightly sealed to function as a pressure chamber. The steam increases the temperature and the internal air pressure inside the pot. This enables cooking temperatures inside the pot to rise above the normal boiling point.
The TriStar Power Pressure Cooker Lawsuits
TriStar's Power Pressure Cooker was patented in 2014 and is sold by major retailers such as Walmart and Target. It is one of the most popular and widely sold pressure cookers on the U.S. market.
The reviews for these pressure cookers are generally good.  But TriStar's Power Pressure Cooker has become the subject of many pressure cooker explosion lawsuits alleging that device users suffered severe burns when the lid malfunctioned and ejected hot steam or liquids.
TriStar Claims "Built-in Safety Features"
Tristar boasts that its pressure cookers are designed with "Built-in Safety Features" to keep users safe.  These safety features include a supposed "lid safety device." The "lid safety device" is intended to prevent the unit from building pressure if the lid is not closed correctly, as well as to prevent the lid from opening until all pressure is released.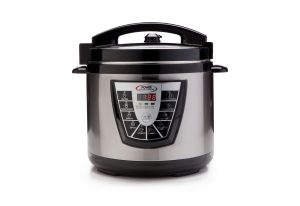 But TriStar's Power Pressure Cooker appears to have a design flaw causing it to explode even when the user follows the instructions and even when the pressure seems to be correctly released.
The design defect in the TriStar pressure cookers involves the steam release valve and the safe lock system on the lid. These safety components are supposed to prevent the Power Pressure Cooker from pressurizing unless and until the lid is shut and securely locked. Unfortunately, these safety features have flawed designs causing them to malfunction regularly and result in significant injuries.
Injuries Caused by Defective TriStar Pressure Cookers
When a TriStar pressure cooker malfunctions, it can result in devastating physical injuries with lifelong consequences. Pressure cookers heat their liquid contents well above boiling temperature. When the pressure cooker malfunctions, the lid, and the pressurized boiling liquids are ejected at high velocity. Anyone within a 5-10 foot radius of the pot is at risk of serious injury.
Burns from Pressure Cooker
The most common injury caused by defective TriStar pressure cookers are burns. The liquid contents of the pressure cooker are usually at or well above boiling temperature. When this boiling liquid is ejected onto the skin, it can cause 3rd and 2nd-degree burns.
Severe burns are the most frequent injury alleged in pressure cooker product liability lawsuits against TriStar. What makes burn injuries in pressure cooker cases particularly devastating is that the burns often occur on the face and cause permanent disfigurement.
The average settlement compensation for burn injuries is very high and facial burns with disfigurement can be very high-value cases.
Eye Damage and Vision Loss from Pressure Cooker
When a pressure cooker malfunctions and ejects boiling liquids it can cause severe burns and damage to the eyes. Severe burns to the eyes from boiling liquids can cause permanent vision loss or even blindness.
TriStar Knew About the Pressure Cooker Design Flaws and Did Nothing
TriStar was well aware of the problems with its Power Pressure Cooker and specifically the dangerous design flaws that could cause the ejection of boiling liquids. As early as 2015 (just one year after the release of the Power Pressure Cooker), TriStar began receiving a steady incoming stream of product incident reports involving its pressure cookers. The incident reports indicated a clear pattern of the lids exploding from the pressure cookers resulting in severe burns and other injuries.
In response to these incident reports, TriStar began working with its Chinese manufacturing partner to make several design changes. TriStar did not recall or halt sales of its Power Pressure Cooker. TriStar also did not include any type of warning on its devices.
What Type of TriStar Pressure Cookers Are the Subject of a Pressure Cooker Lawsuit?
Our lawyers are looking at Tristar Power Cooker models PC-WAL1 and PC-TR16 and Power Pressure Cooker XL models PPC-770-1, PPC-770, PPC-780, PPC-780P, PPC-790, and PCXL-PRO6.  There are allegations of burn injuries from these TriStar pressure cookers.
Example Tristar Pressure Cooker Lawsuit
On February 22, 2023, Latoria Coleman filed a lawsuit against Tristar Products, Inc. in the United States District Court for the Northern District of Florida.  As the lawsuit notes, Tristar is a consumer product company that designs, manufactures, and sells various products, including the Emeril Lagasse Electric Pressure Cooker Plus, which includes the Model Number PPC772P is a pressure cooker that is the subject of this Tristar pressure cooker lawsuit.
According to the lawsuit, Tristar markets the product as having several "Built-In Safety Devices" intended to keep the consumer safe while using the pressure cooker. These safety devices include a "lid safety device," a "spring-loaded safety device," a "backup safety release valve," and a "magnetic sensor for the lid."
Built-Up Pressure Causes Injuries
However, the plaintiff alleges that the pressure cooker suffers from severe and dangerous defects that put consumers at significant risk of bodily harm and injury. The defects manifest when the lid of the pressure cooker is removable with built-up pressure, heat, and steam still inside the unit. If the lid is removed under these circumstances, the pressure trapped within the unit causes the scalding hot contents to be projected from the unit and onto the unsuspecting consumers, their families, and other bystanders. The plaintiff claims that she could remove the lid while the pressure cooker retained pressure, causing her serious and substantial bodily injuries and damages.  The details in the lawsuit are sparse.
Profits Ahead of Safety
Despite Tristar's claims of safety, the plaintiff alleges that the company designed, manufactured, marketed, imported, distributed, and sold a defective product that put consumers at significant risk of harm. Tristar knew or should have known about these defects but put profit ahead of safety by continuing to sell its pressure cookers to consumers, failing to warn said consumers of the severe risks posed by the defects, and failing to timely recall the dangerously defective pressure cookers despite the risk of significant injuries to the plaintiff and consumers like her.
Damages
The complaint alleges that Tristar is liable for the plaintiff's injuries and damages and seeks damages for pain and suffering, medical expenses, lost wages, and other losses. The plaintiff demands a jury trial to hear her case and holds Tristar accountable for the dangerous and defective product it sold to consumers. The lawsuit highlights the importance of product safety and consumer protection, as well as the responsibility that companies have to provide safe and reliable products to their customers.
Filing a Defective Pressure Cooker Lawsuit
Product manufacturers such as TriStar have a legal duty to ensure their products meet certain minimum safety standards. At its most basic level, this duty required TriStar to ensure that its pressure cookers were not exploding and burning users. TriStar clearly breached this legal obligation by selling a pressure cooker with design flaws that made it potentially dangerous.
If you suffered serious injuries due to a malfunctioning pressure cooker made by TriStar (or another manufacturer), you may be able to file a TriStar explosion lawsuit and obtain significant financial compensation.
Contact Our Defective Pressure Cooker Lawyers
If you think you have a valid claim for injuries caused by a defective TriStar pressure cooker, contact our pressure cooker lawyer at 800-553-8082 or get a free online consultation.  There is no fee or cost unless we get a recovery for you.