I take a deep dive into a recently filed Paraquat lawsuit so you better understand the foundation of these Syngenta Parkinson's disease claims.  Our lawyers are handling these Paraquat lawsuits in all 50 states.
Paraquat is a highly toxic and poisonous chemical that is banned in over 32 countries. It is also one of the most widely used herbicides in the U.S. agriculture industry.
Recent studies have linked paraquat exposure to early-onset Parkinson's disease, leading to a wave of Paraquat lawsuits against the companies who make the chemical. In this post, our lawyers take a detailed look at a recent Paraquat Parkinson's disease lawsuit (Barbara Kelly v. Syngenta Crop Protection, et al., S.D. Ill., Case No. 3:21-pq-1415) by deconstructing the allegations in the Complaint.
---
RELATED PARAQUAT LAWSUIT POSTS:
---
Background of the Paraquat Litigation
Kelly v. Syngenta
On November 11, 2021, Barbara Kelly (acting as Personal Representative of the estate of Andrew Eble) filed a Paraquat lawsuit in the Southern District of Illinois. The named defendants in the case are Syngenta Crop Protection LLC, Syngenta AG, and Chevron U.S.A., Inc. The case alleges that the decedent, Andrew Eble, developed Parkinson's disease after years of occupational exposure to paraquat.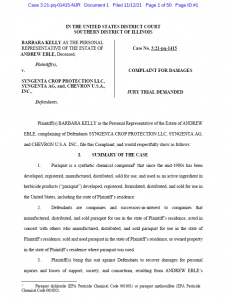 General Fact Allegations
In the fact section of the lawsuit, Kelly's Paraquat lawyers begin with a detailed corporate history of various companies involved in the development and sale of Paraquat over the years.
The chemical formula for paraquat has been known since the 1890s, but its herbicidal properties were first discovered by Imperial Chemical Industries ("ICI") in the 1950s. ICI produced the first commercial paraquat formulation and registered it in England in 1962. Paraquat was marketed under the brand name Gramoxone and it first became available in the U.S. in 1964.
ICI was one of the first global chemical industrial companies. The company was created in 1926 through the merger of 4 British chemical companies to create one of the biggest industrial powerhouses in the world. From its start in the 1920s, ICI rapidly expanded through growth and acquisitions not just in the chemical industry, but also in the newly emerging pharmaceutical industry. ICI's pharmaceutical division would eventually become AstraZeneca, one of the largest international pharmaceutical companies today.
In 1971, ICI entered into a license agreement that gave all rights to the manufacture and sale of paraquat (Gramoxone) in the United States to Chevron Chemical (n/k/a Chevron Phillips Chemical, subsidiary of Chevron, U.S.A., Inc.). Pursuant to this license agreement, Chevron Chemical had the exclusive right to market and sell paraquat under the brand name Gramoxone in the U.S. from 1971 until the agreement terminated in 1986.
Through a series of complex corporate mergers and spinoffs, ICI was eventually succeeded by Syngenta, a global agrochemical company based in Switzerland. Syngenta is the current manufacturer of Paraquat.
Decedent's Paraquat Exposure
The Kelly Paraquat Syngenta Lawsuit sets forth very general factual allegations regarding the decedent's occupational exposure to paraquat. The decedent, Andrew Elbe, was exposed to paraquat while working on a commercial farm near Newark, Delaware, for almost 40 years:
Between approximately 1965 and 2004, Decedent was repeatedly exposed to and
inhaled, ingested, or absorbed Paraquat in the course of applying it to fields.
Between approximately 1965 and 2004, Decedent was repeatedly exposed to and inhaled, ingested, or absorbed paraquat that was sprayed on farm fields in the vicinity of Newark, Delaware. Decedent was diagnosed with PD in or about 2004. Decedent died on 12/14/2019. No doctor or any other person told Decedent that his Parkinson's disease was or could have been caused by exposure to paraquat. Decedent had never read or heard of any articles in newspapers, scientific journals, or other publications that associated Parkinson's disease with paraquat.
Paraquat Use in Agriculture
Following these very general allegations in is Paraquat Syngenta Parkinson's disease lawsuit regarding the decedent's use and occupational exposure to paraquat while working on farms, the Kelly Complaint moves on to set forth detailed facts about how paraquat is used in agriculture and how farmworkers like Mr. Elbe are exposed to it:
Since 1964, paraquat has been used in the United States to kill broadleaf weeds and grasses before the planting or emergence of more than 100 field, fruit, vegetable, and plantation crops, to control weeds in orchards, and to desiccate (dry) plants before harvest. At all relevant times, the use of Defendants' paraquat for these purposes was intended or directed by or reasonably foreseeable to, and was known to or foreseen by, Defendants.

… where paraquat was used, it was commonly used multiple times per year on the same land, particularly when used to control weeds in orchards or on farms with multiple crops planted on the same land within a single growing season or year, and such use was as intended or directed or reasonably foreseeable.

[Paraquat] was typically sold to end-users in the form of liquid concentrates (and less commonly in the form of granular solids) designed to be diluted with water before or after loading it into the tank of a sprayer and applied by spraying it onto target weeds.

… At all relevant times, paraquat typically was applied with a knapsack sprayer, handheld sprayer, aircraft (i.e., crop duster), truck with attached pressurized tank, or tractor-drawn pressurized tank, and such use was as intended or directed or was reasonably foreseeable.
The Kelly Complaint recites a series of allegations establishing that it was reasonably foreseeable that the decedent and other paraquat users would be exposed to the chemical and absorb it into their bloodstream.
Paraquat and Parkinson's Disease
The next section of the Kelly Paraquat Complaint lays out a very detailed and lengthy statement of the scientific evidence linking paraquat exposure to Parkinson's disease. This section begins by explaining the nature of Parkinson's disease including its symptoms and treatment and its pathophysiology.
The Complaint then explains exactly how and why paraquat exposure causes early-onset Parkinson's disease:
The same redox properties that make paraquat toxic to plant cells and other types of animal cells make it toxic to dopaminergic neurons—paraquat is a strong oxidant that interferes with the function of, damages, and ultimately kills dopaminergic neurons by creating oxidative stress through redox cycling.

Although PD is not known to occur naturally in any species other than humans, PD research is often performed using "animal models," in which scientists artificially produce in laboratory animals conditions that show features of PD.  Paraquat is one of only a handful of toxins that scientists use to produce animal models of PD.

In animal models of PD, hundreds of studies involving various routes of exposure have found that paraquat creates oxidative stress that results in the degeneration and death of dopaminergic neurons in the SNpc, other pathophysiology consistent with that seen in human PD, and motor deficits and behavioral changes consistent with those commonly seen in human PD.

Hundreds of in vitro studies have found that paraquat creates oxidative stress that results in the degeneration and death of dopaminergic neurons (and many other types of animal cells).

Many epidemiological studies (studies of the patterns and causes of disease in defined populations) have found an association between paraquat exposure and PD, including multiple studies finding a two- to five-fold or greater increase in the risk of PD in populations with occupational exposure to paraquat compared to populations without such exposure.
The final section of the factual allegations in the Kelly Complaint provides a general overview of the regulation of paraquat in the U.S. under the Federal Insecticide, Fungicide, and Rodenticide Act ("FIFRA") 7 U.S.C. § 136, et seq.
Causes of Action
The Kelly Complaint asserts 6 tort causes of action that are broken out into 15 separate counts against the separate defendants (including survival and wrongful death claims against all defendants). The 6 tort theories of liability or causes of action are as follows:
Strict Liability: Design Defect: this cause of action alleges that paraquat's toxicity made it defective and "unreasonably dangerous" when used in the intended and foreseeable manner.
Strict Liability: Failure to Warn: this theory claims that the absence of any warning about paraquat exposure and Parkinson's made the product unreasonably dangerous.
Negligence: this theory is based on the allegation that the defendants knew or should have known about the danger of paraquat exposure and failed to warn or otherwise correct the design defect.
Public Nuisance: this is not a typical cause of action in a product liability case. This theory is claiming that the defendants owed a duty to the general public that was breached by distributing a toxic product.
Breach of Warranties: the Complaint asserts claims for breach of express warranties and breach of implied warranties of merchantability.
More About the Paraquat Litigation
The Kelly Complaint is just one out of hundreds of paraquat lawsuits that have been filed by plaintiffs around the country. These lawsuits have been consolidated into a class action MDL. If you worked on a farm or lived near a farm where Paraquat (Gramoxone) was regularly used, and you have been diagnosed with Parkinson's disease, you may be able to file a Paraquat lawsuit and receive financial compensation.
Call our Paraquat lawyers today for a free consultation at 800-553-8082 or contact us online.