New medical research has found that using chemical hair relaxers can cause uterine cancer, uterine fibroids, and other hormone-related diseases. One of the leading brands of chemical hair relaxer is ORS Olive Oil Hair Relaxer, which is manufactured by a company called Namaste, LLC.  Hair relaxer lawsuits are now being filed against Namaste and other cosmetic companies by women who used their products and developed uterine cancer or other conditions.
This post will look at the new research linking hair relaxers to uterine cancer and the lawsuits being brought against Namaste regarding its ORS Olive Oil relaxer products.
About ORS Olive Oil and Other Hair Relaxers
Hair relaxers or hair straighteners are cosmetic products used mostly by African American women to make their hair lay flat. These products use strong chemicals that break down the protein structure of the hair follicles. A majority of Black women in the U.S. use hair relaxers on a regular basis (every 6-8 weeks).
There are a number of different brands of hair relaxer on the market. Some are sold to salons, while others are sold as at-home kits. One of the most popular relaxer brands is ORS Olive Oil hair relaxer. ORS stands for "Organic Root Stimulator." ORS Olive Oil is sold at major retailers such as Walmart and Target and it has been one of the top-selling brands of at-home hair relaxers for a long time.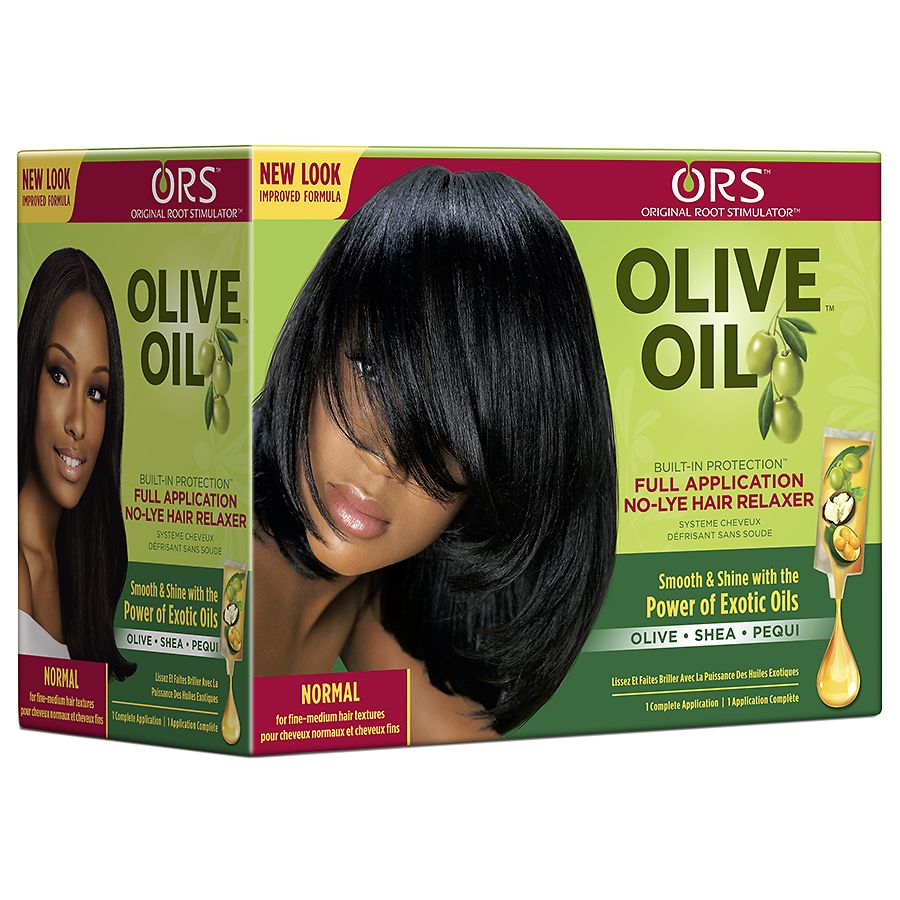 ORS Olive Oil is marketed as a "no-lye" hair relaxer, but it still contains a mix of very strong chemicals. The chemicals included in ORS relaxer products include endocrine-disrupting chemicals which are known to interfere with the production of hormones such as estrogen.
ORS hair relaxer is manufactured and sold in the U.S. by a company called Namaste Laboratories, LLC. Namaste is based in Chicago, Illinois, and was originally founded in 1996 by Gary Gardner. Gardner's father launched the Soft Sheen hair relaxer brand back in the 1970s, which was eventually acquired by the international cosmetic company L'Oreal.
Since 2010, Namaste has been a wholly owned subsidiary of Dabur India, Ltd., a large international company that makes health and personal care products.
The Endocrine System and EDCs
The endocrine system is a complex network of glands that produces hormones, which regulate almost every bodily function from conception to adulthood.
Hormones such as estrogen, testosterone, progesterone, and androgen are chemical messengers that control essential processes in the body. When these hormones bind to target cells' receptors, they either switch on or off specific biological processes in tissues, organs, and cells.
This precise functioning is vital to maintaining hormonal homeostasis, where even slight variations in hormone levels can cause adverse health effects.
Endocrine-Disrupting Chemicals
Endocrine-disrupting chemicals (EDCs) are chemical compounds that interfere with the normal activity of the endocrine system, causing imbalances that lead to severe health problems.
EDCs can mimic or antagonize hormones or alter the way they are transported, disrupting the endocrine system's normal functioning in various ways. They can cause the body to over-respond or respond when it is not supposed to by mimicking a natural hormone or increase/decrease hormone levels by affecting production, degradation, and storage.
EDCs can also block the hormone's stimulus through epigenetic changes, modifications to DNA that regulate whether genes are turned on or off, or altering the structure of target cells' receptors. Numerous studies over the past two decades have demonstrated the adverse impact of EDCs such as Di-2-ethylhexylphthalate on the male and female reproductive systems, inducing endometriosis, abnormal reproductive tract formation, decreased sperm counts and viability, pregnancy loss, and abnormal puberty onset.
Given the ubiquity of EDCs in many hair care products, their impact on long-term health cannot be understated. Black women's use and dependence on hair straightening products are influenced by various factors, including internalized beauty norms, media and advertising, assimilation and economic security, ease of hair maintenance, and cultural factors. Once relaxer use begins in childhood, it often becomes a lifelong habit, increasing the risk of scalp burns and exposure to endocrine-disrupting chemicals.
New Evidence Linking ORS Hair Relaxer to Uterine Cancer
Uterine cancer, also known as endometrial carcinoma, is linked to phthalate metabolites found in hair care products, according to a recent scientific report. Uterine cancer is the fourth most common cancer in women in developed countries, accounting for 3% of all new cancer cases. In the U.S. alone, about 65,000 females are diagnosed with uterine cancer annually, with more than 90% being of endometrial origin.
Black women have twice the incidence of uterine cancer as white women, and they tend to have a poorer prognosis. Furthermore, death rates from uterine cancer have increased by over 100% in the last 20 years, with new cases and death rates rising each year. Why?  A groundbreaking study discovered that women who frequently use chemical hair straightening or relaxing products, including those produced by the defendants in this case, are at a higher risk of developing uterine cancer, particularly Black women who use these products the most.
This study was put out by the the National Institutes of Health (NIH) in October 2022.  This was decade-long clinical study which looked at the potential health consequences of the chemicals in hair relaxer products like ORS. The study, called the Sister Study, and it looked at the health history of over 33,000 women.
The results of the Sister Study were eye opening. The study found clear evidence that using hair relaxer products like ORS could cause uterine cancer (and other related conditions such as uterine fibroids and endometriosis). Study participants who used hair relaxers like ORS at least 4 times per year were 2 and a half times more likely to develop uterine cancer compared to women who did not use relaxers.
ORS Hair Relaxer Lawsuits
The groundbreaking results of the Sister Study quickly led to the first product liability lawsuits against Namaste and other cosmetic companies that make relaxer products. The plaintiffs in these lawsuits are women who claim that their long-term use of relaxer products like ORS Olive Oil caused them to develop uterine cancer (and other related diseases such as uterine fibroids or endometriosis).
According to the allegations in these hair relaxer lawsuits, cosmetic companies such as Namaste knew or should have known that their products could cause uterine cancer. Despite this knowledge, however, the lawsuits allege that companies like Namaste marketed their hair relaxer products as safe, without any warning about the risks of uterine cancer.
A group of hair relaxer plaintiffs has already filed a motion with the JPML requesting that the hair relaxer lawsuits in federal courts be consolidated into a new class action MDL. Thousands of lawsuits could potentially be filed against Namaste and other companies alleging that their hair relaxer products caused uterine cancer or other injuries. The MDL motion will probably be granted fairly quickly.
Potential Settlement Amounts for ORS Hair Relaxer Lawsuits
Our hair relaxer attorneys estimate that a successful ORS hair relaxer lawsuit involving uterine cancer could have potential settlement value range of $300,000 to $1.75 million. The reason this valuation range is so wide is because uterine cancer cases can present a wide range of circumstances. Uterine cancer in an older, post-menopausal woman, is treatable and has a good survival rate. In cases involving younger women, however, treatment for uterine cancer often leaves them unable to have children and the cancer itself tends to be more aggressive.
ORS hair relaxer lawsuits involving other injuries, such as uterine fibroids or endometriosis, will have a lower potential settlement value for two reasons. The causation evidence linking these injuries to hair relaxers is less compelling as of right now.  But more research is being done.
Settlement Payout Projections Come with Caveats
We think it is important to make average hair relaxer settlement projections to let victims know in general terms what we are thinking/hoping for in this liitgation.  But it is important to remember that litigation is a complex and unpredictable process. Making definitive settlement predictions at this early stage may not accurately reflect the final outcome of the case.
There are numerous factors that can influence the course of a lawsuit, including the strength of the evidence, the legal arguments made by both sides, and the attitudes of the judge and jury. Additionally, unexpected developments can occur throughout the course of the litigation, such as new evidence coming to light or the science changing.
So while we are willing to venture forward and make educated guesses about compensation payouts, it's important to recognize that the ultimate outcome may differ significantly from early predictions. Only time will tell how the hair relaxer class action lawsuit will unfold.  We will continue to provide updates on our thoughts.
Contact Us About Filing a ORS Hair Relaxer Lawsuit
Our firm is currently investigating product liability cases alleging that chemicals in ORS hair relaxer caused uterine cancer, and other conditions. If you think you qualify for a lawsuit involving chemical hair straightener, contact our office today for a free consultation at 800-553-8082 or get a free online consultation.