Mississippi law and Mississippi jurors give slip-and-fall victims a fair shake.  Here are some recent slip and fall cases in Mississippi.
Mississippi Slip and Fall Verdicts and Settlements
Below are recent Mississippi slip and fall cases.  A few years back in the Hattiesburg American, there was an article that slip and fall lawsuits in Mississippi were on the rise.  The article offers nothing substantive to support the premise; the opposite may be true.  We see fewer reported Mississippi slip-and-fall settlements and verdicts in 2023.
2021, Mississippi: $811,507 Verdict. A supermarket employee tripped over a pallet jack in a cluttered back room. She suffered a sacral fracture and radiating spinal pain. The woman underwent a C3-4 fusion. She hired a Mississippi slip-and-fall lawyer and alleged negligence against her employer. The woman claimed it failed to maintain a safe workplace. A jury awarded $811,507.
2019, Mississippi: $1,387,762 Verdict. A man visited a body shop to check up on his daughter's vehicle's repair status. As he walked into the back of the shop, he encountered a dog who bit him on the leg. He shook off the dog and ran off. The man then slipped on an oil puddle. He suffered a tibia fracture that required surgical repair. The man claimed that he would need to undergo future knee replacement surgery. He also claimed that his injuries impaired his ability to work as an HVAC repairman. The man filed dog bite and slip and fall claims against the body shop. The body shop denied liability, arguing that there was no evidence that the dog was vicious in the past and that the shop management did not know of an oil spill. They also argued that the man was contributorily negligent. The Hinds County found the body shop 85 percent negligent and the man 15 percent negligent. They awarded a $1,387,762 payout. The man's net award was $1,179,597.
2018, Mississippi: $474,444 Verdict. A casino hotel guest slipped and fell as she exited a hot tub. She landed on her hip and back. The woman suffered permanent injuries that left her with chronic pain. She and her husband sued the casino hotel's owners for creating hazardous conditions. Her husband also made a loss of consortium claim. The federal jury ruled in favor of the couple but found the woman 60 percent at fault. They awarded a $474,444 verdict. The man received $75,000 in his loss of consortium claim, which was included in the verdict.
2017, Mississippi: $20,000 Verdict. A woman slipped and fell on a puddle of water on the floor of a Kroger. She suffered unspecified personal injuries. The woman filed a lawsuit in federal court, alleging that Kroger failed to maintain safe conditions.  A federal jury awarded the woman a $20,000 verdict.
2017, Mississippi: $110,000 Verdict. A woman slipped and fell down her apartment complex's stairs. She claimed the stairs' icy conditions could not be noticed, even with due caution. The woman suffered unspecified injuries. She filed suit in federal court, arguing that the apartment complex's owner failed to maintain safe premises. The federal jury found the apartment complex's owners 70 percent at fault and the woman 30 percent at fault. They awarded a $110,000 verdict. The woman's net award totaled $77,000.
2016, Mississippi: $15,000 Verdict. A woman slipped and fell on an uneven tile that was covered by a mat in a Buffalo Wild Wings. She fell on her head, back, and buttocks. The woman suffered an injury to her C3-4 disc, which required surgery. She sued Buffalo Wild Wings for negligently creating a hazardous condition. Buffalo Wild Wings argued that the uneven tile was not hazardous and that the woman's medical history included a pre-existing C3-4 herniation. The Lamar County jury ruled in favor of the woman and awarded a small $15,000 payout.
2014, Mississippi: $500,000 Verdict. A woman slipped and fell on a plastic placemat that fell onto the floor in an aisle at a local Target. She suffered unspecified injuries as a result. The woman and her husband sued Target and two of its employees. They alleged that Target's improper stocking of merchandise created an injury risk for customers. The Hinds County jury found Target 80 percent negligent and the woman 20 percent negligent. They awarded the couple a $500,000 in compensation.
Mississippi Slip and Fall Law
In Mississippi, slip and fall accidents fall under premises liability law. Premises liability law in Mississippi requires property owners and occupiers to maintain their properties in a reasonably safe condition and taking action to protect visitors and guests from hazards.
When someone slips and falls on someone else's property, they may have the right to file a personal injury lawsuit against the property owner or occupier. The purpose of a slip and fall lawsuit is to recover compensation for damages such as medical expenses, lost wages, and pain and suffering.
Elements of a Successful Mississippi Slip and Fall Claim
In order to succeed in a slip and fall claim in Mississippi, the plaintiff must prove three elements:
Duty of care: The first element that the plaintiff must prove is that the defendant owed them a duty of care. This means the defendant was legally obliged to take reasonable steps to keep their property safe and free from hazards. Property owners and occupiers owe a duty of care to visitors, guests, and others who come onto their property. That duty of care can differ based on the context of the visit. so the court must determine whether the injured party was an invitee, licensee, or trespasser.
Breach of duty: The second element that the plaintiff must demonstrate is that the defendant breached their duty of care by failing to take reasonable steps to keep their property safe. Our lawyers see this often in cases where the defendant fails to clean up spills, fix a broken step, or provide adequate lighting.
Causation: The third and final element that the plaintiff must prove is that the defendant's breach of duty caused their slip and fall accident. This means that the Mississippi plaintiff must show that their injury would not have occurred if the defendant had taken reasonable steps to keep their property safe.
But Missouri law does impose a duty on businesses to its customers to exercise ordinary care and to keep the premises reasonably safe while warning invitees of dangerous conditions known to the store owner. Munford Inc. v. Fleming, 597 So.2d 1282, 1284 (Miss. 1992).
In Munford, the Mississippi high court set forth the standard a plaintiff must meet to recover in a slip and trip case:
[The injury victim] must show the proprietor had actual knowledge of a dangerous condition, or the dangerous condition existed for a sufficient amount of time to establish constructive knowledge, in that the proprietor should have known of the condition, or the dangerous condition was created through a negligent act of a store's proprietor or his employees.
This is a reasonable standard that is shared by most states.
What Damages Can Be Recovered in a Mississippi Slip and Fall Case?
In a Mississippi slip and fall lawsuit, the plaintiff may be able to recover:
Medical expenses: This includes the cost of medical treatment, hospitalization, surgery, and rehabilitation related to the slip and fall injury
Lost wages: This includes past and future income that the plaintiff lost because of the injury
Pain and suffering: This is usually the biggest part of a settlement compensation or jury payout –  The victim's physical pain, emotional distress, and any other intangible damages related to the slip and fall injury.
Contributory Negligence
Mississippi follows the doctrine of pure comparative negligence, which means that the plaintiff's recovery in a personal injury case can be reduced by their own degree of fault. In other words, if the plaintiff is found to be partially at fault for their injury, their damages will be reduced proportionately.
For example, if a slip and fall victim is found to be 10% at fault for their injury, their damages will be reduced by 10%. This means that if the victim is awarded $1,000,000 in damages, they will receive $900,000 because of the reduction for comparative negligence.
So some negligence on the plaintiffs' part is not a bar to recovery but it can reduce the amount of the verdict.
No Strict Liability
Just because you fell in a Missouri store does not mean you have a claim.  Under Mississippi law,  the store owner is not an insurer of the business invitee's injuries.  Proof of a fall or even that a fall occurred and the floor had litter and debris is not enough to support a premises liability claim in slip and fall cases. Sears, Roebuck & Co. v. Tisdale, 185 So.2d 916, 917 (Miss. 1966).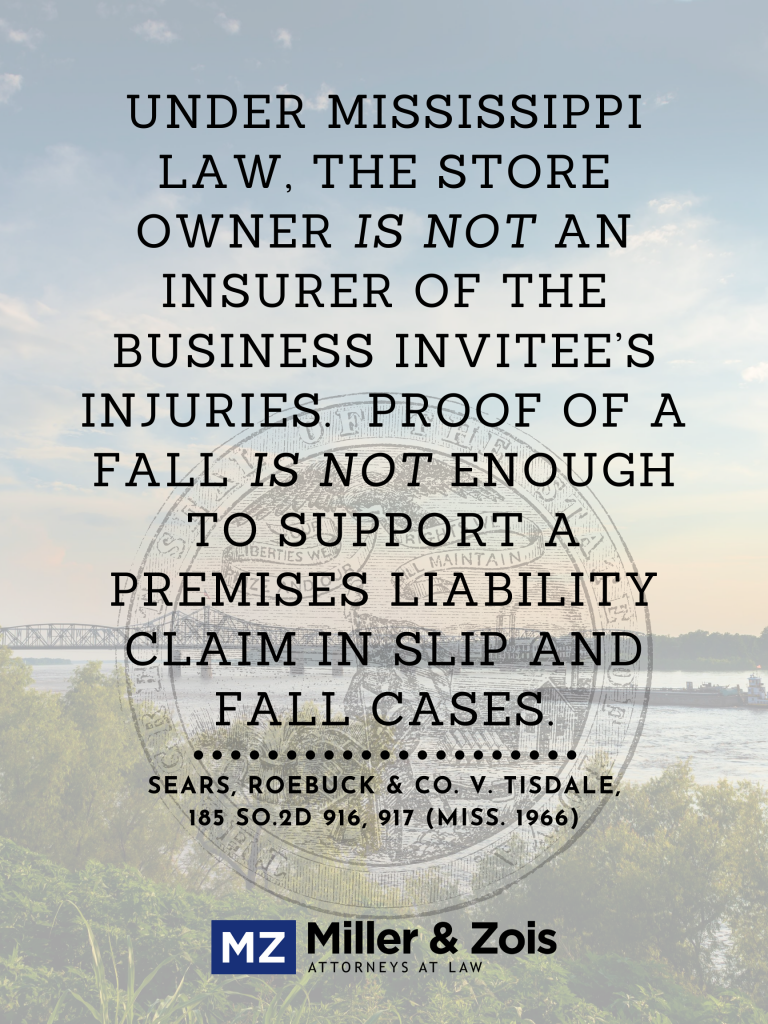 Example Case of Judges Denying  a Victim a Jury Verdict
While the law and jurors may be fair to Mississipians, judges are not always as fair.
One case, Pratt v.Gulfport-Biloxi Regional Airport, is a good example.  In this case,  the Mississippi Supreme Court, again seeing it the defendant's way, reversed an intermediate appellate court's reversal of summary judgment in a slip and fall case at Gulfport-Biloxi Regional Airport. So the victim never gets to get his case to the jury.
The plaintiff, an Air Force doctor (a plaintiffs' lawyer's dream plaintiff), sued the airport after he slipped and tripped down a wet set of aluminum steps. It was a real fall: he fell down two stories of steps.
The airport sought summary judgment under the dreadful Mississippi Tort Claims Act. The argument was twofold. First, they alleged that the airport had immunity under the MTCA because the dangerous condition plaintiff alleged was open and obvious to one exercising due care.
The second – and more annoying – is that the airport is immune from suit because the alleged acts or omissions of the airport were discretionary functions.
Discretionary Function Exception
One of the biggest exceptions to governmental liability under the local government tort claims act is the discretionary function exception. The Federal Tort Claims Act has the same exception. The doctrine is controversial and has lead to just a ton of lawsuits.
The discretionary function exception protects the government from liability for any claim based upon the exercise or performance, or the failure to exercise or perform a discretionary function or duty on the part of a government employee. The idea was to prevent judicial second-guessing of legislative and administrative decisions for which there was a good reason – grounded in social, economic, and political policy – regardless of whether a personal injury claim might be implicated.
The parties agreed that the omission that formed the basis of plaintiff's case – the failure to lay anti-slip tape on the temporary stairs – was not a ministerial function because there is obviously no regulation on point to putting on anti-slip tape. Plaintiff did not argue that the problem was failing to order anti-slip tape on the stairs, instead, the doctor claimed that the airport was liable because it did not place the anti-slip tape on a sufficient portion of the stairs.
In other words, Dr. Pratt's lawsuit was not the question of whether to apply the tape, instead, it was based on the failure to apply the tape they decided to apply. So, seemingly, this would take the case out of the discretionary function ballpark.
The Mississippi high court disagreed, finding that the "day-to-day operational activities at issue in this case involved choice and judgment, because there are no laws or regulations dictating how those activities are to be performed." So, without a statute to guide the employee, the court did not want to second guess his judgment, even though it was, you know, awful.
Under this interpretation, I think the exception engulfs the rule.
Required Mississippi Slip and Fall Reading
Looking for Help with Your Claim?
If you were hurt and believe you have a potential civil tort claim, click here for a free no-obligation consultation.