Electric pressure cookers such as the Instant Pot have become very popular recently. Unfortunately, however, many of these devices have design flaws that make them potentially dangerous. They can malfunction and eject boiling liquid causing severe burns and disfigurement.
Recently, one of the pressure cooker brands that has been the subject of a growing number of injury lawsuits is the Instant Pot pressure cooker which is manufactured by Instant Brands. In this post, we will look at the problems that have arisen with the Instant Pot and how these issues have led to injuries and lawsuits.
Our product liability attorneys are currently seeking new pressure cooker injury cases from individuals who have been seriously burned or injured by an Instant Pot pressure cooker. If you were burned or injured by an Instant Pot pressure cooker call us today at 800-553-8082.
About Instant Pot Pressure Cookers
Instant Brands is a company that produces a line of electric pressure cookers under the Instant Pot brand. These pressure cookers are multi-functional appliances that can be used for cooking a variety of dishes, such as rice, soups, stews, and meats. Instant Pot is one of the most popular brands of electric pressure cookers and the name Instant Pot is often generically used to refer to all pressure cookers.
The company has struggled with products liability lawsuits and other problems.  It declared bankruptcy in June 2023.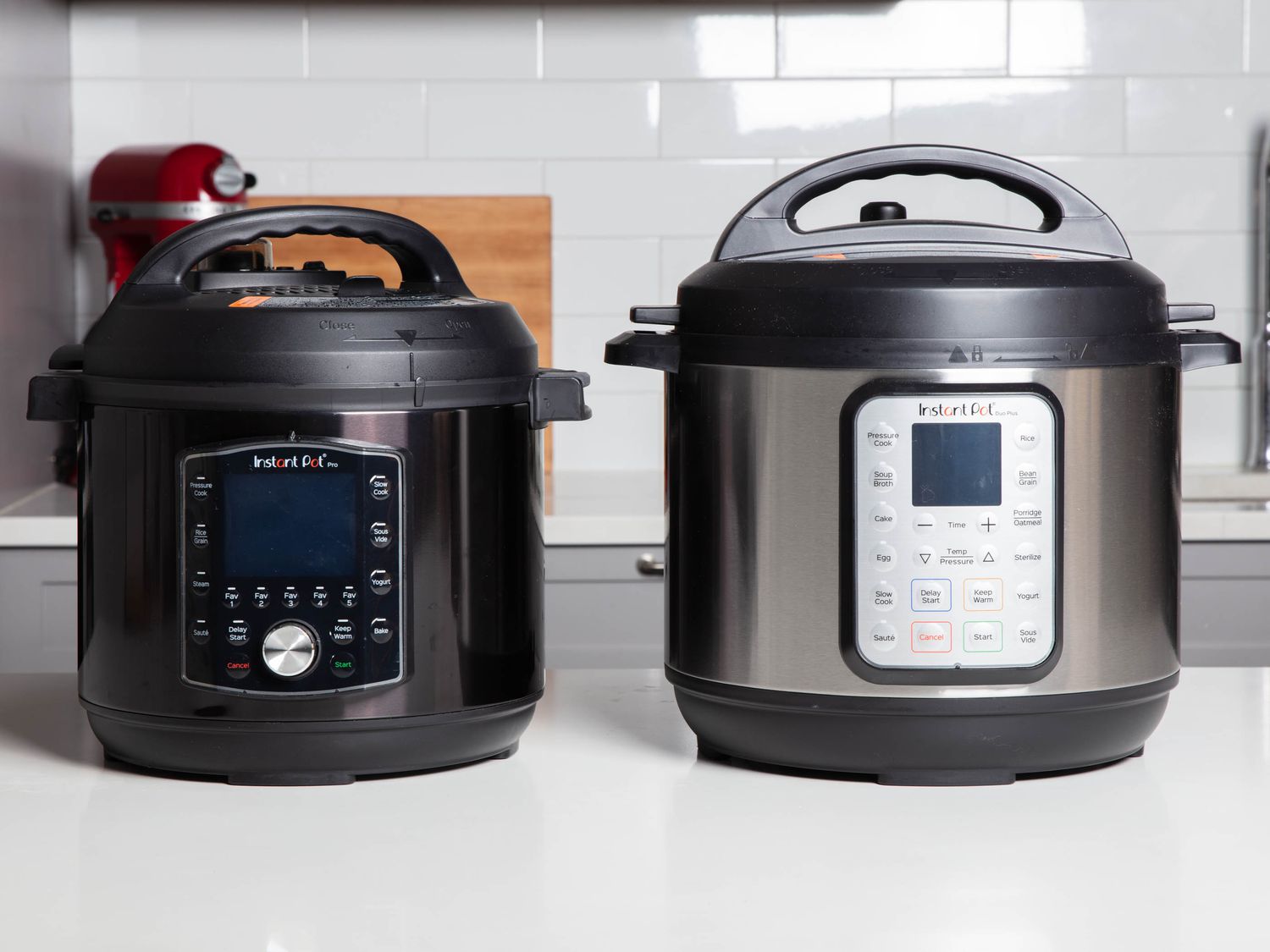 Instant pot pressure cookers are known for their efficiency and ease of use, as they can cook food quickly while retaining its flavor and nutrients. The company offers several models of pressure cookers, each with different features and capacities, making it easier for consumers to find the right one for their needs. Instant Pot pressure cookers are widely popular and have received positive reviews from customers, with many praising their convenience and versatility.
Instant Brands offers several different models of pressure cookers, including:
Instant Pot DUO Plus: a multi-functional pressure cooker with a large LCD display, 15 preset cooking programs, and safety features such as overheat protection and safety lid lock.
Instant Pot LUX: a basic pressure cooker with six cooking functions, including pressure cooking, slow cooking, and sautéing.
Instant Pot DUO: a purported versatile pressure cooker that combines seven kitchen appliances in one, including a pressure cooker, slow cooker, rice cooker, and more.
Instant Pot ULTRA: a high-end pressure cooker with customizable cooking programs, altitude adjustment, and a central dial for easy navigation.
Instant Pot MAX: another high-end pressure cooker with a high-pressure setting for faster cooking and a built-in vacuum sealing system for preserving food.
Dangerous Design Flaws of the Instant Pot
The Instant Pot pressure cookers have some inherent flaws in their design that make these devices potentially dangerous. The Instant Pot pressure cooker rapidly heat the liquid contents of their pots to around 250 degrees or higher. At this temperature, the liquids are very capable of causing severe burns on contact. This is exactly why the Instant Pot and other pressure cookers have numerous safety components and design features.
The primary objective of all the safety features on Instant Pot pressure cookers is to prevent the lid from opening when the liquid in the pot is pressurized. Defective designs related to these safety mechanisms have led many Instant Pot lids to malfunction and eject their boiling hot contents causing serious injuries.
Example of a Recent Instant Pot Injury Lawsuit
McGee v. Instant Brands, Inc., Docket No. 2:23-cv-00321 (N.D. Ala. Mar 14, 2023) is an example of a recently file product liability lawsuits involving injuries caused by the Instant Pot pressure cooker. The lawsuit alleges that the Instant Pot pressure cooker model IP-LUX80, is defectively and negligently designed and manufactured.
According to the complaint, the pressure cooker's design is supposed to prevent consumers from lifting the lid while it is pressurized, and Instant Brands claimed that the product had ten safety features built in. However, the plaintiff was able to open the lid and rotate it while it was pressurized, which resulted in the hot food spilling out onto her body.
According to the lawsuit, Instant Brands has falsely claimed that all Instant Pot devices have safety features that prevent the lid from being opened while the unit is under pressure. Instant Brands has used various media outlets, such as infomercials and social media, to promote the safety of the product. The plaintiff claims that these representations about the safety of the pressure cooker are misleading and that the pressure cooker is actually unreasonably dangerous for its intended use.
The lawsuit argues that the product was negligently designed and that the company ignored the defects in order to prioritize profits over safety.
The plaintiff alleges that the defendant knew or should have known about the defects in the pressure cooker but continued to sell it anyway, resulting in the plaintiff suffering significant and painful bodily injuries. The plaintiff is seeking compensatory damages for their injuries, medical expenses, lost wages, physical pain, mental anguish, diminished enjoyment of life, and other damages.
Instant Brand Pressure Cooker Settlement
A Georgia mother whose child was burned by an exploding Instant Pot pressure cooker recently reached a settlement agreement with the manufacturer, Instant Brands Inc. The details of the settlement were kept confidential, but if approved by the court, the injured child would receive monthly payments starting from the age of 18.
The mother claimed that her Instant Pot pressure cooker, model IP-DUO 60 V2, was still pressurized when the lid unexpectedly blew off, causing the scalding hot contents to spill onto her child and cause burns. She believed the product was "dangerously defective" and held the manufacturer responsible for failing to warn about the risks and for not addressing the faulty lid lock.
Both parties went through several rounds of negotiations before reaching a settlement amount.
Estimated Settlement Value of Instant Pot Injury Lawsuit
So how much would an Instant Pot pressure cooker injury lawsuit be worth in a settlement? The potential settlement payout for an Instant Pot product liability lawsuit would depend primarily on the extent and severity of the physical injuries allegedly caused by the Instant Pot.
The most common type of injury caused by Instant Pot pressure cooker explosions are skin burns. The settlement value of burn injuries is dependent on the severity of the burn and the location of the burn.
In the context of an auto-accident case, a typical 1st-degree burn injury has an average settlement payout range between $15,000 to $35,000. The average payout for 3rd-degree burn injuries in auto cases is between $100,000 to $800,000. Keep in mind that the average settlement amounts in auto accident lawsuits is always going to be lower than the settlement value in a product liability case. Auto accident payouts are lower because they are limited by the amount of available insurance coverage.
Based on the factors outlined above, our lawyers believe that an Instant Pot product liability lawsuit involving 3rd degree burn injuries will have a potential settlement value of around $125,000 to $950,000. Instant Pot cases involving 3rd degree burns are probably going to be very rare, however. Most Instant Pot burns will be 2nd or 1st degree and will have an estimated settlement value range of $40,000 to $150,000.
Contact Our Defective Pressure Cooker Lawyers
If you think you have a valid claim for injuries caused by a defective Instant Pot pressure cooker, contact our product liability lawyers today for a free consultation.