Last week, the 2nd bellwether test trial in the C.R. Bard hernia mesh MDL ended in a verdict for the plaintiffs awarding total damages of $255,000. This verdict marked a solid victory for the hernia mesh plaintiffs and helped reaffirm the course of the litigation after the 1st bellwether trial resulted in a defense verdict last month. There are still over 16,000 additional plaintiffs with hernia mesh lawsuits pending in the MDL. Two additional cases had previously been selected for bellwether trials but the schedule moving forward is very uncertain.
Background on the C.R. Bard Hernia Mesh Lawsuits
C.R. Bard (now a subsidiary of Beckton-Dickinson) was one of the leading manufacturers of hernia mesh patches and screens. A hernia mesh is essentially a very small synthetic screen material that doctors implant inside the body during hernia repair surgery. The screen helps to strengthen and reinforce the surgically repaired tissue.
Bard was one of the early pioneers in permanent hernia mesh implants. Unlike the previous generation of hernia mesh implants (which were absorbable), permanent hernia mesh screens were designed to remain inside the body forever. Bard's permanent mesh implants were made from polypropylene with a special coating on one side to prevent the mesh from attaching to adjacent tissue.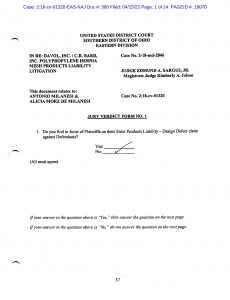 Unfortunately, the permanent hernia mesh products developed by Bard proved to be very problematic for many patients. There were two primary problems. First, in some cases, the mesh material triggered immune system responses. Second, the coating on the mesh would often dissolve or not function properly causing the mesh to attach to nearby tissue or organs.
Patients who experienced these problems with their hernia mesh implants developed a series of serious health conditions, including internal infections, bowel obstructions, and severe abdominal pain. Starting around 2018, a steady stream of hernia mesh product liability lawsuits began getting filed against Bard in courts around the country. Around the same time, other hernia mesh manufacturers began getting sued for similar defects in their own permanent mesh implants.
The hernia mesh cases against Bard in federal courts were consolidated into a mass-tort MDL in the Southern District of Ohio (IN RE: Davol, Inc./C.R. Bard, Inc., Polypropylene Hernia Mesh Prod. Liab. Lit. – 2:18-md-2846). There are currently around 16,000 cases pending in this MDL. The cases involve 3 different hernia mesh products manufactured by Bard: Ventralight ST, Ventralex, and PerFix Plug or 3DMax.
Bellwether Trial Selections in C.R. Bard Hernia Mesh MDL
Back in 2019, a group of 12 hernia mesh cases from the MDL were selected as "Bellwether Discovery Pool" cases. After a brief period of fact discovery to shed light on the details of these cases, each side (plaintiffs and defendant) got to pick 3 cases from this group of 12 – one case for each of the 3 different Bard mesh products involved in the litigation. The resulting 6 cases would be scheduled for bellwether test trials.
The table below lists the 6 bellwether trial selections made by the Plaintiffs' Steering Committee and lawyers for the defendant:
| | | | |
| --- | --- | --- | --- |
| PLAINTIFF | CASE # | DEVICE | SELECTION |
| McCourt | 2:18-cv-01011 | Ventralight ST | Plaintiffs |
| Milanesi | 2:18-cv-01320 | Ventralex | Plaintiffs |
| Stinson | 2:18-cv-01022 | PerFix Plug | Plaintiffs |
| Johns | 2:18-cv-01509 | Ventralight ST | Defense |
| Campos | 2:18-cv-00915 | Ventralex | Defense |
| Miller | 2:18-cv-01443 | 3DMax | Defense |
Defense Verdict in 1st Bellwether Trial
The first bellwether trial in the Bard hernia mesh MDL began last September in the case of Steven Johns. The trial lasted nearly a month and was complicated by various COVID protocols. Witnesses were required to wear masks while testifying behind plexiglass partitions, which certainly favored the defense decreasing the emotional impact of certain witnesses.
The Johns trial ended in a defense verdict for Bard. This was obviously a disappointment for the plaintiffs, but not a total surprise. Johns was one of the bellwether plaintiffs hand-picked by the defense team. Moreover, Bard won the first bellwether trial 10 years ago in a previous mass tort MDL involving its Kugel Mesh implant. The initial victory in that MDL was promptly followed by a $1.5 million verdict in Round 2 which led quickly to a global settlement.
Plaintiff Wins $255k in Round 2
Round 2 of the Bard hernia mesh bellwether trials began on March 22, 2002, and featured the claims of Plaintiff Antonio Milanesi (and his wife who brought a loss of consortium claim). The Milanesi trial moved along at a slower pace compared to the first trial and featured testimony from different expert witnesses. Many of the fact witnesses, however, were the same as in the first trial.
For its part, Bard's defense team presented essentially the same exact defense as they did in the Johns trial with a few variations. The case went to the jury on April 14 and they deliberated until the following day before issuing a verdict on April 15, 2022. The jury found in favor of the plaintiff on his negligent claim for defective design and awarded $250,000 in compensatory damages. They also his wife $5,000 for her loss of consortium claim.
What's Next in the Bard Hernia Mesh MDL?
Two additional cases have already been selected for bellwether test trials in the Bard hernia mesh MDL (Stinson – 2:18-cv-01022) and (Miller – 2:18-cv-01443). However, neither of those trials have been scheduled yet, and based on the entries in the dockets, neither case will be ready for trial anytime soon. The last docket entry in the Stinson case was in June 2021 and Miller just retained new attorneys last week.
It is very possible that we could see a global settlement agreement from Bard without the need for any future bellwether trials. That is exactly what happened in the Kugel mesh litigation where Bard reached a global settlement after just 2 bellwether trials. If this happens, the $255 verdict in the Milanesi case will obviously be used as a guidepost for valuation.