According to a new study from NIH, using chemical hair straighteners or relaxers can cause uterine cancer. Care Free Curl hair relaxer by SoftSheen-Carson is one the leading brands of chemical hair relaxers on the market today. Many women who used Car Free (or other relaxer products) and subsequently developed uterine cancer may be able to file a hair relaxer lawsuit against the cosmetic companies who sell these products. Hair relaxer cancer lawsuits are already being filed around the country and could soon be consolidated into a class action MDL.
This post will review recent medical research linking relaxers to uterine cancer and the lawsuits being brought against SoftSheen-Carson regarding its Care Free line of relaxer products.
About Care Free Curl and Other Hair Relaxer Products
African American women use hair straighteners or hair relaxers to flatten out their naturally curly hair and make it more manageable. In the U.S., hair relaxers are used by an estimated 8 out of 10 Black women, many of whom begin using these products at a very young age. In 2021, hair relaxer products like Care Free Curl generated $750 million in sales in the U.S.
Relaxers come in a variety of different brands and types, although they all use the same basic process to flatten hair. The application of relaxer products (often called getting a "perm") involves applying the cream or lotion to the hair roots and letting it "cook" for a certain length of time. During this cooking phase, chemicals in the product dissolve the protein structure of the hair.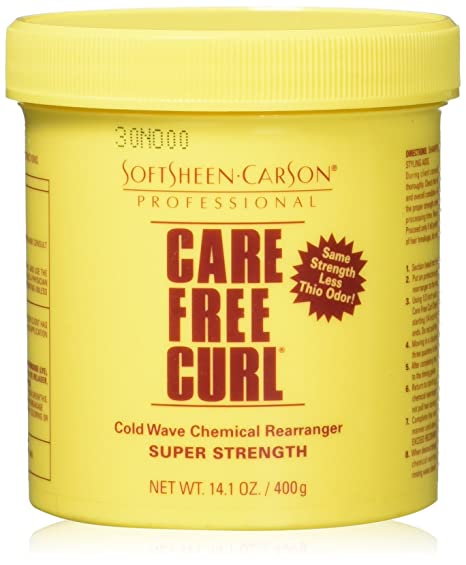 Care Free Curl is one of the top brands of hair relaxer products on the U.S. market. The Care Free Curl line of relaxers are sold at all major retailers, including places like Walmart and Amazon. Care Free Curl is made by SoftSheen-Carson. SoftSheen-Carson is a wholly owned subsidiary of LÓreal. It was formed after LÓreal acquired Carson Products, and Softsheen Inc. (two major players in the hair relaxer market) and combined them into a single operating brand.
L'Oreal is the largest cosmetic company in the world. It has a market capitalization of $189 billion, which makes it one of the biggest companies in the world. In 2021, L'Oreal posted total revenue of $32.2 billion and a net income of $4.6 billion.
Harmful Chemicals in Hair Relaxers
Care Free Curl and all other hair relaxers or straighteners contain high concentrations of very powerful chemicals that are necessary to break down the protein structure of the hair. The chemicals in used hair relaxers include phthalates, parabens, and diethanolamine, all of which are considered endocrine-disrupting chemicals (EDCs).
The endocrine system creates and distributes hormones, such as estrogen. EDCs are chemicals that interfere with the endocrine system, resulting in hormonal imbalances. Most of these harmful chemicals are not listed on the ingredients label for hair relaxer products, but lab testing and clinical studies have repeatedly found that these chemicals are contained in relaxer products.
NIH Finds that Hair Relaxer Use Can Cause Uterine Cancer
Recently released findings from a large, long-term study by the National Institutes of Health (NIH) called the Sister Study – aimed at identified risk factors for breast cancer and other health conditions – indicate that women who frequently use hair relaxers have a significantly higher risk of uterine cancer than those who did not. Specifically, using hair relaxer products at least 4 times per year for long periods increased the risk of uterine cancer by 150%. These recent findings are consistent with earlier studies showing an increase in hormone-related conditions in women, such as uterine fibroids, and endometriosis.
Care Free Curl Relaxer Lawsuits
The publication of the Sister Study findings establishing a connection between the use of hair relaxers and uterine cancer, has led to hair relaxer lawsuit against ShoftSheen-Carson, LÓreal, and other cosmetic companies. These lawsuits are being filed by women who developed uterine cancer (or other related conditions such as endometriosis, or uterine fibroids), after years of regularly using products such as Care Free Curl.
According to allegations in the lawsuits, LÓreal and the other cosmetic companies knew or should have known about the dangers posed by the chemicals in their products, specifically that they could increase the risk of uterine cancer. The plaintiffs accuse these companies of ignoring these risks and failing to warn about them on product labels.
A motion has already been filed seeking to have the hair relaxer lawsuits consolidated into a new MDL class action. This motion will most likely be granted as thousands of lawsuits could potentially be filed alleging that their hair relaxer products caused uterine cancer or other injuries.
Potential Settlement Value of Care Free Curl Lawsuits
Our lawyers predict that if successful, a Care Free Curl hair relaxer lawsuit involving uterine cancer as the primary injury could have a potential settlement payout range of $300,000 to $1.75 million. It should go without saying that this is just a prediction and a highly speculative one. These hair relaxer lawsuits are brand new.
Nobody knows how things are going to play out. Specifically, we don't know for certain if the causation evidence will be ruled admissible in court. But lawyers are spending a lot of time, effort, and money to market hair relaxer lawsuits and to get these cases ready for trial.  We lose that money if these cases go nowhere. So that confidence level tells you something.
Cases on the lower end of the value estimate range will be those in which the plaintiff developed uterine cancer at an older age. The cases with the higher settlement value will be those in which the plaintiff was young at the time of diagnosis and lost her reproductive capacity as a result of cancer.
Care Free Curl lawsuits involving other injuries, such as uterine fibroids, will be worth significantly less. There are 2 reasons. First, the causation evidence linking these injuries to hair relaxers is not as strong as it is for uterine cancer. Second, these health conditions are not as serious as uterine cancer.
Contact Us About Filing a Car Free Curl Hair Relaxer Lawsuit
Our firm is currently investigating product liability cases alleging that chemicals in Care Free Curl hair relaxer cause uterine cancer and other conditions. If you think you qualify for a lawsuit involving chemical hair straightener, contact our office today for a free consultation at 800-553-8082 or get a free online consultation.