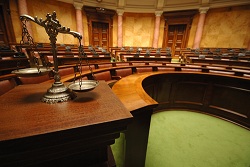 According to Jury Verdict Research, the average personal injury jury verdict in Tennessee is $273,821. Using the median verdict, which deflates the impact of large verdicts, the number falls to $17,536.
John Day provides some additional data about Tennessee car accident verdicts. The Tennessee Jury Verdict Reporter, he reports, looked at 130 car accident lawsuits that went to trial in Tennessee. The average plaintiff's verdict was $60,552 in the 93 (71%) lawsuits in which the plaintiff prevailed. Factoring in the losses, the average verdict was $43,318.
Average verdict statistics are interesting but, in the end, the axiom that every case is different really does ring true. Average statistics are just that, averages. If you want more information on the value of your case, call 800-553-8082 or get a free online case evaluation.
Example Jury Verdicts in Tennessee
March 2020, Tennessee: $13,566 Verdict: A woman was driving on I-24 in Nashville. She came to a stop because of a vehicle in front of her that changed lanes. The car behind her could not stop in time and rear-ended her vehicle. She initially denied pain and left the scene before the police arrived. About a week later, she sought chiropractic care, which she underwent for a month. She also underwent an MRI, which revealed an L5-S1 disc protrusion. The woman sought damages from the other driver. The jury awarded her a $13,566 verdict.
February 2020, Tennessee: $23,500,000 Verdict: An intoxicated truck driver rear-ended a 69-year-old woman's vehicle. The trucker was an employee of a medical waste disposal company. He admitted to ingesting some of the hauled drugs intended for disposal. They included various anti-depressants and amphetamines. The woman suffered soft-tissue injuries to her shoulder and right foot. She received a PTSD diagnosis and the aggravation of her pre-existing anxiety and depression. In addition to the driver, she sued his employer for letting him work unsupervised. The jury awarded the woman a $23,500,000. However, the Sullivan County court reduced the compensatory damages to $750,000 and the punitive damages to $1,5000,000 based on Tennessee's recoverable damages limit. The final judgment amounted to $2,250,000.
February 2020, Tennessee: $20,000 Verdict: A 14-year-old girl was a passenger in her mother's car. Another driver failed to yield the right-of-way and broadsided the vehicle. She suffered a soft-tissue shoulder injury. The girl underwent chiropractic and physical therapy. Her orthopedist performed an exploratory surgery on her shoulder, which found minimal. He also linked the injuries to the accident. The defense minimized the injury, claiming they were not permanent. After a two-day trial, the Hamilton County jury awarded her a $20,000 verdict. This comprised of $15,000 in medical expenses and $5,000 in pain and suffering.
February 2020, Tennessee: $18,000 Verdict. A 38-year-old woman suffered a soft-tissue hip injury after another vehicle ran a red light and T-boned hers at an intersection. She sought treatment weeks later. An orthopedic surgeon eventually performed an arthroscopic labral repair and linked her injuries to the collision. The other driver contended the woman's injuries, claiming she failed to immediately seek treatment, and that she had a pre-existing hip condition. The Davidson County jury awarded her $18,000.
May 2019, Tennessee: $632,909 Verdict. A man was motorcycling with his passenger along the Korean War Veterans Memorial Bridge in Nashville. They were struck by a city-owned truck, whose driver was intoxicated at the time. The motorcyclist and his passenger suffered undisclosed injuries. They sued both the city government and the driver, claiming that the driver failed to keep a proper lookout and take evasive action. The Davidson County jury awarded the man $502,741 and his passenger $130,168, totaling $632,909.
August 2017, Tennessee: $250,000 Settlement. A 16-year-old minor was a passenger in a single-vehicle accident that occurred along Highway 104. He suffered a left wrist fracture and facial lacerations. His parents sued the driver and the car's owners for negligence. The parties settled for $250,000.
December 2016, Tennessee: $300,000 Verdict. A 51-year-old man died of respiratory arrest and an anoxic brain injury while hospitalized for kidney stones. His estate alleged that the staff administered excessive amounts of morphine via a patient-controlled analgesia pain pump. They allegedly doubled the dosage and failed to monitor his vitals, even during his injury. The Coffee County jury awarded the estate $300,000.
October 2016, Tennessee: $406,998 Verdict. A woman was a passenger in a vehicle. Their vehicle was struck by a vehicle owned by a refrigerator installation company that ran a red-light. The woman suffered undisclosed injuries as a result. She sued both her driver and the other vehicle's driver for failing to drive carefully. The Davidson County jury awarded $406,998 in damages. However, the final judgment was $223,848 based on fault apportionment.
March 2015, Tennessee: $551,717 Verdict. An apartment resident was operating her motorized wheelchair in the building's parking lot. The cleaning lady entered the parking lot, made a sharp left turn, and struck the resident. The woman sued the cleaning lady for negligence and her employer, the apartment complex, for vicarious liability and failure to prevent obstructed views of pedestrians. The apartment complex's owner denied vicarious liability and contended that the plaintiff's own negligence caused the accident. A jury found the cleaning lady 85 percent liable, the apartment complex 10 percent liable, and the resident 5 percent liable. They awarded $551,717 in damages, which was reduced to a $55,1717 award based on the fault findings.
April 2014, Tennessee: $251,052 Verdict. A woman was driving on I-40 in Nashville. The vehicle behind her rear-ended her while they were stopped in traffic. She suffered undisclosed permanent injuries. The woman sued for failing to keep a proper lookout. The Davidson County jury awarded her $251,052.
July 2013, Tennessee: $ 15,260,000 Verdict: A 17-year-old teenager had been transferred to a local hospital where the staff placed a tracheostomy tube to aid in his breathing after an automobile accident. He remained at the hospital for a month until they elected to remove the tube and transfer him to HealthSouth Cane Creek Rehabilitation Hospital. However, he began to experience labored breathing, and the tube was reinserted. He was transferred to the rehabilitation facility the next day under orders that he return to the hospital's surgical clinic for a checkup and plans to progressively downsize and cap the tracheostomy tube. For some reason, the appointment never took place, but the rehabilitation center still instituted capping trials. Although results were inconsistent, a family practitioner removed the tube. He shortly experienced breathing difficulties and complained of a feeling similar to something being stuck in his throat. The family practitioner prescribed him Xanax to help him rest. Within hours, the teenager suffered respiratory distress. An ambulance was called 20 minutes later, however, it arrived too late, and he suffered respiratory and cardiac arrest, which resulted in anoxic brain damage. His parents sued the rehabilitation facility and the family care practitioner on their son's behalf for medical negligence. The plaintiffs alleged the Defendants failed to recognize their son's airway difficulties and timely consult with the appropriate specialists. A Tennessee Circuit Court jury found for the Plaintiffs and awarded them in the amount of $15,260,000.
July 2013, Tennessee: $33,591,900 Verdict: A 31-year-old woman, who at the time was 39 weeks pregnant, arrived at Regional Medical Center in Memphis for delivery after fetal testing earlier that morning showed no fetal response to acoustic stimulation and an unusually irregular heart rate. However, she was not placed on a fetal heart monitor for at least an hour after her arrival. The examining physician ordered that an elective C-section be performed later that afternoon around 3:30 pm. By 4:30 pm, the procedure had yet to be performed and the fetal heart rate had crashed. The C-section was finally performed at 4:49 pm; unfortunately, the infant was delivered with no heartbeat and required resuscitation. He was subsequently diagnosed with brain injuries. He currently suffers from spastic quadriplegia and cognitive and developmental disorders. He experiences an inability to control his bowel and bladder and requires a feeding tube. His mother sued the examining physician and hospital (both insured by State Volunteer Medical Insurance Co.), individually and on her son's behalf, for medical malpractice. Plaintiff's counsel maintained that the Plaintiff had experienced asphyxia prior to birth due to the physician's failure to promptly schedule delivery. Plaintiff's medical experts testified that delivery should have occurred within the hour of the mother's arrival to the hospital. Defendants argued that they met the appropriate standards of care and that while the Plaintiffs were being monitored, there was no change in the fetal heart rate tracing. The matter continued to a four-day trial where a Shelby County Circuit Court jury found that the physician had engaged in malpractice. They awarded the Plaintiffs in the amount of $33,591,900.
May 2013, Tennessee: $3,705,000 Verdict:    A 30-year-old commercial truck driver was driving his 18-wheeler tractor-trailer northbound on Interstate 55 in Memphis. When he approached the interstate's intersection with Crump Boulevard, he was stopped by accumulating traffic and subsequently rear-ended by a truck. The collision caused a chain reaction in which the truck that struck the man's vehicle was also struck from behind by another truck. Three days following the collision, he visited the emergency room at Ochsner Medical Center in his hometown of Jefferson, LA with complaints of pain in his lower back and neck. He was treated, released, and advised to visit his primary care doctor who conservatively treated his pain for three to four months. Following the conservative treatment, the man turned in a worker's compensation claim and began to treat with a neurologist. An MRI revealed a possible disc herniation and bulges in his spine. He received weeks of physical therapy and two rounds of epidural injections before ultimately undergoing a diagnostic procedure. The procedure revealed that he would need a future rhizotomy. He sued the driver of the truck that struck him and his employer for motor vehicle negligence. He alleged the driver failed to maintain a proper lookout while operating his vehicle and that his employer was vicariously liable. Defendants contended that Plaintiff's injuries were arthritic and unrelated to the accident. They also claimed that the Plaintiff had been involved in multiple motor vehicle collisions before and after the incident at hand. A Shelby County Circuit Court jury found in favor of the Plaintiff and awarded him $3,705,000 for damages.
September 2012, Tennessee: $3,500,000 Verdict:  A 33-year-old auto mechanic was driving his motorcycle to work on Highway 27 in Chattanooga, TN. Suddenly, a woman who was texting while driving abruptly switched from the right lane to the left, causing a chain reaction of vehicles to brake abruptly. This caused the man to slam into the vehicle in front of him, resulting in him being thrown off his bike and onto the pavement. He sustained severe head injuries that resulted in brain damage and partial paralysis. While he did not undergo surgery, he went through extensive periods of physical therapy and long periods of hospitalization. He sued his insurance company, American Reliable Insurance, for underinsured and uninsured motorist benefits (the woman who was texting while driving was never identified). At the time of trial, he was still confined to a wheelchair and was noted by his counsel that because of the extensiveness of his brain damage, he now has the intelligence of a child. Defense counsel argued that the accident was the Plaintiff's fault for following too closely to the vehicle in front of him. A Hamilton County Circuit Court jury found that the unidentified driver was 75% liable for the accident and awarded the Plaintiff in the amount of $3,500,000.
June 2012, Tennessee: $9,250,000 Verdict:  A 18-year-old honor student was traveling northbound on Mountain View Road in Chattanooga when she was struck head-on by a drunk driver who had crossed the centerline of the roadway. From the accident, she suffered from multiple foot injuries that required multiple surgeries. Prior to the accident, she was a cheerleader on her high school squad and had since been unable to return. She sued the driver for motor vehicle negligence. Plaintiff's counsel claimed that at the time of the accident Defendant was intoxicated and was arrested for his third DUI offense. A Hamilton County jury returned a verdict in Plaintiff's favor in the amount of $9,250,000 in damages; the larges punitive damage award given in a drunk driving case in the state of Tennessee.
We put up verdicts and settlements like this because they shed light on the trial and settlement value of these cases.  But, truth be told, they are as misleading as they are informative. First, let's be fair.  These are good verdicts.  We are handpicked great victories.  We had to step over many not-so-good verdicts to pull these.  Second, every case is different.  A case that sound the same may very well be very different.  You just don't know what the critical factors are in a case when you read a summary (and often, you don't even know for sure if you are the lawyer who tried the case).  Often a critical factor is the jurisdiction, which will vary not only from state-to-state but county-to-county and city-to-city.   So the take-home message is clear: take all of these with more than just a few grains of salt.