This page looks at the settlement and trial value of personal injury cases in California.  This page was last updated on January 18, 2023.
What Is a California Personal Injury Case Worth?
One study found that the average money damage award for personal injury trials in California is $1,814,094. The median verdict, perhaps a better statistic, is $114,305.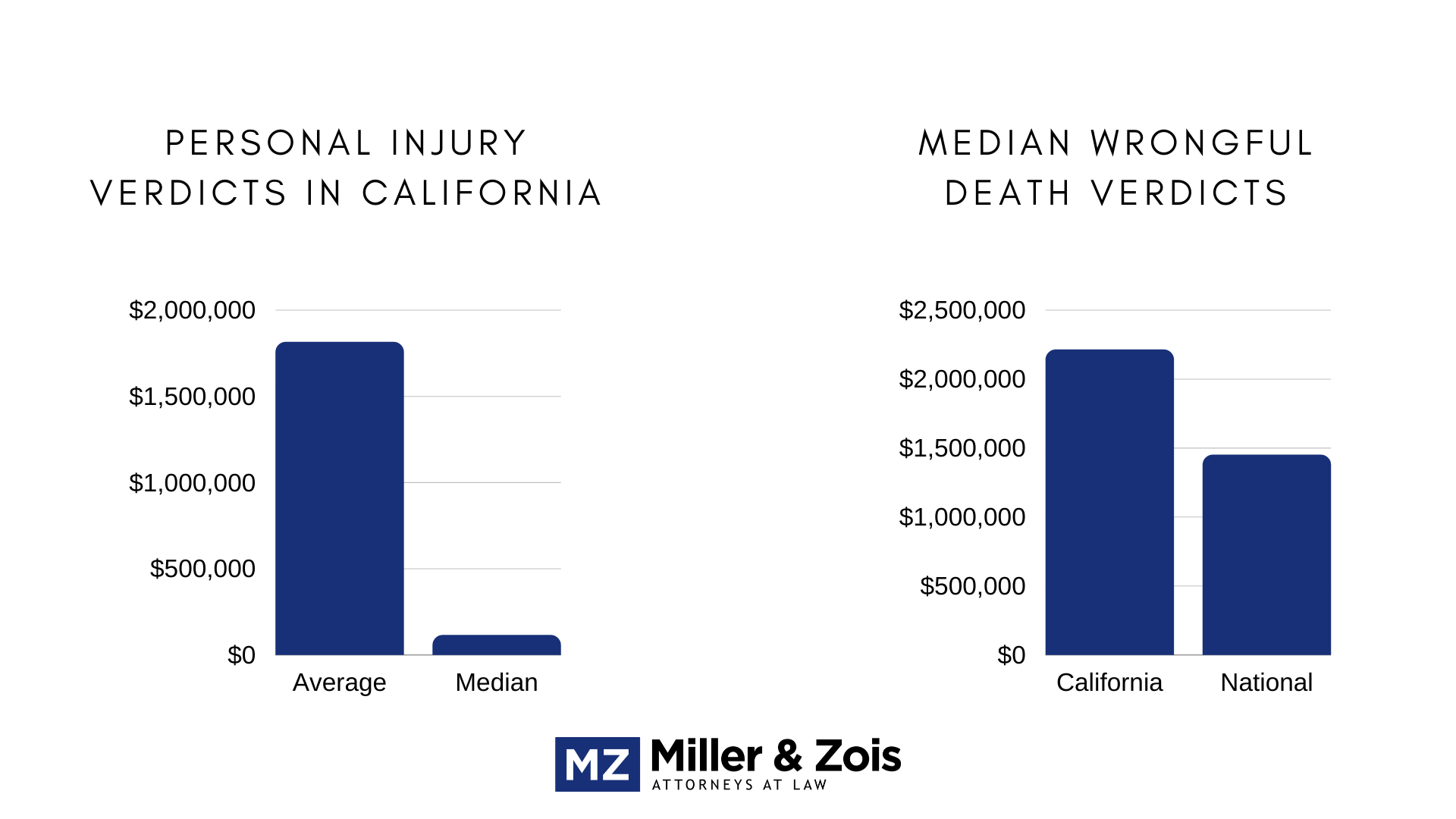 What is the median verdict in a California wrongful death case?
The median verdict in a wrongful death case in California is $2,212,936, compared to the national average of $1,450,000
How much is the average California for a neck or back strain settlement?
The median back and neck strain verdict is $10,885. 
This is the median, we do not have the average, but the median is typically more helpful to victims than the average.
Approximately 17% of the verdicts in California were back and neck strains. They pull the median and average verdicts down.
How often do victims in California win their personal injury cases?
California plaintiffs in personal injury cases received an award 41% of the time.
What is the average disc injury award in California?
The median California disc injury verdict was $84,550 compared to the national average of $50,000.  The average award is likely much higher. But we do not have a statistic for it.
What is the median brain injury verdict in California?
Brain injury verdicts are worth more in California, but not as much as other types of injuries. The median for California brain injuries is $1,595,000. Nationally, the median verdict is $1,400,000
It is fair to summarize all of this by saying that juries in California put a higher value on personal injury cases than the average American does.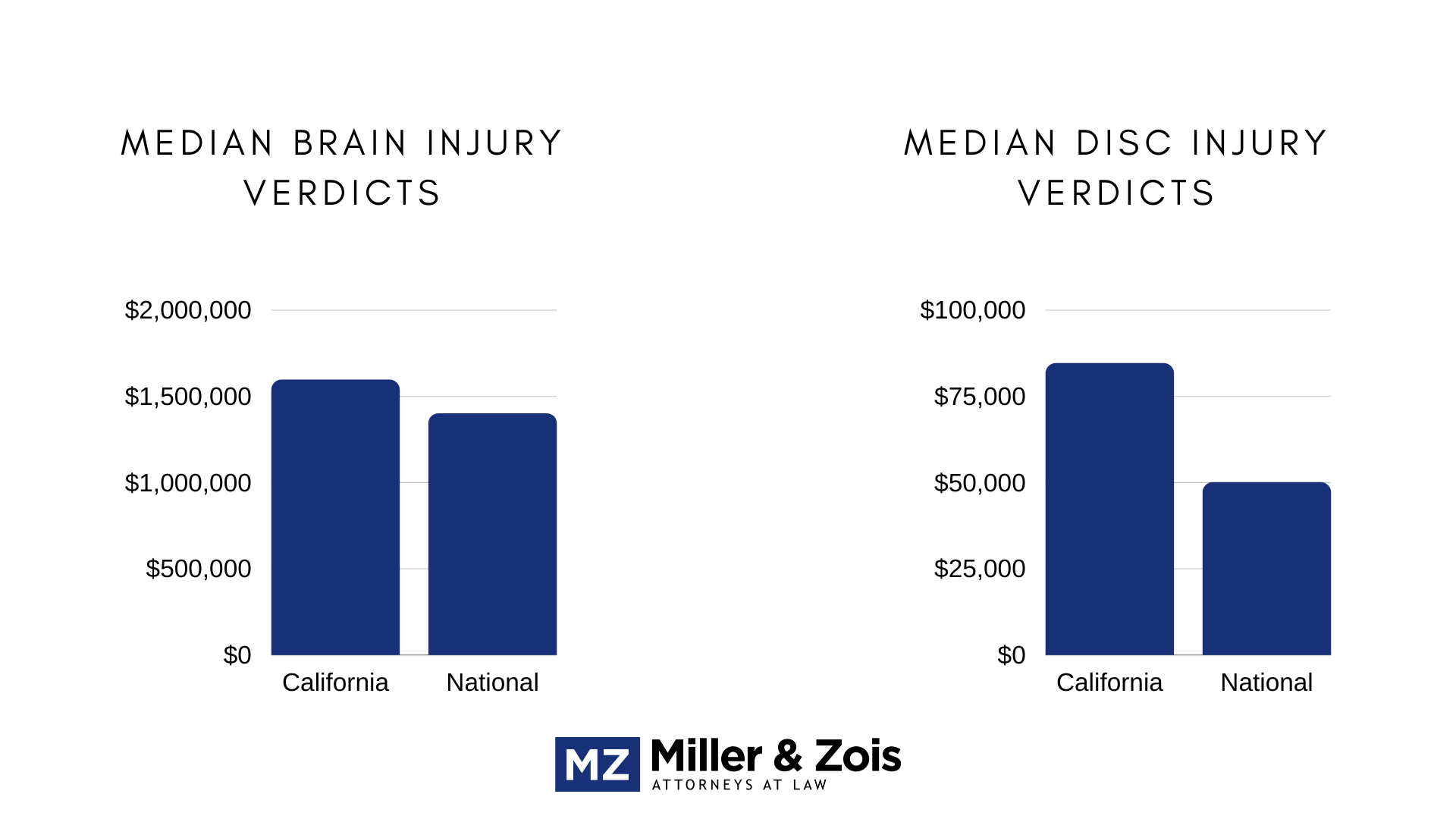 Can you show me sample California settlements from 2020-21?
Below are some sample verdicts and settlements in traffic accident cases in California.  These help learn the value of your accident claim. But, please, take them with a grain of salt, too. No two cases are the same, and many variables can't be covered in these summaries.
Espinoza v. Steed | 2023 | $1,094,426: plaintiff was rear-ended on the highway, and the collision forced her vehicle to collide with another. Plaintiff claimed various permanent injuries to the neck and back. The jury awarded over $1 million in damages, including $463,000 for future medical expenses and $474,000 for future pain and suffering.
Thayer v. Forza Construction Co. | 2022 | $500,000: plaintiff was hit by the defendant while making a left turn and suffered numerous injuries to the shoulder, back, and neck. The jury awarded $500,000 in damages, including $100,000 for past medical expenses, $200,000 for future medical expenses, and $200,000 for pain and suffering.
Dobles v. Jenkins | 2022 | $142,205: plaintiff alleged soft-tissue injuries to the neck and persistent headaches resulting from being rear-ended by the defendant. A jury in San Diego County awarded $142,205.
Paxton v. Cedars-Sinai Medical Center | 2022| $1 million: Actor Bill Paxton suffered an aortic aneurysm. He underwent a procedure to address it. Following the procedure, Paxton suffered significant bleeding. He developed cardiogenic shock and coronary artery damage. Paxton underwent a coronary artery repair. He suffered a fatal stroke. The Paxton family alleged negligence against the surgeon. They claimed he performed a high-risk procedure because he had no training. The family received a $1,000,000 pretrial settlement.
Naranjo v. Inzunza | 2021 | $7.6 million: A tractor-trailer made a foolish left turn on Route 12, blocking two lanes of traffic. A pickup truck driven by a grandfather could not stop in time. He collided with the truck. He died shortly after that. His family hired a Los Angeles truck accident lawyer and took the lawsuit to trial. The plaintiff won a $7.6 million payout from a Los Angeles jury.
Mikeler v. Los Angeles Orthopedic Institute | 2021 | $165,884: A 93-year-old woman underwent surgery for her right hip fracture. Before the procedure, the physician's assistant inserted her left leg into a surgical boot. The surgery was successful. However, the woman suffered a skin tear. She underwent wound care. The woman alleged negligence against the P.A. She claimed he failed to appreciate her medical history of frail skin and carelessly inserted her leg into the surgical boot. The jury awarded the woman $165,884.
Polhemus v. Seaco Enterprise, Inc. | 2021 | $4,300,000: A 62-year-old man traveled for work in icy conditions. He attempted to avoid a jackknifed truck. The man lost control of his vehicle and struck the trailer's undercarriage. He suffered a traumatic brain injury, a left frontal lobe hemorrhage, an intraventricular hemorrhage, an adrenal hematoma, rib fractures, a pneumothorax, a right shoulder injury, and facial lacerations. The man underwent a ventriculostomy, a tracheostomy, and a gastrostomy. He was transferred to another facility. The man underwent brain injury rehabilitation. He was then transferred to a full-time assisted living facility. The man continued to experience several conditions, including a neurocognitive disorder, right-sided hemiparesis, executive dysfunction, memory and attention impairments, sleep apnea, and tinnitus. He now required lifelong care. The man sought workers' compensation from his employer. This case settled for $4,300,000.
Tarazona v. Indian Harbor Insurance Company | 2021 | $1,011,800: A 28-year-old passenger was broadsided. He suffered a C6-7 protrusion and a right shoulder tear. The man underwent a cervical fusion and a right shoulder arthroscopy. He continued to experience recurring neck pain. The man could no longer work full-time. He alleged negligence against the at-fault driver. The man also made a UIM claim against Indian Harbor Insurance. The defense disputed liability. They argued that the man's failure to not wear his seatbelt caused his shoulder injury. A jury found the man 20 percent liable and the underinsured driver 80 percent liable. They awarded $1,011,800.
Monroy v. Farmers Insurance | 2021 | $1,800,000: Two 50-something men struck a vehicle that pulled in front of them. One of the men suffered spinal strains, a left meniscus tear, and lumbar radiculopathy. The other suffered lumbar radiculopathy and a left meniscus tear. The two men alleged negligence against the at-fault driver. They claimed she failed to keep an appropriate lookout and yield the right-of-way. The jury awarded $1,800,000.
Mitchell v. Mercury Insurance | 2021 | $146,000: A 36-year-old man was sideswiped at an intersection. He suffered the aggravation of his pre-existing L4-5 herniation. The man underwent physical therapy. He continued to experience residual back pain. The man could no longer enjoy his favorite activities like before, including snowboarding and golfing. His orthopedist recommended pain management injections. The man settled with the liability insurer for $15,000. He then filed a UIM claim with Mercury Insurance. Following arbitration, the man received a $146,000 award.
Cervantes v. Happy Hearts German Shepherd Rescue | 2021 | $1,300,000: A woman was mauled by a German Shepherd at a German Shepherd rescue center. She suffered facial lacerations. The woman alleged that the rescue center's failure to restrain the dog and warn of its dangerous nature caused her injuries. This case settled for $1,300,000.
Rojas v. Hajoca | 2021 | $23,720,996: A motorcyclist was T-boned. He suffered a right foot crush injury, a Chopart fracture-dislocation, and a Lisfranc fracture-dislocation. The man underwent multiple surgical attempts to save his lower right leg. However, these attempts failed. The man underwent a below-the-knee amputation. Despite returning to work one year later, he experienced significant pain on the job. The man alleged that the at-fault driver's negligence caused his permanent injuries. He claimed he failed to yield the right-of-way and made a negligent left turn. Following an in-person bench trial, the man received a $23,720,996 award.
Chavez v. Sunset Construction Company| 2021 | $2,500,000: A 43-year-old laborer fell from a scaffold. He landed eight feet on the ground. The man suffered a mild traumatic brain injury. He was left with post-concussion syndrome, post-traumatic vision disorder, post-traumatic headaches, tinnitus, and vestibular disorders. The man now suffered insomnia and depression. He underwent neurorehabilitative therapy. The man continued to experience chronic headaches, dizziness, tinnitus, fatigue, and memory issues. His healthcare providers testified that he required multidisciplinary medical treatments and supported living services. This case settled for $2,500,000.
Confidential v. Confidential | 2021 | $1,250,000: A 16-year-old boy was cut off on the highway. This resulted in a single-vehicle collision. The boy suffered a left-hand skin avulsion, a scalp laceration, a left-hand degloving injury, anemia from excessive bleeding, left upper extremity compartment syndrome, and a mild traumatic brain injury. His left hand and wrist became permanently incapacitated. The boy alleged that the at-fault driver's negligence caused his permanent injuries. He claimed he negligently passed other vehicles and failed to operate his vehicle safely. The defense denied liability. They argued comparative negligence. This case settled for $1,250,000.
Carr v. Jaramillo | 2021 | $1,250,000: A 51-year-old woman was sideswiped. She suffered a closed head injury, a fractured sternum, and multiple left-hand and wrist fractures. The woman was brought to the hospital. She underwent joint-spanning external fixation and open reduction, and internal fixation procedures on her left wrist. The woman eventually returned to work. She required additional left wrist treatments, including a carpal wrist fusion and physical therapy. The woman alleged that the at-fault driver's negligence caused her injuries. She claimed he made a negligent lane change and failed to yield the right-of-way. The defense denied liability. They argued comparative negligence. This case settled for $1,000,000.
Milstein v. California Department of Transportation | 2020 | $650,000: A male pedestrian was struck by a vehicle at an intersection in Los Angeles.  His lawsuit claimed that the intersection lacked signs warning drivers of pedestrians that constituted dangerous public property conditions. The City of Los Angeles denied the allegations, arguing that only the man and the vehicle's driver caused the collision. This case settled for $650,000.
Taplin v. Fuqua  |2020| $50,000:  A woman and her children sustained multiple injuries in a hit-and-run case involving a drunk driver. Each of them sustained head injuries. The mother sustained soft tissue injuries to her neck and back. She underwent three months of chiropractic treatment. Her son sustained a right clavicle abrasion and a headache. Her daughter sustained soft tissue injuries to her neck and a lip laceration. The pretrial settlement amounted to $50,000.
Plaintiff v. Defendant |2020| $2,000,000:  This is a medical malpractice case.  After three surgeries, the plaintiff continued to experience pain in his left hand, which prevented him from working as a veterinarian. His first surgery involved clot removal in his left brachial artery, which had caused him left arm pain. He noted that his left hand was pulseless after surgery. His second surgery involved a bypass of his left upper extremity. However, he experienced difficulties in getting a pulse in his arm. He underwent a third surgery with a different vascular surgeon, after which, his condition did not improve. The plaintiff sued the surgeon who conducted the first two surgeries. He alleges that if the defendant performed a CT angiogram after the second surgery, he would have discovered a thrombus that would have necessitated further surgery that would have allowed him to get back to work. The parties reached a confidential settlement of $2,000,000. California has a ridiculously low cap in medical malpractice cases for pain and suffering damages.  This case was viable for the plaintiff because he had very high past and future lost wages.
Larson v. Plaintiff |2020|  $615,000: A transportation employee of a production studio sustained left foot fractures, and the defendant driver struck his vehicle. Specifically, the injured worker sustained a great toe fracture, a Lisfranc injury to his mid-foot (Cam Newton suffered this injury last year), and a fifth metatarsal fracture. He initially refused medical attention but drove himself to the hospital later that day. He underwent surgery to repair his great toe and Lisfranc's injury. His great toe became necrotic, and would eventually be amputated. To his credit, he continued to work. But he has chronic pain in his central nervous system. He also claimed to need further surgeries, including a spinal cord stimulator implant and a below-the-knee leg amputation. The jury awarded the plaintiff $615,000. This includes $90,000 in personal injury and $200,000 in future medical costs.
Cheong v. Collopy | 2020 | $3,500,000 settlement: A motorcyclist was T-boned. He fractured his right ribs, left knee, leg, right shoulder, right pelvis, left hip, and right heel. The man also suffered right lung contusions, hematuria, left artery injuries, lactic acidosis, acute blood loss, leukocytosis, and acute pain. He sustained emotional distress. The man underwent a below-the-knee left leg amputation. He alleged negligence against the at-fault driver. The man claimed he made a negligent left turn and failed to maintain a proper lookout. This case settled for $3,500,000.
Curry v. San Ramon Valley Unified School District |2020| $8,000,000:  High school student was in a pool with his classmates as a part of a physical education class when he drowned. Just an awful tragedy.  His parents allege that his P.E. teacher's failure to properly supervise the class resulted in their son's wrongful death. Their wrongful death case also alleged that the school failed to train the teacher properly.  Parents' counsel contended that there were no lifeguards and that the physical education teacher was using his cell phone while students trod water. The next swim class found his body when they came to use the pool. The case settled for $8,000,000 before trial.  All of these cases are awful.  This one seems particularly awful, right?
Anonymous v. Anonymous | 2019 | $823,045 verdict.  A husband and wife were rear-ended by a box truck.  Both the husband and the wife suffered both neck and back injuries. The husband ultimately had micro-decompression lumbar surgery.
Luther v. Castillo | 2018 | $37,000 verdict. The defendant negligently struck the plaintiff's vehicle while she was proceeding through the intersection of Lincoln Avenue and Mary Street in Riverside, California. Plaintiff allegedly suffered injuries to her face, back, chest, and knee. The defendant denied liability. The complaint was filed in May 2017, and the case went to trial in December 2018. The jury in Riverside County found the defendant was responsible for the accident and awarded $37,000 in damages.
Lo v. Southern Cal. Gas Co. | 2018 | $41.8 Million Verdict. Plaintiff was stopped at a traffic light on his motorcycle when he was rear-ended by an SCGC gas truck. The driver of the gas truck suffered an epileptic seizure and lost control which caused him to slam into the back of the plaintiff's motorcycle. The driver and SCGC were aware of his medical condition but failed to reassign him to a non-driving position. Plaintiff suffered a "degloving injury" to his right thigh with a femoral fracture, a femoral artery injury, a femoral nerve transection, an ankle fracture, and loss of skin, tissue, and muscle.
Souillere v. Suzuki Motor Company | 2018 | $8 Million Verdict. Plaintiff, a 28-year-old hairstylist, was riding his Suzuki motorcycle on the highway when his front brake failed, and he was thrown from the bike and wedged in between 2 vehicles. Plaintiff suffered six major bone fractures requiring numerous surgeries and leaving him with permanent physical limitations. He sued the motorcycle manufacturer Suzuki, claiming that the front brake cylinder had a severe design flaw that caused it to fail periodically. Suzuki denied the design flaw. The jury in Orange County found in favor of the plaintiff and awarded damages totaling $8 million, including $6 million in punitive damages.
Valdez v. California | 2017 | $1,265,000 Settlement.  Two California Highway Patrol ("CHP") officers pulled over a car suspecting a DWI in Bloomington (about 10 minutes from San Bernardino). They called a tow truck to impound the car. The vehicle to be impounded was in a lane of traffic. So the tow truck driver had to go into traffic to rescue the vehicle. A drunk driver came by and struck and killed the tow truck driver. He left behind his mother and two young daughters. The family hired a San Bernardino car accident lawyer and sued the CHP for failing to mark off the road to protect the tow truck driver. The CHP tried to blame everyone else, most notably the decedent and the drunk driver, but ultimately settled the case for $1,265,000.
Alejandrez v. Archdiocese of Los Angeles | 2017 | $1,400,000 Settlement. Two male plaintiffs were loading the trunk of their parked vehicle in Los Angeles when a priest struck their vehicle. The priest's defense was that he became unconscious as a result of an unforeseeable diabetic coma while operating his vehicle. The case settled with one plaintiff getting $800,000 and the other getting $600,000.
Packard v. FedEx Ground | 2017 | $1,487,000 Verdict.  Plaintiff was rear-ended in Adelanto, California by a FedEx Ground Package System driver. He suffered a disc herniation in his neck at C3-3-4, mild disc bulges in his back at mild L4-L5 and L5-S1, and pain in his legs, hand, arm, back, and neck.
Petterson v. Ghaemi | 2012 | $31,178 Verdict. A Zurich-insured defendant is driving his tow truck when he makes a left-hand turn into the plaintiff. The plaintiff and her passengers, two adults, and a three-year-old child, were injured in the crash. Among the injuries are disc protrusions, neuro formal stenosis, reduced motion in the waist and neck, and soft tissue injuries. The defendant denies liability and disputes the reasonableness of the plaintiff's chiropractic sessions. A Los Angeles County jury awards a compensation payout of only $31,178 verdict.
Goodman v. Marshall | 2012 | $1,850,000 Settlement. A 47-year-old dentist is rear-ended by a 16-year-old going 50 mph in his dad's car. The teenager later admits having been illegally under the influence of his friend's prescription drugs. Plaintiff suffers severe injuries from the crash, including constant and permanent pain. The dentist is forced to see orthopedic surgeons, chiropractors, acupuncturists, and physical therapists to alleviate the pain and damage to his back. Defendant admits responsibility but claims that the plaintiff only sustained soft tissue injuries that should have healed in a few weeks; anything further was prior conditions and stresses related to dentistry. Eventually, the defendant's insurance carrier Navigator agreed to pay a settlement amount of $1,850,000 offer. Defendant's father's insurance, ASCS, paid $15,000 toward the settlement amount as the vehicle owner.
Corbin v. Pascarella | 2012 | $10,400 Verdict. A driver insured by the Interinsurance Exchange of the Auto Club runs into the plaintiff in an intersection. The crash causes lower back, neck, and shoulder pain to the plaintiff's 13-year-old daughter. Defendant settles her claim privately with the mother, but a Los Angeles County jury awards a $10,400 verdict to the daughter.
Reveles v. O'Neal | 2013 | $5,000 Verdict. The defendant driver crossed the double yellow line and ran headfirst into the plaintiff. Plaintiff receives injuries costing $70,000 in medical bills, but the information is not presented at trial because he did not call a doctor to testify. A San Diego County jury awards $5,000, paid by the defendant's insurance, Commerce West Group.
Ducharme v. Christian | 2012 | $100,000 Settlement. A 19-year-old college student was driving late at night when State Farm-insured defendant strikes her. The defendant was intoxicated at the time and made an illegal left-hand turn. The young plaintiff receives severe injuries and must be taken to a hospital by ambulance. Plaintiff undergoes several surgeries on her arm to treat the fractures and nerve displacement. She requires aggressive titanium screws, and aggressive rehabilitation, and continually suffers from pain in her arm, elbow, and wrist. The parties reached a $100,000 settlement.
In re Ricalde | 2012 | $15,000 Verdict. Plaintiff is a nine-year-old passenger in his mother's vehicle. He is injured when a GEICO-insured defendant broadsides the car. The victim suffers a toe fracture and is awarded $15,000 by a San Diego County jury.
Merrill v. Sotos | 2012 | $50,000 Settlement. Defendant driver, suddenly and without warning, ignores the red traffic light and speeds into an intersection. He rams into the plaintiff head-on. The plaintiff is knocked unconscious and receives several back fractures and spine sprains. Plaintiff sues both the defendant driver and Allstate, his UIM carrier. The unnamed county jury awards the victim a payout of $15,000 to be paid by the defendant's insurance carrier, Farmers, and $35,000 to be paid by Allstate.
Tapola v. Mercury Insurance Company | 2012 | $1,137,500 Settlement. A family is driving down a lonely rural California road. A defendant driver comes from the opposite direction and fails to yield when performing a left turn. The horrific crash is so severe it traps the plaintiffs inside their vehicle. The sister suffers a permanent disfigurement to her foot that features constant swelling and pain, and is slightly shorter than the other. The mother, who is five months pregnant, is cut out of the wreckage and transported to the hospital by helicopter. She loses the baby. She also suffers a broken femur and pelvic fracture
requiring several operations and support implants. Her extended hospital stay causes her to start coughing up blood and eventually developing pulmonary embolism, which requires more surgery. The defendants admitted liability, and his insurance carrier, Mercury Insurance Co., settled in Los Angeles County for $1,137,500.
Tompkins v. Modafferi | 2012 | $100,000 Settlement. A 43-year-old plaintiff is crossing the street when he is struck by State Farm-insured defendant. Plaintiff receives leg fractures in both legs that require surgery to treat. He is advised that he may need two total knee replacement operations in the future. Defendant denies liability and claims that the victim was not in the crosswalk. Police at the scene placed 100% of the fault on the plaintiff, but the parties still agree to a $100,000 settlement compensation amount.
Messina v. Bayne | 2012 | $11,430 Verdict. Plaintiff is stopped in traffic when he is rear-ended by Farmers insured defendant driver. Plaintiff initially only took one day off and returned to his work at Trader Joe's, but soon saw a chiropractor four times. He claims a "10 out of 10" on the pain scale, and later switches chiropractors and attends more sessions. Plaintiff later takes an additional 11 days off work and attends physical therapy from February 2010 to November 2010. Farmers insurance contests the validity of the chiropractor visits and denies the additional lost wages claims. However, a San Bernardino County jury awards the plaintiff all the damages he was seeking.
Wong v. Tom | 2012 | $7,363,761 Verdict. A fully loaded family car is traveling on the highway. The defendant, insured by CSAA, collides with the plaintiffs. The father is killed outright, and the mother receives fractured ribs, facial burns and bruises, hip injuries, and emotional distress. The daughter receives a broken arm, facial lacerations, and emotional distress while the relatively unscathed son suffers a loss of consortium. The defendant is discovered to have been intoxicated at the time of the accident and the plaintiffs seek further punitive damages for his malicious conduct. A San Mateo County awards the surviving family members $7,363,761.
Trinh v. Elissa | 2012 | $125,000 Verdict. Plaintiff is an in-line skater who is rolling across a parking lot with a group of friends. The defendant is driving his car in the wrong direction and runs into the skater. The impact breaks the plaintiff's femur, requiring surgery, screws, and rods. Plaintiff claims the defendant was negligently driving. Defendant counters that it was dark at the time of the accident and that the skater was moving at an unsafe speed on the wrong side of the entryway. Defendant presents the police report as evidence that primarily faults the plaintiff. However, Mercury Insurance, the defendant's carrier, is directed to pay out $125,000.
Harvey v. Torres | 2012 | $331,705 Settlement. The plaintiff is waiting at a red light when a State Farm-insured defendant driver rear-ends his vehicle. Plaintiff receives several back and shoulder injuries. An MRI reveals an annular disruption and an S1 compression. The plaintiff receives four lumbar spinal epidural injections to attempt to ease the pain. Plaintiff's car accident lawsuit contends that the accident and all his injuries were caused by the defendant's negligence. Defendant accepts liability but claims that the spine injuries were pre-existing. State Farm, which is both the defendant's and the UIM carrier, settles with the plaintiff for $331,705.
California Wrongful Death Law
California law provides a remedy for families who have lost a loved one due to someone else's negligence through its wrongful death statute.
What is a Wrongful Death Claim in California?
A wrongful death claim is a legal action brought by the surviving family members or beneficiaries of someone who died due to another person or entity's negligence or wrongful conduct. In California, the wrongful death statute is found in the California Code of Civil Procedure section 377.60.
The purpose of the California wrongful statute is to provide a path to compensation for surviving family members or beneficiaries who have suffered damages as a result of the death of their loved one due to negligence.
Who Can Bring a Wrongful Death Claim in California?
California wrongful death law has a very modern view of who can bring a wrongful death lawsuit. Under California law, these are potential wrongful death beneficiaries entitled to bring a wrongful death claim:
Spouse or Domestic Partner (so someone who believes in good faith they were married to the decedent)
Children
Stepchildren
Parents
If no one qualifies, the victim's estate can assert wrongful death rights.
Hiring a California Personal Injury Lawyer
Our firm handles serious injury and wrongful death lawsuits in California, working with trusted colleagues throughout California.
What does this mean to you? We compensate our California co-counsel attorneys out of our firm's attorneys' fees.  You pay no additional contingency fees for having two law firms instead of one.  And you only owe a fee if we get settlement compensation or a jury payout for you.
If you were hurt and believe you have a potential civil tort claim, click here for a free no-obligation consultation or call us today at 800-553-8082.