Transvaginal mesh lawsuits pending around the country were sparked when the FDA issued a Public Health Alert in October 2008 revealing that it had received 1,000 reports of serious injuries associated with vaginal mesh products over a three-year period. In July 2011, the FDA warned that complaints associated with transvaginal prolapse repair had grown five-fold since the 2008 alert.  It stated that it no longer considered these types of injuries to be rare.   This was a big deal because that is what women were sold: complications would be very unlikely. According to the FDA and what we have seen with the inquiries that have come to our law firm, the most common vaginal mesh complications included chronic infections, organ damage, and mesh erosion and shrinkage. Women have filed claims in massive numbers since then.
Every major manufacturer has been sued.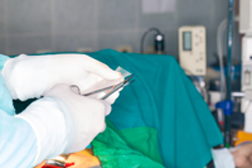 American Medical Systems (AMS), based in Minnesota, is a major manufacturer of transvaginal mesh medical devices, support systems designed to correct pelvic organ prolapse, (POP), and stress urinary incontinence (SUI).  Johnson & Johnson is the global leader in prolapse mesh, followed by American Medical Systems, Boston Scientific, and Bard.  Currently, of the six different vaginal mesh multi-district litigations (MDLs) centralized before U.S. District Judge Joseph R. Goodwin in the Southern District of West Virginia, the largest MDL is the American Medical System (AMS) mesh lawsuits.  The products were manufactured by the subsidiary of Endo Health Solutions, Inc.  As of September 2013, there were 9,930 cases filed against AMS.
Dangerous Side Effects of Transvaginal Mesh Patches Include
Erosion of the vaginal epithelium
Bladder or bowel perforation
Serious infection
Return of pelvic organ prolapse
Urinary incontinence
There has been some speculation that AMS may attempt to settle cases before the first trial dates begin.  Otherwise, according to a pretrial order issued at the beginning of October, it will be determined in December what four cases will be eligible for the first bellwether trials, to be heard in April and May 2014. It is time to either settle these AMS cases or start hitting them with big verdicts that will make them settle on very different terms than AMS could get now.
Filing a Lawsuit
If you or a loved one has suffered any negative effects as a result of an AMS transvaginal mesh, or any of the other manufacturers, protect your rights. Call us at 800-553-8082 or talk to us online.  There is no fee or cost for you in pursuing your claim unless you win a recovery.