If you have been the victim of violent crime due to a business or property owner's failure to provide security, Alabama law allows you to file a negligent security lawsuit and get financial compensation.
On this page, we look at Alabama negligent security cases and how to get compensation for personal injuries or death. We will also look at the potential settlement payout value of negligent security lawsuits in Alabama by summarizing recent reported settlement amounts and jury payouts in prior cases as a lens to how these claims are valued for settlement in Alabama.
What is a Negligent Security Lawsuit
A negligent security lawsuit (also known as an inadequate security lawsuit) is a tort claim that can be brought when someone is the victim of violence (e.g., assault, robbery, rape, etc.) that happened because the property or business owner failed to provide adequate security on the premises.
Under Alabama law, property owners have a legal duty to ensure that visitors on their property are reasonably safe from violent crime by providing and maintaining adequate security measures. This duty requires property owners to take all reasonable security measures under the circumstances, such as gated access, video monitoring, lighting, or onsite security. The level of security that is required will vary depending on what type of property or business is involved, and whether the risk level for violent crime is high.
If a property owner or business fails to provide for adequate security and a visitor becomes the victim of violence as a result, the property owner can be sued for negligent security. Below is a hypothetical example to help illustrate how negligent security lawsuits work.
Let's say Bama Management Co. manages a large apartment complex in Birmingham. The complex is in a high-crime area and Bama Management has gotten numerous complaints about tenants being robbed and assaulted in the parking lots and common areas. The common areas on the complex are poorly lit and Bama Management has no video surveillance system and no security guards. Jane, a female tenant at the complex, is sexually assaulted in the parking lot outside of her building. Jane can sued Bama Management for negligent security because better lighting, video cameras, and/or security guards could have prevented the assault from happening.
Who Can You Sue for Negligent Security in Alabama?
In Alabama, any property owner, management company, retail business, or entity with legal responsibility for a property can be sued for inadequate security. Certain types of businesses and property owners, however, make the best defendants in negligent security lawsuits for various reasons. Below is a list of common negligent security lawsuits defendants.
Apartment Complexes: Some of the most common defendants in Alabama inadequate security lawsuits are apartment or condo complexes. There are 2 main reasons for this. First, apartment complexes are obligated to provide a relatively high level of security compared to other types of businesses such as retail stores. This makes proving negligence easier. The second reason is that apartment complexes in certain areas tend to be hotspots for violent crime. Apartment management companies have a duty to provide gated access to common areas, video surveillance systems (that actually work), adequate lighting, working lock systems, and even 24-hour security guards. Under the right facts, these are often very strong negligence security lawsuits with real jury appeal because jurors can readily relate the the victim's predicament.
Hotels: Hotels or motels have a legal obligation to provide security for their guests. This obligation is very high, and it is comparable to the security obligation at an apartment complex. It typically requires lighting, video monitoring, 24-hour staffing, keyed access, etc.
Shopping Centers / Retailers: Shopping centers or plazas and shopping malls need to take steps to ensure that shoppers are reasonably protected from violent crime. Adequate security for shopping centers typically requires good lighting for parking and other areas, video surveillance, and possibly security guards or limited access parking. Shopping centers are common defendants in negligent security cases.
Bars / Nightclubs: Nightclubs and bars where alcohol is consumed by customers have an obligation to protect patrons from violence, including drunken brawls between patrons at the bar.
Hospitals: Hospitals need to ensure that patients and other visitors are reasonably protected from violence both inside the hospital and in common areas such as parking lots and pickup areas.
Schools: Schools in Alabama have a legal duty to keep students safe from violence, both from other students and non-students and staff. This duty is very circumstance specific, but it may require security screening, responding to credible threats, and possibly hiring school security.
Types of Negligent Security Lawsuits in Alabama
Many different types or categories of inadequate security claims are recognized under Alabama law. Below is a list of the most common types of negligent security claims that we see in Alabama.
Inadequate Locks: Having a secure, functioning lock or access system is a critical security measure. Residential complexes and hotels, for instance, should have gated access (whenever possible), and working lock systems to access common areas such as parking lots, pools, recreation centers, etc.
Inadequate Lighting: Maintaining adequate lighting is a basic security obligation for all Alabama business and property owners. Good lighting deters violent crime. Unfortunately, businesses are often negligent in maintaining the lighting on their property. If guests, tenants or customers are victimized as a result they can bring a negligent security lawsuit.
Lack of Video Surveillance: certain types of properties, such a hotels, apartment complexes, or shopping centers, have an obligation to ensure that guests are safe by having a functioning video surveillance system. Video surveillance deters criminal activity and enables help to be dispatched when events do occur.
Lack of Security Staff: In certain circumstances, a property owner or business owner may have an obligation to hire onsite security guards to help protect patrons and visitors from violence. Failure to provide security staff can be the basis for a negligent security claim.
Settlement Value of Alabama Negligent Security Lawsuits
Negligent security lawsuits in Alabama have a relatively high average settlement value compared to other types of personal injury cases. This is particularly true in urban areas such are Birmingham, Mobile, or Huntsville. In fact, negligent security lawsuits have a high potential settlement value in all jurisdictions. The chart below shows a breakdown of the verdict and settlement amounts in negligent security cases from across the country. This is based on verdict and settlement data obtained from Westlaw.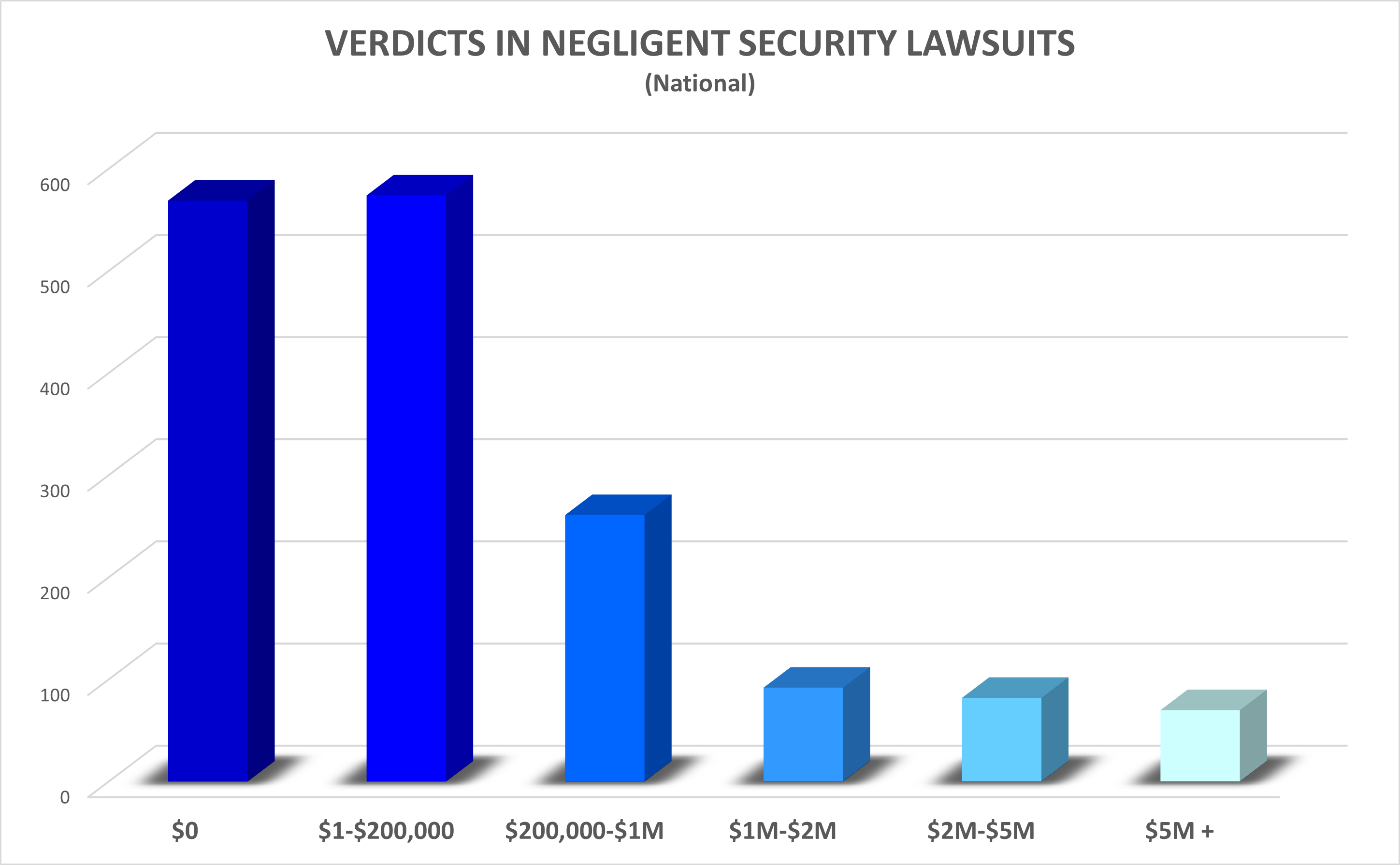 Alabama Negligent Security Verdicts and Settlements
Below are summaries of some verdicts and settlements from recent Alabama negligent security cases.
$3,600,000 Verdict (Madison County): The plaintiff, a male in his mid-20s, was a patron at a T.G.I Friday's restaurant and bar in Huntsville. Another patron at the bar became angry with the plaintiff after he saw flirting with his wife. The two men got into a physical altercation, after which the jealous husband went out to his car to retrieve his gun then came back and shot the plaintiff several times.  This is the exact situation where an establishment has to have security that makes reasonable decisions.  The plaintiff sued the Friday's restaurant for negligently failing to take appropriate steps to prevent further violence after the fight broke out.
$959,854 Verdict (Etowah County): A female suffered emotional distress when she was attacked in the parking lot of the co-defendant hospital.  The defendant security company provided security services to the co-defendant. The plaintiff contended that the defendants were negligent in failing to provide adequate security for its employees. Jury in Etowah County awarded nearly $1 million, which included $402,000 in punitive damages.
$42,500 Settlement (Madison County): A male plaintiff suffered a lumbar strain and multiple contusions and abrasions when he was knocked to the floor by a nonparty security guard who was chasing a thief while working within scope of their employment. The plaintiff contended that the defendant's security guard failed to keep a proper lookout for customers in the store during his pursuit of the criminal, that the defendant failed to adopt policies which set rules and regulations into effect about how security personnel should conduct pursuits, and that the defendant failed to provide a safe environment for its customers.
$888,174 Verdict (Etowah County): A female hospital worker suffered a gunshot wound to the abdomen resulting in injury to the hip with permanent pain and weakness of the hip, when she was shot in the parking lot of the co-defendant hospital.  The defendant security company supplied security for the co-defendant. The plaintiff contended that the defendants were negligent for not providing proper security for hospital employees.
Contact Us About Alabama Negligent Security Cases
If you have a negligent security lawsuit in Alabama, contact our personal injury lawyers today at 800-553-8082 for a free consultation or contact us online.