Medical malpractice claims statistics from the Oklahoma Insurance Department are certainly not music to the ears of Oklahoma medical malpractice lawyers and their clients.
In 2006, 805 medical malpractice claims that resolved in Oklahoma. The malpractice cases were dismissed in 59, or almost 70%. Of the remaining medical malpractice case, 181 settled and 20 went to trial. The average claim settlement or award in 2006 was $257,887. The total amount paid in settlements and verdicts was just shy of $50 million.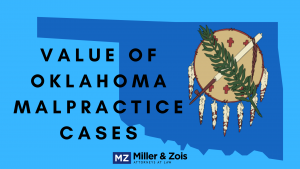 The following are medical malpractice verdicts or settlements that took place in Oklahoma courts:
2019, Oklahoma: $7,500,000 Settlement.  This case involved a birth injury at a federally funded health care facility. The married couple alleged that their son suffered an acute brain injury because of oxygen deprivation during his birth. They also alleged that the hospital staff failed to carefully administer Pitocin, institute resuscitation measures in utero, and timely notify the doctor of a non-reassuring fetal heart rate. Their son suffered hypoxic-ischemic encephalopathy, which resulted in cerebral palsy and spastic quadriplegia. The case settled for $7,500,000.
2018, Oklahoma: $700,000 Verdict. A baby girl experienced a brachial plexus injury during her birth. Her mother arrived at the hospital, already in labor. Her labor stopped progressing, and the hospital staff administered Pitocin. Labor eventually resumed. While the mother pushed, hospital staff encountered shoulder dystocia. Despite this, and that the baby was macrosomic, the obstetrician continued with the vaginal birth. Her mismanagement of the dystocia resulted in the baby's brachial plexus injury. The baby's parents sued the obstetrician and the hospital for failing to provide the option of a C-section, warn the risks of a macrosomic delivery, and properly administer Pitocin and other medications. Before trial, the parents settled with the physician's group for $20,000. The jury awarded them $700,000.
2018, Oklahoma: $3,750,000 Verdict. This case involves nursing home negligence. Following a right total knee replacement surgery, an elderly woman was transferred to a rehabilitative facility. Nine days into her stay, she fell and suffered a fractured hip, subdural hematoma, and facial trauma. She died from her injuries about a week later. Her estate sued the facility failing to provide proper supervision, appropriate care, and to implement a plan to prevent falls. The jury awarded the estate $3,750,000, comprising of $3,000,000 in compensatory damages and $750,000 in punitive damages.
2018, Oklahoma: $200,000 Verdict. An elderly woman fell at a nursing facility while being transferred to a shower chair. She underwent an X-ray, which a radiologist interpreted as negative for fractures. One week later, she received a femur fracture, which necessitated open reduction internal fixation surgery. After undergoing the procedure, the woman suffered complications that resulted in her death. Her estate alleged the radiologist failed to properly read the deceased's X-ray results. They alleged that this failure caused the fracture to worsen that made surgery more dangerous. The jury awarded the estate $200,000.
2017, Oklahoma: $35,000 Settlement. An elderly man was a nursing home resident. His dentures became lodged in his throat for three days. The staff failed to notice or look for his dentures. He suffered undisclosed personal injuries. The man died of unrelated causes before the case filed. His estate sued the facility for failing to properly monitor his dentures, to look for them, and to regard his safety. The case settled for $35,000.