Medical malpractice cases in Ohio are on the rise. A little. The Ohio Department of Insurance released its 2009 data (ah, guys, it is 2011) indicating that after four years of decline, medical malpractice lawsuits are up from 2008 in Ohio.
The data is really interesting and can be summarized as follows: most Ohio medical malpractice cases go nowhere. More than three-fourths of cases result in no settlement or verdict. Most cases that get dismissed really go nowhere: they are dismissed and/or abandoned by plaintiffs.
Of cases that did proceed, over 90% ended in settlement. Ohio malpractice insurers are apparently largely willing to settle good cases. When the cases did go to trial, defendant doctors won more than 1 in 5 of the trials.
Only 24% of the malpractice cases resulted in an indemnity payment; the majority of the payments (almost 22%) were the result of the parties reaching a settlement. A mere 5% of the cases went to trial and ended in a verdict, and less than 1% of the cases (0.84%) resulted in a verdict for the plaintiff.
More interesting Ohio malpractice statistics:
7% of settlements/verdicts were over $1 million
The physician specialties that had the most claims filed against them were (in order): internal general surgery, emergency medicine, obstetrics/gynecology, family physicians/general practitioners, radiology, orthopedic surgery, anesthesiology, cardiovascular disease specialists, neurology, and pediatrics
Neurologists had the highest average payment: $1,530,218.
The average wrongful death case where payment was made was $406,329.
The highest-paid average indemnity ($1,266,637) was for "permanent grave" injuries such as quadriplegia and brain damage – injuries requiring life-long care.
Ohio Medical Malpractice Settlements and Verdicts
2020, Ohio: $115,000 Settlement. A 78-year-old man's estate alleged that the state nursing home's failure to monitor his eating caused his death. The nursing home staff found him unresponsive after he choked on a piece of chicken. They removed the piece of chicken from his throat and attempted the Heimlich maneuver and CPR. However, he died after they failed to revive him. His estate sued the State of Ohio, alleging that their failure to properly monitor him caused him to fatally suffocate from a piece of chicken. They also alleged that the facility failed to monitor him, despite being high-risk for choking. The case settled for $115,000.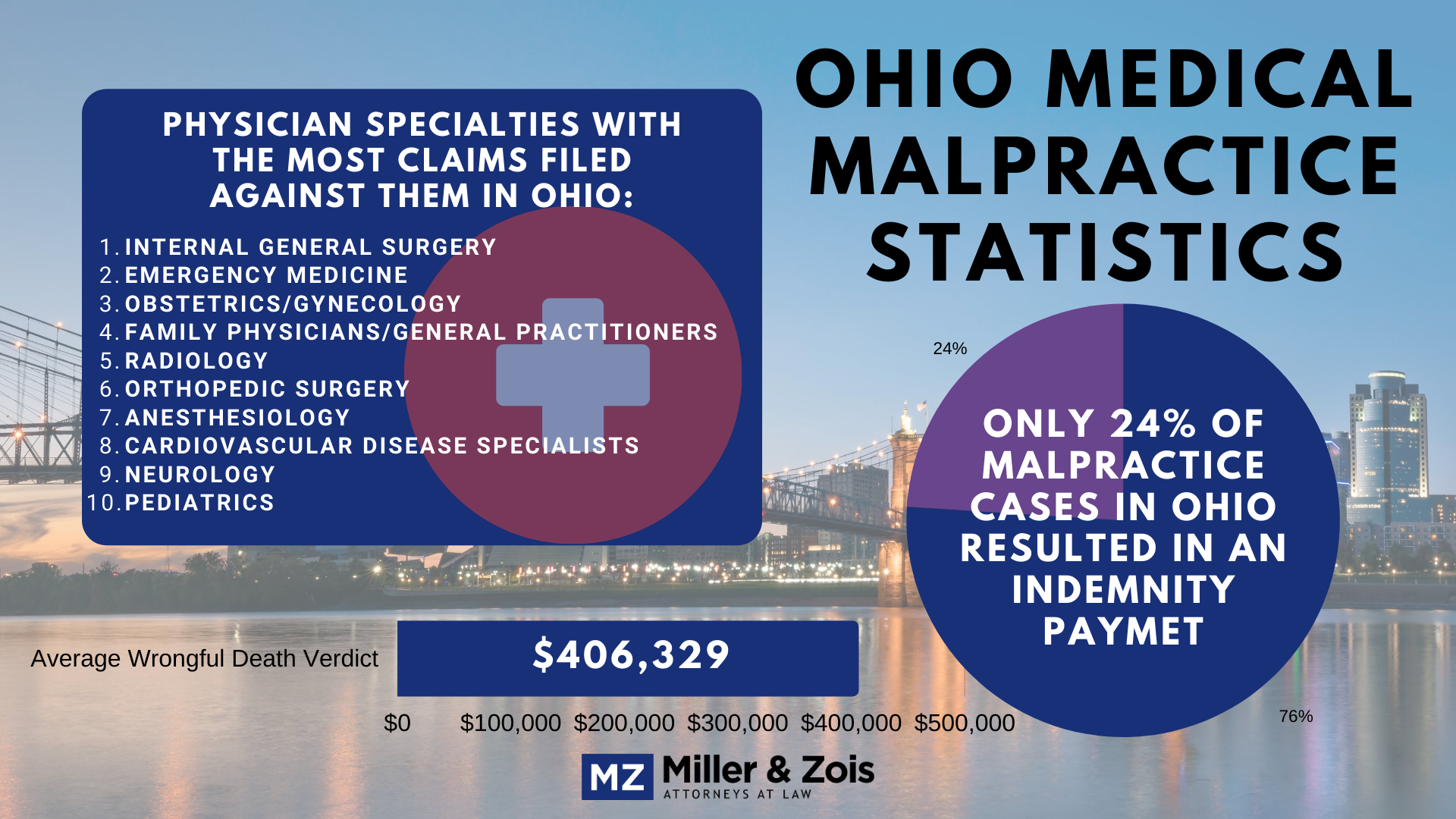 2020, Ohio: $300,000 Verdict. A 20-something woman's estate alleged that she died after the doctor failed to follow-up on her neck pain. The woman suffered neck pain as she recovered from a MRSA-infected buttocks abscess. She presented to Lima Memorial Hospital, where she underwent bloodwork, a neck CT scan, and a physical. An emergency room doctor diagnosed her with a muscle spasm and discharged her home. The next day, the woman presented to a physician's assistant at St. Rita's Medical Center, who sent her home with pain medication. She then visited the Lima Memorial on the same day, and its physician's assistant discharged her home shortly after the visit. The woman eventually received a sepsis diagnosis, resulting in an anoxic brain injury and cardiac arrest. She died less than a week later from her injuries. Her estate sued both facilities, Lima Memorial's emergency room physician, and both facilities' physician's assistants for failing to properly assess her condition. They alleged that both facilities' medical staff failed to perform appropriate tests, including an MRI, which would have diagnosed her infection. The estate further claimed that had she been diagnosed; she would have undergone in-patient antibiotic treatment. The defendants denied liability, arguing that her pre-existing musculoskeletal issues caused her neck pain and made additional tests unnecessary. They also claimed that the woman failed to follow up with her primary care physician. The Allen County jury found Lima Memorial's physician's assistant 65 percent liable, St. Rita's physician's assistant 15 percent liable, the woman 10 percent liable, and a non-party doctor 10 percent liable. They awarded the estate a $300,000 verdict. The net award was $240,000, based on liability apportionment.
2019, Ohio: $1,500,000 Verdict. A 23-year-old woman alleged that she suffered multiple injuries after her D.O. negligently performed Chiari II decompression surgery on her. She claimed that the procedure caused her to suffer facial paralysis, significant headaches, nausea, leg weakness, and swallowing difficulties. The woman sued the D.O. for negligence, alleging that he improperly performed the procedure and wrongly claimed that he correctly performed it. The D.O. disputed the woman's injuries. A Montgomery County jury awarded the woman a $1,500,000 verdict.
2019, Ohio: $6,316,444 Verdict. A 44-year-old woman alleged that she suffered multiple injuries after the doctor negligently performed laminectomies and foraminotomies on her L3-4 and L4-5 discs to relieve her radiculopathy. The procedures caused the woman to suffer from chronic pain syndrome and opioid dependence. She also claimed that her injuries were permanent, and she now used a cane to help her walk. The woman sued her doctor and his employer for negligence. Her medical expert testified that the doctor performed the procedure more aggressively than needed, arguing that the laminectomies were unnecessary. The doctor denied these claims. His medical experts testified that the procedures were appropriate and that he met the standard of care. The woman eventually settled with her doctor, and the trial only concerned her doctor's employer. A Hamilton County awarded the woman a $6,136,444 verdict. The final judgment reduced the woman's net award to $3,158,322, based on the pre-trial settlement.
2019, Ohio: $700,000 Settlement. A man alleged that the mismanagement of his left kidney removal caused him to suffer rhabdomyolysis to his right kidney, renal failure, and the eventual amputation of both his legs. He claimed that the medical staff negligently lacerated the iliac artery and vein during the procedure, causing blood loss that resulted in leg ischemia. This case settled for $700,000.
---