If you have been the victim of violence (rape, robbery, assault, etc.) at a business, shopping center, apartment complex, school, or another type of property, you may be able to get financial compensation for your injuries by bringing a negligent security lawsuit against the property owner.
Ohio allows plaintiffs to sue property owners or businesses for failing to provide reasonable security measures on their property. If successful, these lawsuits can result in meaningful financial compensation. On this page, our injury lawyers look at Ohio negligent security cases and how to get compensation for personal injuries or death. We will also look at how much compensation plaintiffs can potentially get in a negligent security lawsuit in Ohio by summarizing recent reported settlements and verdicts in prior cases.
When Can You Bring a Negligent Security Lawsuit
Anyone who owns a property or runs a business in Ohio where people are invited onto the property, has a legal obligation provide and maintain "reasonable" security measures to ensure that visitors on their property are reasonably safe from violent crime. What are "reasonable" security measures? The answer to that is based on the circumstances. The level of security that is required will be different depending on the type of property and other factors.
Examples of security measures that property owners can be expected to provide include things such as gated access, video monitoring, lighting, or onsite security. The level of security that is required will vary depending on what type of property or business is involved, and the are where it is located.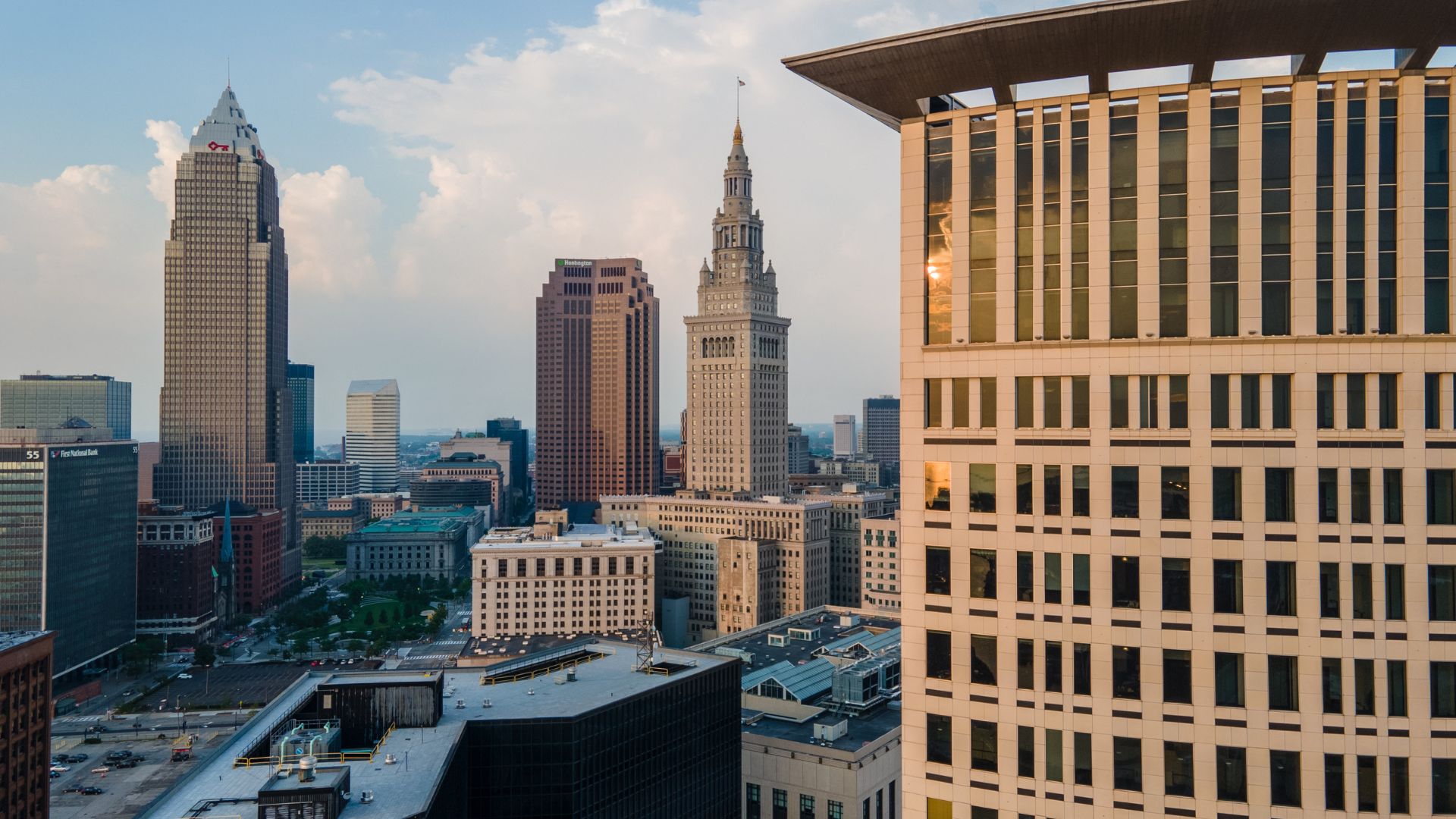 If a property owner or business negligently fails to fulfill its obligation to provide for reasonable security on its property, anyone who is victimized as a result of that negligence can bring a negligent security lawsuit in civil court (also known as an inadequate security lawsuit). Negligent security cases are basically premises liability cases based on the lack of security.
Below is a hypothetical example to help illustrate how negligent security lawsuits work.
Let's say Acme Management owns a big outdoor shopping center in a high-crime area of Cleveland. The center has a parking garage that is very poorly lit and has no security guards. Acme is aware that numerous violent crimes have occurred in the garage recently. Debbie goes shopping at the center and is sexually assaulted in the parking garage. Debbie can sue Acme Management for negligent security because better lighting, video cameras, and/or security guards could have prevented the assault from happening.
Who Can You Sue for Negligent Security in Ohio?
In Ohio, any property owner, management company, retail business, or entity with legal responsibility for a property can be sued for inadequate security. Certain types of businesses and property owners, however, make the best defendants in negligent security lawsuits for various reasons. Below is a list of common negligent security lawsuits defendants.
Shopping Centers / Retailers: Shopping centers, such as malls, strip malls, or retail plazas, are usually owned and/or operated by commercial management companies. Shopping centers and the individual retail stores have an obligation to ensure the safety of their customers by providing reasonably adequate security. This typically requires proper lighting for parking and other areas, video surveillance, and possibly security guards or limited access parking.
Apartment Complexes: Apartment or condo complexes are some of the most common defendants in Ohio negligent security cases. There are 2 main reasons for this. First, apartment complexes in certain areas tend to be hotspots for violent crime. Second, these types of properties are obligated to provide a relatively high level of security compared to other types of businesses such as retail stores. This makes proving negligence easier. Apartment management companies have a duty to provide gated access to common areas, video surveillance systems (that actually work), adequate lighting, working lock systems, and even 24-hour security guards.
Hotels: Hotels or motels have a legal obligation to provide security for their guests. This obligation is very high, and it is comparable to the security obligation at an apartment complex. It typically requires lighting, video monitoring, 24-hour staffing, keyed access, etc.
Shopping Centers / Retailers: Shopping centers or plazas and shopping malls need to take steps to ensure that shoppers are reasonably protected from violent crime. Adequate security for shopping centers typically requires good lighting for parking and other areas, video surveillance, and possibly security guards or limited access parking. Shopping centers are common defendants in negligent security cases.
Bars / Nightclubs: Nightclubs and bars where alcohol is consumed by customers have an obligation to protect patrons from violence, including drunken brawls between patrons at the bar.
Hospitals: Hospitals need to ensure that patients and other visitors are reasonably protected from violence both inside the hospital and in common areas such as parking lots and pickup areas.
Schools: Schools in Ohio have a legal duty to keep students safe from violence, both from other students and non-students and staff. This duty is very circumstance specific, but it may require security screening, responding to credible threats, and possibly hiring school security.
Ohio Caselaw on Negligent Security
Below are summaries of all of the key Ohio appellate court decisions relating to premises liability claims based on negligent security. These cases illustrate how this area of tort law in Ohio has evolved over the years.
Holdshoe v. Whinery, D. B. A. Whinery's Landing (1968): In this seminal Ohio negligent security case, the Supreme Court of Ohio considered whether the defendant, as the owner and occupier of a recreation area, owed a duty to the plaintiff, who was an invitee, to prevent harm caused by the negligent acts of third parties on the premises. The court established that an owner or occupier of land owes invitees the duty of ordinary care to maintain the premises in a reasonably safe condition. If the owner knows or should know that third parties' negligent acts are likely to occur, he must exercise reasonable care to prevent harm to invitees. The court emphasized that the defendant's failure to provide warning or take necessary precautions against the danger of cars parked on a slope adjacent to picnic tables created a jury question as to the defendant's negligence and the plaintiff's assumption of risk. The trial court's directed verdict in favor of the defendant was overturned.
Townsley v.  Cincinnati Gardens, Inc. (1974).  This awful case involved an assault on a minor in a public restroom at a sports arena during a Globetrotter's exhibition. In evaluating the case, the court deemed the assault unforeseeable given the family-oriented nature of the event. The court was keen to draw a distinction between an assault in a family setting, such as this, and an assault involving a bar patron. In the case of a bar patron being assaulted, the court proposed that it may be reasonably expected for the business to be held accountable for any resulting injuries.
Simpson v. Big Bear Stores & Graceland Shoppers (1995): The ruling stems from a lawsuit by the estate of a woman was physically assaulted and robbed in the parking lot of the Big Bear supermarket at Graceland Shopping Center after leaving the store with her groceries. The plaintiff asserted that this wasn't the first incident of its kind in that area, alleging Big Bear was aware of at least five prior muggings.  The main issue addressed by the court was whether a business owner's duty to ensure a safe environment for its invitees could be extended to criminal acts by third parties taking place on adjacent land not controlled by the business owner.  The court concluded that the requirement of possession and control is fundamental to assign a duty to keep premises safe for others. Therefore, the duty of a business to its invitees under Restatement Section 344 cannot be extended on a theory of foreseeability alone, without control of the premises where harm occurs. So Big Bear got out of the case, but the shopping center still faced the plaintiff's negligent security lawsuits.
Alexander v. The Pub, Inc. (1999): In this case, the plaintiff was assaulted at a restaurant/nightclub called The Pub. The plaintiff appealed against the summary judgment granted to The Pub and its manager. The main issue revolves around whether The Pub had a duty to safeguard its patrons from criminal acts committed by third parties, considering the establishment's history of violent incidents. Under Ohio law, the Court of Appeals of Ohio found, business owners have a duty to protect their invitees from such criminal acts. The court examined the evidence of past assaults at The Pub and the adequacy of security measures in place. It was found that there were numerous previous reported incidents of assaults at the bar, and the security personnel present were deemed insufficient to consistently monitor the patrons effectively.  Based on this evidence, the court determined that there is a genuine issue of material fact regarding The Pub's fulfillment of its duty to provide adequate security. Consequently, the summary judgment was overturned, and the case continues to assess whether The Pub breached its duty of care towards its patrons.
Shivers v. University of Cincinnati (2006): This case underscores the limits of foreseeability in Ohio negligent security lawsuits.  The plaintiff filed a complaint against the University of Cincinnati, alleging negligence in failing to provide adequate security for a co-ed dormitory, Daniels Hall, where she was tragically raped by a third-party intruder. The plaintiffs' lawsuit focused on the failure to provide adequate locks, a leitmotif in negligent security lawsuits. After a retrial, a jury found the university liable for negligence. The defendant appealed, arguing that they did not owe the plaintiff a duty of care to protect her from the rape because it was not foreseeable. The court reviewed the issue of duty, which is a question of law, and found that the evidence presented did not establish sufficient foreseeability of the rape to impose a duty of care on the university. The court considered factors such as prior crimes, the proximity of previous incidents, and the university's knowledge of criminal activities on campus. However, they concluded that the evidence was insufficient to prove that the rape was reasonably foreseeable. As a result, the court reversed the judgment in favor of the plaintiff and directed the trial court to enter judgment for the defendant.
Stoner v. Montpelier Tavern Co. (2017):  A man sued "The Bar" claiming he was physically and psychologically injured while trying to prevent an unexpected assault on his friend by unknown men. He held the defendants responsible for creating a risky atmosphere by tolerating fights and failing to maintain the safety of their patrons.  The court agreed that a business that sells alcohol has a responsibility to ensure its customers are reasonably safe from harm resulting from intentional violence by other patrons who have been served drinks. . The obligation to provide reasonable care may extend to warning or protecting customers from violent acts by a third party, but only if these acts are known or reasonably foreseeable by the business owner. The violent acts must be either happening or imminent. establish this duty, a court said, it would take into account whether the violent acts by the third party were foreseeable based on the overall context, such as the nature of the business, its location, and past crimes of a similar kind, among other overwhelming evidence. In this case, they found the the bar acted reasonably.
Settlement Value of Ohio Negligent Security Lawsuits
Negligent security lawsuits in Ohio have a relatively high average settlement value compared to other types of personal injury cases. This is particularly true in urban areas such as Baltimore and outside DC. Below are summaries of some verdicts and settlements from recent Ohio negligent security cases.
$20,000 Settlement (Cuyahoga County): A female suffered a fractured nose and contusions of the face and legs when she was assaulted by a nonparty patron at a bar. The plaintiff contended that the bar had inadequate security. The bar contended that the plaintiff was negligent for leaving with the intoxicated patron and that the assault was unforseeable.
$80,000 Settlement (Franklin County): A 29-year-old physical education teacher suffered a knee injury requiring surgery after she was caught in a fight between patrons at the defendant's nightclub. The plaintiff alleged that the defendant knew of the dangerous propensities of it's patrons but failed to provide adequate security. The defendant contended that the security was adequate, but the plaintiff's injuries were unavoidable.
$2,100,000 Verdict (Cuyahoga County): The female plaintiff was raped and robbed after being abducted in the defendant's parking lot. The lot attendant at the parking lot was asleep and there were not other security or deterrent measures. She sued the lot owner for negligent security.
$75,000 Verdict (Franklin County): A 20-year-old male laborer was stabbed to death in the restroom of the defendant tavern by a non-party patron of the bar. The assailant was attempting to sell marijuana to the decedent. The lawsuit contended that the owner of the bar was responsible for the death of the decedent because he was aware of the criminal purpose of the assailant. The lawsuit further maintained that the defendent failed to maintain safety in the establishment.
$3,000 Settlement (Delaware County): A male suffered a nose fracture when he was involved in a physical altercation while attending a concert at the defendant's bar. The plaintiff contended that the defendant failed to provide adequate security on its premises and that it failed to provide for the safety of its customers.
$35,000 Verdict (Summit County): A male college student alleged that he was threatened and attacked at the defendant theater. The plaintiff sustained a fractured clavicle, a concussion, lacerations of the head and face, and a chipped tooth. The plaintiff contended that the defendant provided inadequate security and supervision and that he was unable to obtain assistance before or after the attack.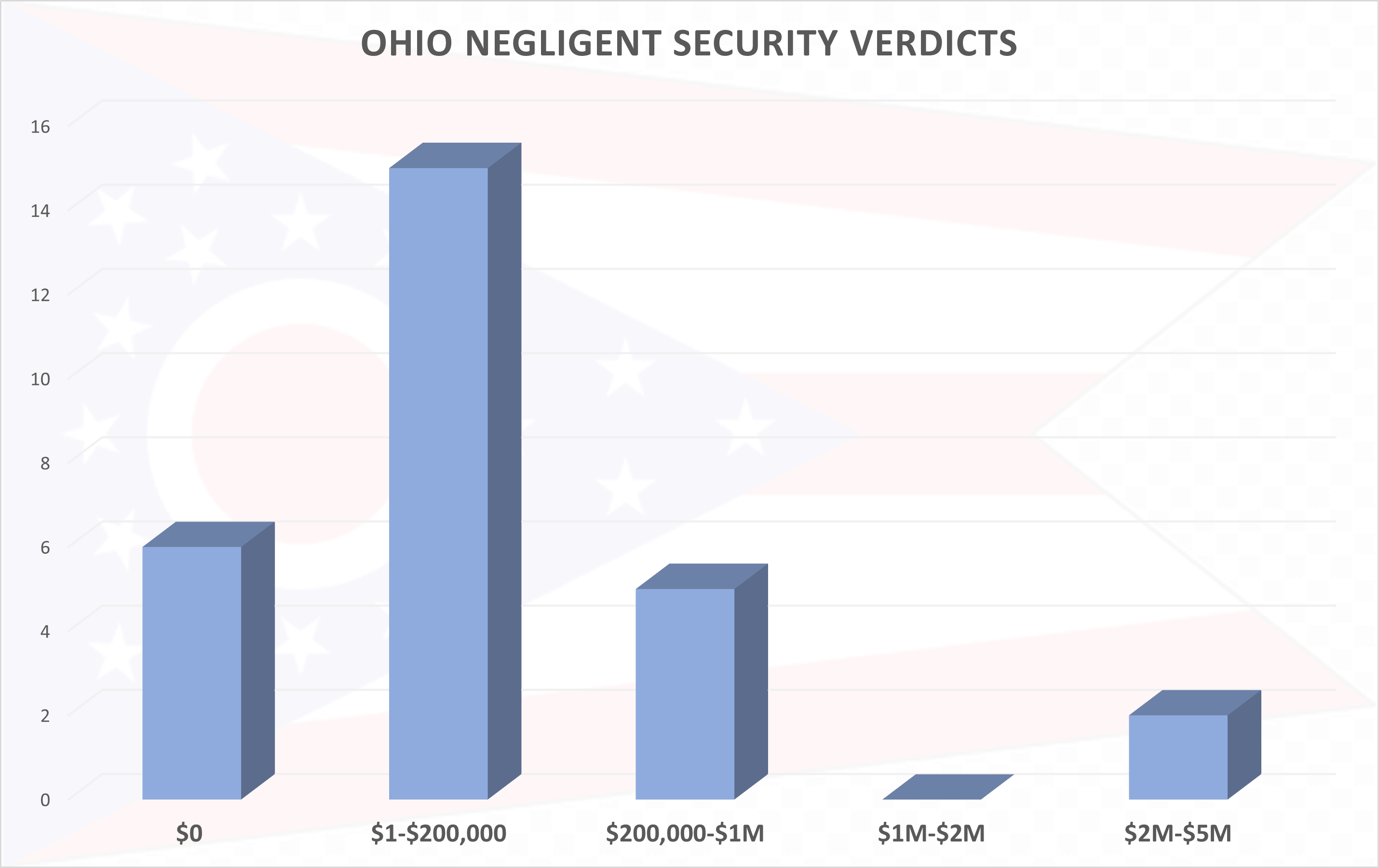 Contact Us About Ohio Negligent Security Cases
If you have a negligent security lawsuit in Ohio, contact our personal injury lawyers today at 800-553-8082 for a free consultation or contact us online.