If you or a family member has been the victim of nursing home neglect, abuse or negligent medical care, you can file civil lawsuit against the nursing home facility and get financial compensation. Nursing home negligence lawsuits are very common. Plaintiffs have a very high rate of success in these cases when they go to trial so most nursing home lawsuits tend to settle fairly quickly.
In this post, our nursing home negligence lawyers will look at the underlying legal theories in nursing home negligence cases. We will explain when you can sue a nursing home, who can sue a nursing home, and what the average settlement value of this cases is.
Suing a Nursing Home for Negligence
Nursing homes (which includes retirement homes and assisted living facilities) have a legal obligation to provide a minimum level of care for elderly residents at the facility. Far too often, however, the staff at nursing homes neglect and ignore the basic needs of residents and provide a level of care that falls significantly below what is legally required.
So what constitutes nursing home neglect or negligence? Federal law (42 C.F.R. § 488.301) defines nursing home neglect as the "failure to provide goods and services necessary to avoid physical harm, mental anguish or mental illness." In a civil lawsuit, neglect is any level of care that falls below what an ordinary, reasonable provider would give under the circumstances. Nursing home negligence or neglect may include any of the following:
Failure to attend to resident's physical needs and maintenance (e.g., failure to prevent bed sores or infection by regularly cleaning and moving residents).
Failure to prevent residents from falling
Negligent or abusive use of restraints on patients
Failure to alert doctors of medical problems
Failure to prevent dehydration and malnutrition
Suing a Nursing Home for Abuse
Abuse towards elderly residents is commonplace a nursing home facilities. Nursing home abuse is legally defined as "willful infliction of injury, unreasonable confinement, intimidation or punishment with resulting physical harm, pain or mental anguish." 42 C.F.R. § 488.301. Common forms of nursing home abuse include:
Assault and battery  (physically beating or inflicting harm on residents)
Sexual assault or abuse (intentional sexual touching without consent)
Abusive restraint or imprisonment
Deprivation of food, water or medical care
Giving residents unapproved drugs (e.g., a sedative to knock out difficult residents)
Mental and emotional abuse
Suing a Nursing Home for Medical Malpractice
Nursing homes are healthcare providers and be sued for medical malpractice just like hospitals. Nursing homes can also be held liable for medical negligence committed by nurses or doctors who are employed by the nursing home. Medical malpractice claims are very common in nursing home cases.
Pressure Sores and Nursing Home Negligence
In an effort to keep costs down, nursing homes across the country attempt to limit the amount of staff at the facility. High staff turnover at nursing homes can make this problem even worse.  As a result, most nursing homes simply do not have enough staff on hand at any given time to adequately service the needs of their resident population. It is hardly a surprise, therefore, that understaffing is often an underlying cause in most nursing home negligence cases.
Understaffing can be a very acute issue when it comes to elderly residents who are immobile or have mobility limitations. When an elderly person is immobile, the nursing home staff needs to move and reposition them on a regular basis. If an older person is allowed to lay in bed in the same position for days or weeks they will eventually develop pressure sores (also known as bed sores).
Pressure ulcers are tissue wounds that develop from continuous and unrelieved external pressure on the skin. When certain points on the skin are constantly under pressure, blood and oxygen flow to the tissue is restricted. They usually develop around bony areas of the body where the skin is thin. Pressure sores can not only be extremely painful, but they can also be life-threatening. Pressure sores cause 60,000 deaths each year in the U.S. and 13% of patients admitted
Pressure sores are a clear indication of nursing home neglect because preventing them is part of the basic services that the facility is supposed to provide. They are the most common injury alleged in nursing home negligence lawsuits. In fact, nursing home bed sores are one of the most frequently litigated injuries in the U.S., accounting for an estimated 17,000 lawsuits every year.
Nursing Home Fall Lawsuits
When elderly residents fall and injure themselves it is often the result of nursing home negligence. Nursing homes are supposed to take reasonable measures to prevent their residents from falling out of bed or falling while walking. This is part of the basic level of care that nursing homes and assisted living facilities are expected to provide. Nursing homes obviously cannot prevent every fall from happening, but we see far too many cases in which elderly residents are seriously injured by falls that could have been prevented.
Nursing homes are supposed to have policies and procedures for identifying which residents are at risk for falling and then implementing safeguards to prevent this from happening. Nursing homes that fail to implement these policies can be held liable for resulting injuries. In fact, injuries from falling are the second most common type of injury alleged in nursing home cases.
LEARN MORE:
Nursing Home Fall Lawsuits
Settlement Value of Nursing Home Fall Cases
Settlement Value of Nursing Home Lawsuits
Nursing homes have a very bad public image and a reputation for neglect and poor care. This tends to make them very vulnerable whenever they are named as defendants in lawsuits because juries are rarely sympathetic. This disadvantage is clearly evident in the national statistics on nursing home negligence lawsuits.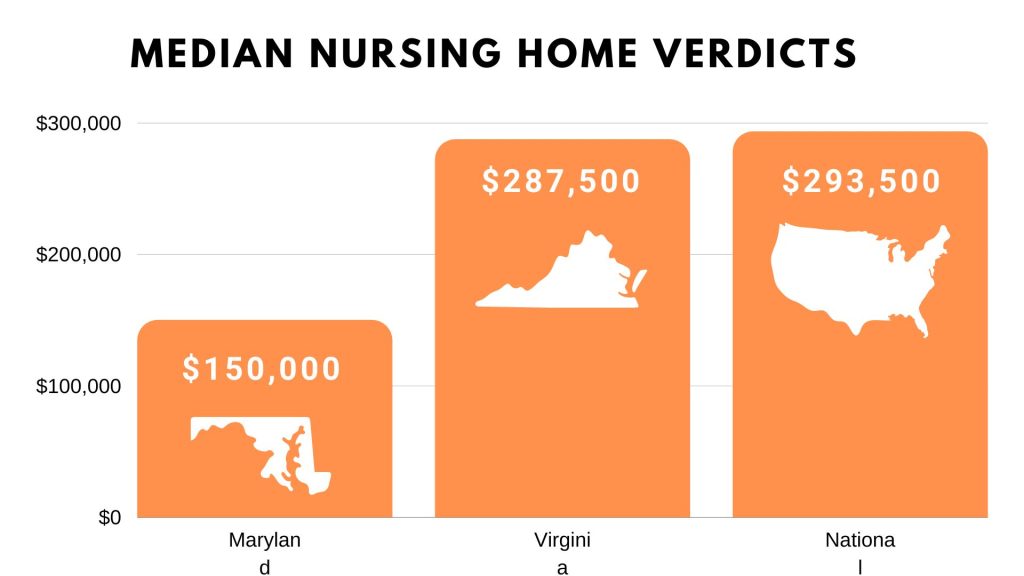 Nationally, the median compensation award in nursing home cases is just under $300,000, which is significantly higher than the median compensation for other types of tort cases. For those nursing home negligence cases that go to trial, the plaintiffs win 63% of the time. This is more than double the win rate for plaintiffs in regular medical malpractice trials, and it is a reflection of how much juries distrust nursing homes.
Nursing Home Settlements and Verdicts
Below are summaries of jury verdicts and reported settlements from recent nursing home negligence lawsuits.
$9,000,000 Verdict (Maryland 2023): A nursing home resident died from a sepsis infection caused by a pressure sore that he developed after being admitted into a nursing home due to a stroke. The nursing home completely neglected to reposition him or attend to him which was found to be the cause of his bed sore and death. A jury awarded $9 million in damages against the nursing home, but the verdict will be capped by Maryland's limit on pain and suffering damages.
$150,000 Settlement (Pennsylvania 2023): 95-year-old patient died from complications related to pressure sores while a resident at Crestview Center nursing home (operated by Genesis Healthcare). Lawsuit alleged that the pressure ulcers were the result of negligent care by the nursing home staff.
$137,500 Settlement (Pennsylvania 2023): Elderly resident at Silver Lake Center Fortuna nursing home in Bucks County, PA suffered multiple falls, resulting in injuries and culminating in his death. Lawsuit alleged that the nursing home was negligent in failing to provide adequate fall prevention measures and failing to hire and retain sufficient staff.
$200,000 Settlement (Virginia 2023): Elderly resident with dementia was a resident at The Elms of Lynchburg assisted living and memory care facility in Lynchburg, VA. She suffered serious injuries from falling and died 3-days later due to fall-related injuries. Wrongful death case accused the nursing home negligently failing to prevent her from falling.
$70,000 Settlement (Illinois 2022): 93-year-old male was a resident at a nursing home where he was recognized by the staff as having dementia and being at risk of falling. He reportedly was placed in his bed. Several hours later, he was found on the floor of his room next to his bed, in pain, with a compound fracture to his left femur. Lawsuit alleged negligent failure to monitor and failure to properly train staff.
$1,167,482 Verdict (Florida 2022): A man in his 60s with dementia and mobility issues was a resident at a nursing home. He developed pressure ulcers which were allowed to fester, leading to infection and death. The lawsuit alleged that the nursing home's care was negligent and in violation of Florida code regarding care provided by nursing homes.
$6,000,000 Verdict (Iowa 2021): A female resident was reportedly subjected to physical and verbal abuse, resulting in injuries and death, while a resident at defendant The Timely Mission Nursing Home. Among things, she was allegedly grabbed by the arm, causing the arm to break, and fell while at the facility, causing a hip and shoulder fracture. Lawsuit accused nursing home of failing to prevent abuse by staff. The $6,000,000 verdict included $2 million in punitive damages.
$250,000 Settlement (New York 2021): 76-year-old male resident at Daughters of Jacob Nursing and Rehabilitation Center in the Bronx died due to complications from the development and progression of multiple decubitus ulcers (bed sores). The lawsuit alleged negligence in violation of New York public health laws regulating the level of care provided by nursing home facilities.
Hire a Nursing Home Negligence Lawyer
Have you or a loved one suffered as a result of nursing home negligence?  Call Miller & Zois today to speak to a medical negligence attorney who can help you, at (800) 553-8082.