This article explores negligent security lawsuits in Nevada, their components, and how to effectively establish a claim. Our lawyers explain Nevada's negligent security law and look at settlement amounts and jury payouts in these lawsuits. The claims are not filed for minor injuries. These lawsuits usually involve tragic circumstances, and the settlement compensation and jury awards are typically high, given the severity of the harm and suffering to the victim and the victim's family.
Negligent Security Defined
Negligent security lawsuits pertain to cases where a crime or violent act occurred due to a property owner's failure to implement sufficient security measures. Claims can be brought against security companies, property management firms, property owners, and tenants who neglect to put reasonable safety precautions in place. The fundamental principle is that the crime could have been prevented if the defendant had cared enough to employ adequate security measures to protect the people they are making money from as customers.
Nevada has strong negligent security law for victims. These are not strict liability claims. Businesses cannot reasonably guarantee absolute safety, and no one argues they should. But they are required to take reasonable precautions to minimize potential threats to do what is reasonable to protect their customers from harm. They often fail to meet that obligation, and that failure often results in a Nevada negligent security lawsuit.
Types of Negligent Security Claims in Nevada
There are so many different types of claims that Nevada negligent security lawyers see. Here is a good list of common types of claims:
Inadequate Lighting Lawsuits: These cases often involve accidents or assaults that occur in poorly lit areas such as parking lots, stairwells, or hallways. Criminals love dimming list areas because inadequate lighting makes it easier for criminals to commit offenses unseen or unrecognized. But not every company is willing to pay the price to light an area to make it safe for customers.
Defective or Inadequate Locks or Security Lawsuits: These cases involve properties with defective or missing locks, allowing unauthorized individuals access to the property. This is a tragic example of penny-pinching at the expense of safety.
Lack of Surveillance Lawsuits: These cases often involve incidents that occur in areas of a property that are not properly monitored by surveillance cameras.
Insufficient Security Personnel Lawsuits: These lawsuits can occur when a property lacks appropriate security personnel or when the present security staff is inadequately trained or incapable of providing proper protection. Under Section 41.745(1)(c) of the Nevada Revised Statutes, employers can be held legally responsible for the deliberate harmful acts committed by their employees if it can be proven that such behavior was reasonably predictable given the specifics of the case, taking into account the type and range of the employee's job duties. Sometimes, particularly in the nightlife of cities like Los Vegas and Reno, the security that is supposed to protect you is the criminal element trying to hurt you.
Negligence in Security Warnings Lawsuits: In these cases, the property owner or manager fails to inform tenants or visitors about known security risks or recent criminal activities on or near the property.
Unmonitored Access Points Lawsuits: These lawsuits occur when properties have unmonitored or unlocked entrances or exits that permit unauthorized access. You often see these claims in hotels and hospitals where good procedures are usually in place but rarely followed.
Failure to Respond Lawsuits: These cases involve property managers or owners who fail to respond adequately to reports or complaints of criminal activity, leading to subsequent incidents.
Inadequate Security Procedures Lawsuits: Most negligent security lawsuits our lawyers see involve good security procedures with poor compliance. But there are also cases where properties or establishments with subpar security procedures lead to a security breach and harm to individuals on the property.
Nevada Law on Negligent Security Claims
Under Nevada law, a property owner owes a duty of care to lawful visitors (and, in rare cases, trespassers) to maintain the premises in a reasonably safe condition for use. This extends to providing sufficient security measures.
Nevada courts have crafted law that protects victims in negligent security lawsuits. Appellate courts have consistently held that if a foreseeable act of third-party criminal conduct causes injury to a visitor, the property owner may be held liable for negligent security.
Establishing a Negligent Security Lawsuit in Nevada
To successfully file a negligent security lawsuit in Nevada, four elements need to be established:
Breach of Duty: Prove that the defendant failed to meet this duty of care by not maintaining adequate security.
Duty of Care: Show that the defendant had a duty to take reasonable security measures.
Causation: Demonstrate that the defendant's breach was directly responsible for the plaintiff's injury.
Damages: Provide evidence of the harm or injury from the defendant's negligence.
Nevada follows a comparative fault system under Nevada Revised Statutes 41.141. So if the injured party shares a portion of the blame, the compensation they receive may be reduced in proportion to their fault. If you are 10% at fault, your payout is 10% less.
Calculating Compensation in Nevada Negligent Security Lawsuits
Compensation settlements in negligent security lawsuits in Nevada are typically high due to the severity of the injuries involved. The key factors that influence these payouts are:
Liability: The case outcome depends on whether the defendant is found to be at fault. You need to prove those four elements we discussed above. Only then do we move on to discussing damages.
Economic Damages: These are the quantifiable losses due to the incident, such as medical bills, lost wages, property damages, and other related expenses.
Non-economic Damages: These are intangible losses like pain and suffering, emotional distress, and loss of enjoyment of life. Nevada law does not impose a cap on these damages.
Comparative Fault: If a jury finds you are partially responsible for your injuries, your compensation payout will be reduced by the proportion of their fault.
Insurance Policy Limits: The defendant's insurance policy limits may also influence the final settlement amount. You need a company that has the assets or insurance coverage to back up what is usually a very larger claim. If the coverage isn't enough to cover the total damages, the maximum settlement payout may be limited to the policy limit.
Jurisdiction: Jury attitudes in Nevada can be influenced by the state's unique demographic, cultural, and socioeconomic factors. For instance, attitudes can differ widely between the more urban areas like Las Vegas and Reno compared to more rural parts of Nevada. Generally, for a negligent security lawsuit in Nevada, the more urban the jury, the better chance the plaintiff has of higher settlement compensation or jury payout. You will also see more negligent security claims in Clark County and Washoe County because they are more likely to run the type of large business that are more likely to be the defendants in these suits.
Example Verdicts and Settlement Compensation in Nevada Security Lawsuits
2022, Los Vegas: $11 Million Settlement:  A 36-year old man was fatally shot in the parking lot of his apartment complex, where he lived, after a visit to a nearby 7-Eleven.  The Los Vegas negligent security lawsuit filed by the victim's father alleged that the management of Shelter Island Apartments did not warn Arnold of the dangers at the complex, despite a history of violent crimes in the area. Claims included gross negligence, wrongful death, and negligent hiring, supervision and training of employees. The Los Vegas negligent security lawyers who settled this case are the same lawyers our firm works with on these cases in Nevada. The case remains ongoing against the management company with a trial date set for January 2024, given the plaintiff an opportunity for more compensation for this horrific loss.
2020, Los Vegas: $38.6 Million Verdict: A 23-year-old Army reservist, who was undergoing HVAC technician training, was at the parking lot of an apartment complex in Los Vegas in southeast valley. He was getting into his truck when he was approached by two other men who tried to steal his vehicle. He was shot and killed in the attempted carjacking. His family hired a Los Vegas attorney who filed suit alleging that the apartment complex knowingly ignored safety concerns despite being aware of the rampant criminal and gang activities on its premises for the last 20 years and had failed to put appropriate security measures in place. They did have one security guard… who was facing felony charges himself, who saw the assailants earlier and did nothing. A Clark County jury found the defendant 85% responsible and attributed 15% of the fault to the victim.
202o, Los Vegas: $75,000 Settlement:  A minor was hit by a vehicle while riding his bicycle in his apartment complex's parking lot. The driver of the vehicle was accused of drag racing at the time of the incident. The minor's guardian filed a lawsuit against the driver and the apartment complex, claiming negligence, premises liability, negligent security, and negligent infliction of emotional distress. This is a rare negligent security case that does not involve wrongful death or catastrophic injuries.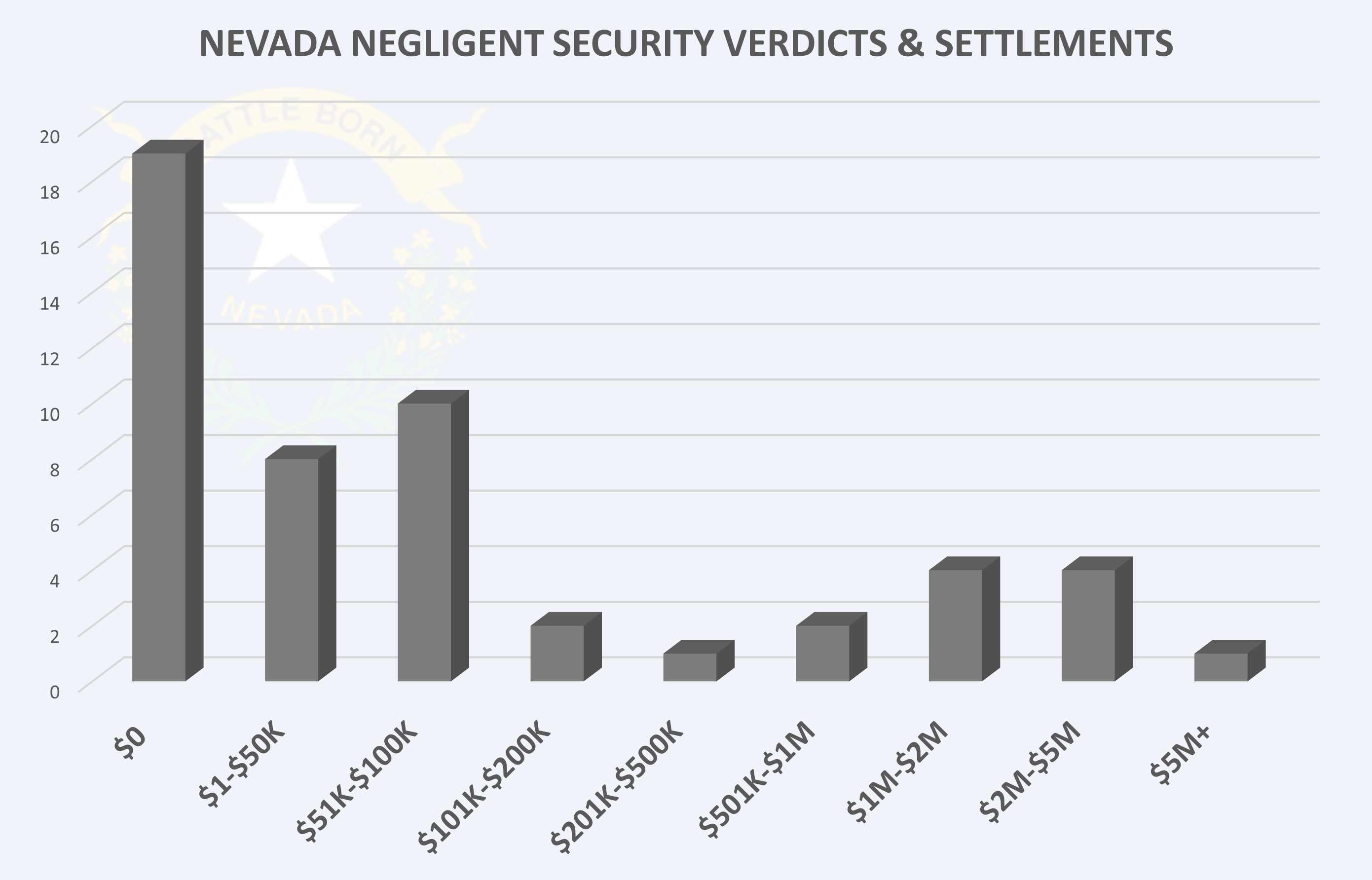 Nevada Negligent Security Appellate Cases
Here are four key Nevada negligent security appellate opinions. What is notable about all of these is that in each case, the trial judge granted summary judgment and the appellate court reversed that judgment. Nevada appellate judges are telling trial judges, who are not always listening, that you do not need an expert in an inadequate security suit and that these cases are best decided by juries.
Gautam v. Bank of America (2021): The plaintiff was robbed and shot after using a Bank of America (BOA) ATM in Las Vegas. He hired a personal injury lawyer and sued BOA, alleging negligent security. Before trial, BOA moved to exclude the expert his attorney used, arguing he was unqualified to testify as an expert. The trial judge granted the bank's motion to exclude the appellant's expert witness due to lack of qualification. The plaintiff brought forth several witnesses, including the bank's Protective Services Manager, who acknowledged high crime rates around the ATM location, yet was unaware of any safety measures implemented in response. The case when to trial. The court dismissed the lawsuit before the jury rendered a verdict. The Court of Appeals of Nevada, in an unreported opinion, found that expert testimony is not always needed to establish a breach of duty in negligent-security cases. The court concluded that the plaintiff presented enough evidence for a jury to determine the bank's breach of duty due to negligence. (The court also disagreed that the expert should have been excluded in the first place.)
Humphries v. New York-New York Hotel & Casino (2017): the plaintiff was injured in an altercation. He argued that the hotel should have anticipated the fight and taken steps to prevent it, given the late hour and the amount of alcohol consumed by guests. The Supreme Court of Nevada ruled that a hotel or similar entity could be held liable for failing to prevent foreseeable criminal acts under certain circumstances. Specifically, the court held that a duty of care existed when a hotel should reasonably foresee that a guest might be in danger due to criminal acts on the premises. Accordingly, the Nevada Supreme Court ruled that the trial judge who dismissed the lawsuit had improperly interpreted the law (NRS 651.015). The district court had found that the incident was spontaneous, and thus, the casino could not have foreseen the fight and owed no duty of care. The Supreme Court, however, emphasized that the duty of care is not solely about the knowledge of a specific incident. Instead, it focuses on the overall due diligence in ensuring patron safety.
Symeonidis v. AMC, LLC (2017). A tenant at Lantana Apartments in Las Vegas was assaulted and robbed by unknown assailants. The tenant hired a Los Vegas negligent security attorney who filed a lawsuit claiming Lantana failed to ensure safety in common areas. Lantana sought summary judgment, arguing the crime was unforeseeable. The trial court agreed. On appeal, the Court of Appeals of Nevada, in an unreported opinion, found that the trial judge applied incorrect legal standards of foreseeability, ignored the history of crime at Lantana, and erred in requiring an expert witness. The appellate court also concluded that there was a genuine dispute about whether the attack was foreseeable and ruled it was error to require expert testimony for negligent-security cases. Anderson v. Mandalay Bay (2015): A woman and her husband sued Mandalay Bay Resort and Casino after she was raped by a Mandalay employee in her hotel room. She hired a Los Vegas negligent security lawyer who hired an expert who offered the opinion that Mandalay had insufficient security. Pre-trial discovery uncovered five previous sexual assaults had been perpetrated by Mandalay employees on the resort's premises and that the resort received roughly one report per month of employees entering guest rooms without authorization. The Nevada Supreme Court found that under NRS 41.745(1)(c), employers can be held vicariously liable for an employee's intentional torts if such actions were "reasonably foreseeable under the facts and circumstances of the case considering the nature and scope of the employee's employment." The assailant, who pleaded guilty to sexual assault, had been suspended by Mandalay for threatening a female supervisor and had a disciplinary history. The court reversed the trial court's entry of summary judgment, concluding that a reasonable jury could find this criminal act reasonably foreseeable.