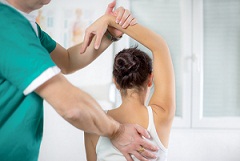 This page is about medical malpractice lawsuits against chiropractors and settlement amounts and jury awards in these cases.
Chiropractic Malpractice Lawsuits
There are not that many chiropractor malpractice cases.  Is it that chiropractors are particularly competent health care providers?  No. Not at all. But chiropractic negligence usually does not result in serious injury.
Most of the chiropractic malpractice lawsuits our lawyers get calls on are negligent manipulation cases where the injury is not particularly serious by viable malpractice case standards and proof of what caused what is usually an exacerbation of a preexisting condition and is a challenge.  If you have a case like this – where there is clear malpractice but the injuries are relatively minor – our firm will not help you and you will likely have a hard time finding a lawyer.  That is not fair. But it is reality.
That said, there are sometimes significant claims made against chiropractors. Because they do not have the halo effect that doctors have with juries, there is a very level playing field for plaintiffs filing suit against them.  Stunningly, chiropractors are trusted less in most communities than lawyers (but ahead of Congress, of course).  Which really is saying something.
Standard of Care and Expert Testimony in Chiropractic Malpractice Case
The standard of care applied in these cases is different than the standard that would be applied to a medical doctor. Medical malpractice law holds chiropractors to the standard of the use of the same degree of care and competence as other ordinary, prudent chiropractors.
Chiropractors Need to Stay in Their Lane
It is a battle for chiropractors who have a patient who is outside of the garden variety patient.  Many are not trained to accurately diagnose and refer patients to the right medical doctor who can solve their problems.
That is not a knock on them. This is a good time to mention that many of our clients think a chiropractor is the most skilled medical provider they have based on their real-world experience of getting treatment for pain.  But chiropractic schools do not adequately prepare these health care providers to function as  primary care physicians. A PCP is what is required to catch many ailments that a health care provider needs to catch to keep a patient safe.
[Let's interrupt this post for a safety alert. There is a way for patients to protect themselves against some risks of chiropractor malpractice: get a medical doctor to evaluate them and bless the work that the chiropractor is doing.  So many patients now go just to the chiropractor.  It is just not something you should do.]
Do You Need an Expert in a Chiropractor Malpractice Claim?
Do you need an expert in a chiropractor malpractice case?   Some states view a chiropractor's negligence as ordinary negligence.  I would never take the risk of going to trial in anything resembling a medical malpractice case and not come armed with an expert.
Chiropractors are still licensed medical providers in, I believe, every state.  As such, they hold themselves out — and implicitly the state holds them out —  as capable of providing treatment for human ailments and assumes these duties and responsibilities as any other healthcare provider.
Types of Chiropractor Malpractice
There are no good chiropractic malpractice statistics.  But our lawyers have a good sense of lawsuits being filed against chiropractors.
Malpractice lawsuits against chiropractors often fall into one of two categories: (1) failure to diagnose a medical condition that needs immediate care, and (2) harm to the patient from the treatment itself.
Failure to Diagnosis a Medical Condition that Demands Immediate Care
These cases are sometimes tricky, and it goes back to what I just talked about: how much knowledge and experience do you expect a chiropractor to have?  Typically, what you see in these cases is a know-it-all chiropractor who presents themselves essentially as a medical doctor, just with more wisdom and real-world common sense, who  suddenly transforms at trial into an "I'm just a chiropractor with limited medical training."
So do we require chiropractors to be able to diagnose a patient's spine that has been weakened by metastatic bladder cancer or multiple myelomas?  I think the answer to these types of issues is yes and no.  We cannot expect a chiro to know what the problem is.  But they should have the medical training to identify a problem and, if nothing else, send them to their primary care doctor.
Harm to the Patient from the Chiropractic Treatment
Most of these cases are negligent manipulation that occurs during the treatment when a chiropractor is making an adjustment to the patient that either creates a new injury or exacerbates an existing one.   Negligent chiropractic adjustments can cause herniated discs, neck injuries,  nerve damage, and other injuries.
There is an even bigger problem: a chiropractic-induced stroke.  This is not a failure to diagnose the issue.  This is when the chiropractor's treatment causes a stroke.  How does this happen?   Arteries to the brain can become ruptured or blocked by the chiropractor's manipulation of the patient's neck. The vertebral artery is especially at risk because it wraps around the cervical vertebra entering into the head.  This can cause a blot clot which cuts off the flow of blood and oxygen to the brain.
How Much Is a Chiropractor Malpractice Claim Worth?
The trial or settlement value of a chiropractor malpractice claim depends, of course, on the injuries and how strong the liability case is, just like any other malpractice claim.
Keep in mind that these are the verdicts in these cases.  Sample verdicts and settlements do not and cannot predict the value of individual cases.  Still, they can be a lens, along with other tools, to putting a dollar figure on these claims.
Normally, we provide this kind of caveat and then we give you an average settlemement payout estimate. But we cannot do that here.
Victories in Malpractice Lawsuits Against Chiropractors Are Rare
Let me tell you something else you should know.  To find all of these plaintiffs' victories at trial I found below, I had to walk over a lot of defense verdicts.  I mean a lot.
I've gone back as recently as January 2023 to look for new verdicts for victims and I cannot find any.  That does not mean there are not some successful settlements and verdicts against chiropractors out there over the last two years.  But I found just one new verdict.  And I sure found a lot of defense verdicts.
What does this mean to you if you are suing a chiropractor?  It means you better have a good case that is grounded in good science to have a chance to win.
Example Chiropractic Malpractice Settlements and Verdicts
Below are examples jury payouts and settlements in chiropractice malpractice lawsuits.  Will these sample settlement amount and jury awards help you determine the settlement payout you can expect in your case? No. But they do give you a flavor for how juries and lawyers have valued cases that is somewhat instructive.
Chiropractor Appellate Opinions
More Resources
Hiring a Malpractice Attorney for Your Case
If you have sustained an injury caused by the negligence of a chiropractor, contact us now.  You need to be aware that there are certain laws that can prevent you from bringing a claim after a certain period, so it is important to act quickly.  Our lawyers will work with you to determine whether you have a valid claim.   But the key for our law firm is the injuries must be extremely serious.  Contact us at 1.800.553.8082 or online here