Below is a brief review of some critical points of law related to personal injury lawsuits in Louisiana, such as how long you can wait to file a lawsuit and what damages a plaintiff can recover. We also look at Louisiana settlement amounts and jury payouts.
Louisiana Settlements and Verdicts
Here are some recent verdicts in Louisiana. These are mainly taken at random. Please don't assume they are proof positive about the value of your claim. But I think they are illustrative.
$20,698 Verdict (Baton Rouge 2023): The plaintiff was a passenger in an automobile traveling in a parking lot when it was struck by a pickup truck operated by the defendant. She claimed injuries to her neck, back and headaches. The defendant denied liability and claimed that the driver of the plaintiff's vehicle was at-fault, but the jury disagreed.
$201,265 Verdict (Caddo 2023):  The plaintiff was operating his motorcycle on a two-lane road when a vehicle traveling in the opposite direction reportedly swerved into the plaintiff's travel lane. The plaintiff allegedly swerved his motorcycle to avoid a head-on collision, which caused him to strike another vehicle and crash. He claimed injuries, including a partial tear of the ulnar collateral ligament in his left wrist. He underwent surgery and a disc herniation at L5-S1 in the lumbar region of his spine.
$2,466,000 Verdict (East Baton Rouge 2022): The plaintiff claimed to suffer a crush injury to his left dominant hand, requiring surgeries, and post-traumatic stress disorder when a hatch cover on a large ocean-going vessel lowered on his hand. He brought a claim under the Jones Act and was eventually awarded $2.4 million in damages.
$506,461 Verdict (Caddo 2022): A 58-year-old male reportedly suffered herniated discs at C2-3, C3-4, and C5-6, requiring fusion surgery, bulging discs at C4-5, C6-7, C7-T1 and T3-4, cervical spondylosis and bilateral shoulder pain when his eastbound vehicle was struck on the passenger side by a United States Postal Service vehicle.
$191,265 Verdict (East Baton Rouge 2021): The plaintiff claimed to suffer disc space narrowing at C5-6 and L4-5, lumbar spine facet joint injury, left hip arthropathy, muscle spasms, neck and groin pain, and emotional distress when his vehicle, heading eastbound on an interstate and stopped for traffic, was rear-ended by a tractor-trailer.
$100,000 Verdict (St. Tammany 2021): Two people were T-boned by a school bus. They suffered severe injuries. The two alleged negligence against the bus driver. They claimed she failed to maintain an appropriate lookout, yield the right-of-way, safely operate the bus, and avoid the collision. Following a bench trial, the two received $100,000.
$16,755 Verdict (Caddo 2020): A 30-year-old woman was pumping gas at a truck stop in Vinton. A truck backed into her vehicle as it was attempting to turn around. The impact pushed her into the gas pump. She suffered soft-tissue injuries and anxiety. The woman sought damages from the trucker and his employer. Both the defense counsel and the trucker disputed her injuries. The Lake Charles jury awarded her $16,755, comprising $6,755 in medical expenses and $10,000 in physical pain and suffering.
$20,121 Verdict (Caddo 2020): A 36-year-old woman was in heavy traffic on I-10. The driver behind her rear-ended her vehicle. The woman suffered a soft-tissue injury to her lower back. She underwent biweekly physical therapy sessions. The woman reported that her symptoms had resolved. She sought damages from the other driver, whose defense counsel contended the soft-tissue injuries. The woman received a bench verdict of $20,121.
$2,500 Verdict (St. Tammany 2020): A woman was a patron at a Baton Rouge casino. As she sat before a slot machine, its door opened and struck her hand. She suffered soft-tissue hand and wrist injuries. She sued the casino, alleging negligence regarding the door that struck her hand. A surveillance video suggested that the door did not strike her hand. Nonetheless, she received a $2,500 bench verdict.
$52,000 Verdict (Calcasieu 2020): A married couple suffered injuries after a state-owned vehicle rear-ended theirs on an exit ramp off Highway 90. The husband suffered the aggravation of a formerly asymptomatic spine condition. His wife suffered the aggregation of a knee injury. She would eventually need two knee replacement surgeries in the future. They sought damages from the Louisiana Department of Safety. The Lafourche Paris jury awarded the husband $15,000 and the wife $27,000, which totaled $52,000.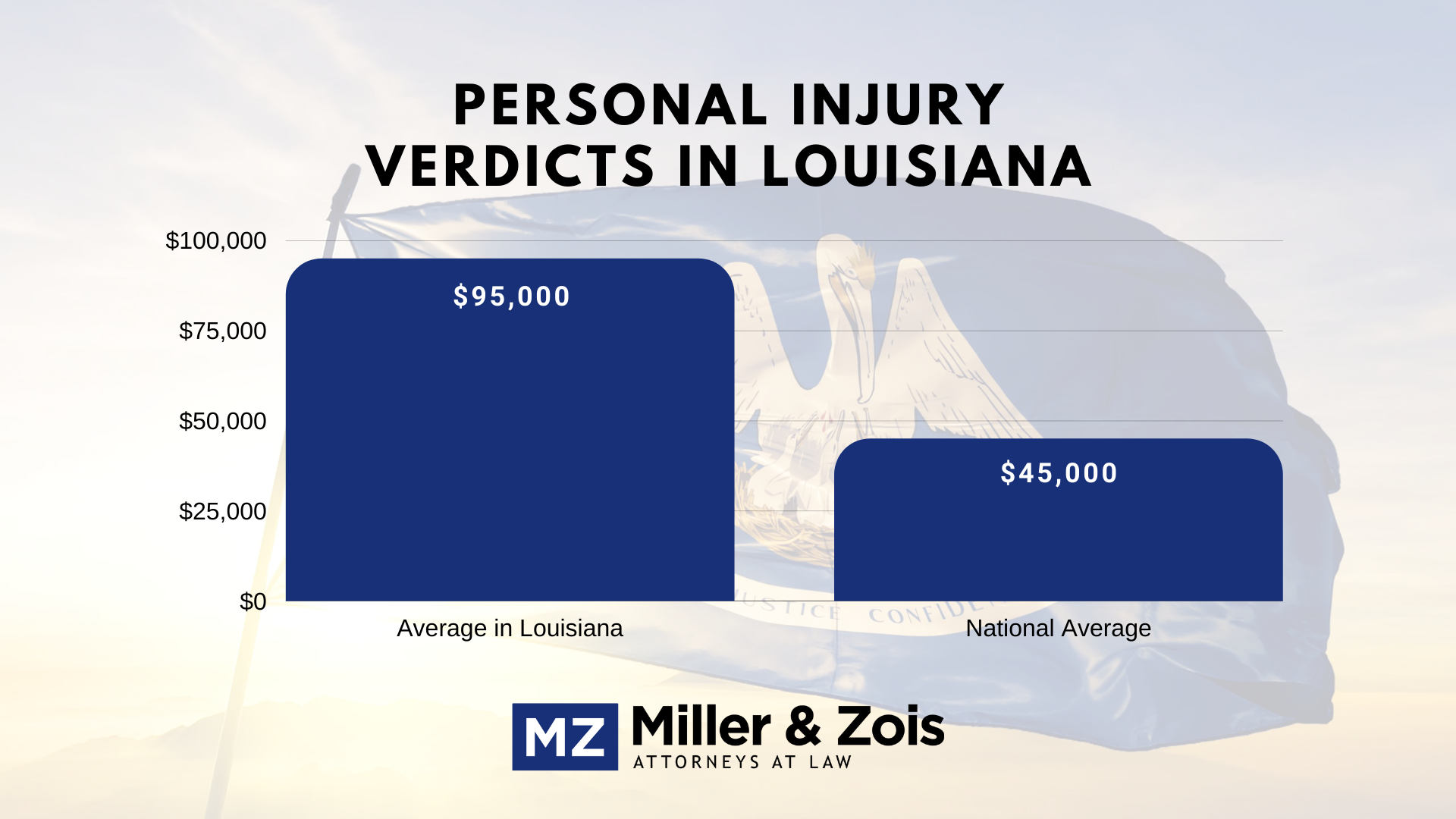 Louisiana Personal Injury Laws
Below is a summary and description of some of the key personal injury laws in the state of Louisiana.
1-Year Statute of Limitations
In Louisiana, the statute of limitations for most personal injury cases is one year from the date of the accident or injury. See La. Civ. Code, art. 2321. This means that a plaintiff must file a lawsuit within that time frame, or they may lose their right to pursue a claim. There are some exceptions to this rule (such as if the plaintiff is a minor), so it's essential to consult with an attorney to determine the specific deadline for your case.
So when does the 1-year statute of limitation period begin? The critical question in a statute of limitations analysis is when the applicable period (in La. 1 year) begins to run. Like most states, Louisiana follows the so-called discovery rule for determining when its 1-year SOL period begins. Under this rule, the 1-year period begins when the plaintiff reasonably should have discovered that they had a potential legal claim.
In simple auto accident cases, the 1-year period begins to run on the accident date because any reasonable person who gets in a car accident would know that they could potentially have a claim. In more complex cases, such as medical malpractice, however, the date of discovery can be much later. For example, if a doctor fails to diagnose cancer, the 1-year statute of limitation period would begin to run when the plaintiff discovers the misdiagnosis, not when the doctor made the diagnosis.
Statute of Limitations for Sexual Abuse Lawsuits
Until recently, sexual abuse civil lawsuits in Louisiana were subject to a 3-year statute of limitations. In 2021, however, Louisiana joined a growing number of states across the country that amended their laws to make it easier for victims of child sex abuse to file civil lawsuits years later. The new law, which was signed into law in June 2021, eliminated the statute of limitations for sexual abuse civil lawsuits in the future. It also created a 3-year window for victims of prior sexual abuse to file civil lawsuits no matter how many years have passed.
Under Louisiana's new law, future sexual assault victims will not be subject to any statute of limitations period. This means that you can file a civil lawsuit against your abuser or a school or organization that enabled the abuse no matter how many years have passed since the incident occurred. For past abuse that occurred prior to August 1, 2021, victims have until August 1, 2024 to file a civil lawsuit without any statute of limitations application.
Cap on Damages in Louisiana
Louisiana has a $500,000 cap on damages certain types of damages that a plaintiff can get in a medical malpractice case. This cap does not apply to economic damages such as lost wages or medical expenses. It only limits the amount a plaintiff can get for pain & suffering (non-economic damages). There is no cap on damages for other personal injury cases, such as car accidents, slip and falls, or product liability claims.
Comparative Fault in Louisiana
Louisiana follows a modified comparative fault law system, which means that a plaintiff can still recover damages even if they were partially at fault for an incident. Their percentage of fault will reduce the extent of the plaintiff's recovery.
For example, if a plaintiff was found to be 25% at fault for a car accident, their recovery would be reduced by 25%. This means that if the plaintiff was awarded $100,000 in damages, their recovery would be reduced to $75,000.
But if a plaintiff is found to be more than 50% at fault for an incident, they will not be able to recover any damages. Comparative fault law in Louisiana operates on a threshold system, where a plaintiff's recovery is only reduced if they are less than 50% at fault for the incident.
Medical Malpractice Claims in Louisiana
The Louisiana Medical Malpractice Act governs medical malpractice claims in Louisiana. Before filing a lawsuit, a plaintiff must present their claim to a medical review panel, which will issue an opinion on whether the healthcare provider's conduct met the standard of care. If the panel finds a breach of the standard of care, the plaintiff can proceed with the lawsuit.
Under §1237.2, Louisiana law has a process for reviewing malpractice claims against the state, its agencies, or other covered parties in Louisiana. A state medical review panel must first review malpractice claims before any action can be taken in court.
LMMA
So under the Louisiana Medical Malpractice Act (LMMA), any claim of medical malpractice levied against a private, qualified healthcare provider will be deemed premature and subject to dismissal unless it has first undergone review by a medical panel. "Malpractice", as defined by the LMMA, refers to any accidental tort or any contract breach that pertains to healthcare or professional services that a healthcare provider has either rendered to a patient, or should have rendered. This includes failure to provide services in a timely manner, mishandling of a patient (which includes patient loading and unloading), as well as any legal responsibility a healthcare provider may hold due to acts or omissions occurring during the procurement of blood or blood components.
Review Panel
The review panel consists of one attorney and three healthcare providers. A filing fee of $100 per named defendant state health care provider must be paid within 45 days of the request for review unless waived by submitting an affidavit from a physician certifying that adequate medical records have been reviewed or receiving an in forma pauperis ruling from a district court. The filing of a request for review suspends the time within which a lawsuit must be filed until 90 days after notification of the panel's opinion. If the panel does not render an opinion within 12 months, the parties may petition for an extension, but the panel is dissolved after that time. Parties may waive the use of the review panel.
Strict Liability for Dog Bites
In Louisiana, dog bite cases are governed by strict liability laws, which means that a dog owner may be held liable for damages even if they were not negligent or at fault for the incident. This means that if a dog bites a person, they can hold the dog owner responsible for their injuries without having to prove that the owner was careless or acted improperly.
Under Louisiana law, a dog owner is strictly liable for damages if the victim was bitten while in a public place or while lawfully on private property, including the property of the dog owner. This means that the dog owner can be held liable even if the victim was not an invited guest on their property (and homeowner's insurance may still cover the loss).
However, there are some exceptions to strict liability for dog bites in Louisiana. For example, if the victim was trespassing on the dog owner's property, the owner may not be held strictly liable for the bite. Additionally, if the victim provoked the dog, the owner may be able to defend against a claim for damages.
Other Louisiana Personal Injury Laws
Other rules relating to personal injury law and action in Lousiana can be found in the following section of the Lousiana Revised Statutes:
Title 13: rules of civil procedure in tort actions
Title 23: worker's compensation claims
Title 32: Lousiana traffic laws and rules of the road
Louisiana Mass Tort Claims
There are a variety of national mass torts or "class actions" that involve hundreds of Lousiana plaintiffs, including claims our law firm is handling across the country:
Hair relaxer lawsuit: recent evidence has shown that long-term use of chemical hair relaxer products (most commonly used by African American women) can cause uterine cancer, ovarian cancer, uterine fibroids, and other conditions. This has prompted hundreds of women to file hair relaxer lawsuits.
Tylenol autism lawsuit: new studies have determined that using Tylenol (acetaminophen) during pregnancy can cause the baby to develop autism or ADHD. This has prompted a growing class action lawsuit by parents of children with autism and ADHD.
Camp Lejeune lawsuit: A new law allowed individuals exposed to the toxic water at the Camp Lejeune marine corps base in North Carolina to file claims for compensation.
Getting a Lawyer to Fight for You
At our law firm, we focus in handling serious injury and wrongful death cases. We collaborate with reputable colleagues in Louisiana and cover the fees for those lawyers through our own attorney fees. This means that you won't have to pay any extra contingency fees for working with two law firms, and you'll only be responsible for paying a fee if you receive compensation from a settlement or jury award.
If you've been injured and believe you have a valid civil tort claim, don't hesitate to reach out to us. Call 800-553-8082 or get a free online consultation.