This was a years-old post about an awful — just absolutely awful — product liability case involving a jet ski.   But it is 2020 and people will not care about that case like they did when it was news.  So I converted the post to the settlement value of jet ski injuries.  Our first has handled a number of maritime death cases and we have a sense of how these case work.
Here are some results in jet ski cases we have found in other jurisdictions around the country.
Jet Ski Verdicts and Settlements
2020, Nevada: $100,000 Settlement. A minor passenger suffered unspecified injuries after her jet ski was struck by another. Her mother sued the parents of the other jet ski's operator, a minor boy, and the jet ski rental company for negligent entrustment. She alleged that the boy's failure to safely operate his jet ski caused her daughter's injuries. This case settled for $100,000.
2018, Texas: $148,448 Verdict. A woman was riding on a water tube that was being pulled by a jet ski. Another jet ski traveled into their path and struck her. The woman suffered unspecified personal injuries. She sued both jet ski drivers, alleging that they both failed to slow down, improperly controlled their vehicles, and caused her injuries. Both drivers contested the negligence claims. They each argued that the other was more liable for the incident. The jury found that the tortfeasor was 90 percent liable, while the woman's jet ski driver was 10 percent liable. They awarded a $148,448 verdict.
2016, Delaware: $510,000 Verdict. A man suffered a herniated disc, a torn right meniscus, and muscle aches after an intoxicated jet ski driver struck him while he was standing in shallow waters. He underwent surgical procedures to treat his disc herniation and meniscus tear. The man sued the jet ski driver for negligence. His wife also made a loss of consortium claim. The man alleged that the driver operated the vehicle while intoxicated, failed to regard the safety of others, and excessively sped. The jet ski driver admitted liability but disputed the extent of the man's injuries. A jury ruled in favor of the couple and awarded a $510,000 verdict. This included $250,000 in the loss of consortium claim.
2016, New Jersey: $300,000 Settlement. A minor passenger was thrown off a jet ski that was struck by another jet ski. He suffered unspecified severe and permanent injuries. His father sued both jet ski drivers. He alleged that the non-tortfeasor negligently entrusted a jet ski to the tortfeasor, despite knowing that he failed to complete a boat safety course. The boy's father also alleged that they improperly controlled and maintained their respective jet skis. This case settled for $300,000.
2016, California: $1,350,000 Verdict. A man was riding his repaired jet ski in a lake. His brother-in-law was his passenger. A boat followed the two. The man attempted to speed up his jet ski once they reached the buoys. However, the engine died during this attempt. Shortly after, the boat struck the jet ski. The man suffered a severe pelvic injury, while his brother-in-law suffered blunt force trauma and died at the scene. He sued the shop that repaired his jet ski. The man alleged that they left some water in the gas tank, causing the vehicle to malfunction. He also sued the boat's driver, alleging that he failed to safely operate his boat and violated boating safety regulations. The shop denied liability, arguing that only the boat driver's negligence caused the collision. A jury awarded a $1,350,000 verdict.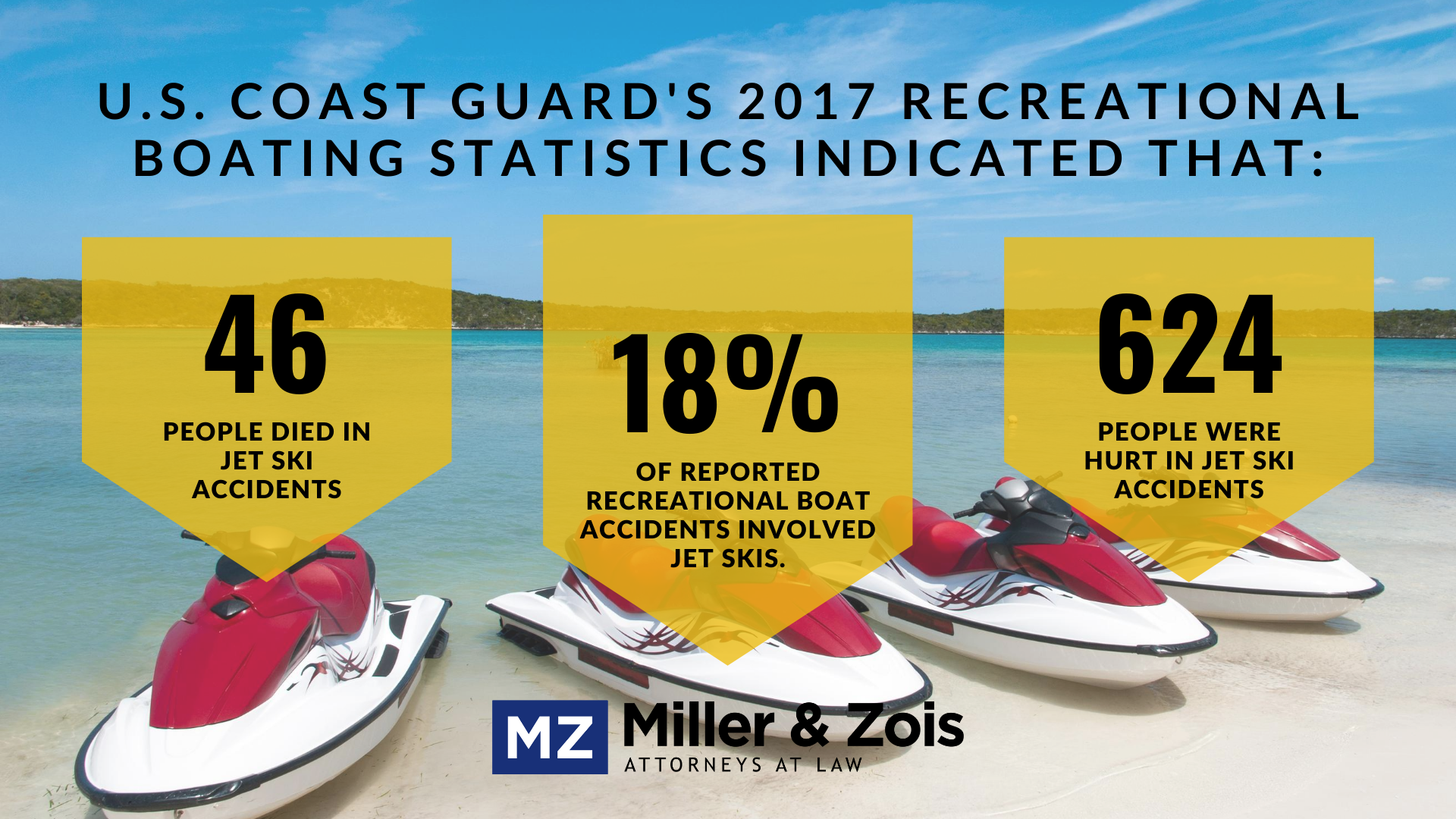 The Original Case
Now to the original case which is still an awful, yet interesting case with important legal issues. The 11th Circuit affirmed a $1.5 million product liability judgment to a Georgia woman whose vaginal and anal cavities were tragically gutted by water shooting from the back of a jet ski.
How could this have happened? A 21-year-old woman is doing what many of us have done, riding a jet ski on vacation in the Bahamas. She is a passenger. Her friend hits the gas, this young woman was not holding on or expecting it, and she falls off the back. This happens all the time on jet skis. But water thrusts from the nozzle in the back of the jet ski and tears through her vaginal and anal cavities. Just awful. She gets 19 medical procedures and surgeries, and likely will have to wear a colostomy bag and self-catheterize for the rest of her life, absent some new medical breakthrough that we all hope comes.
Her lawyers file a lawsuit against Kawasaki in federal court in Florida, but the case gets transferred to Georgia where the woman was going to college. Her attorneys find a good expert who holds a patent for a rotatable seat that could have been used. Kawasaki files a motion in limine to exclude the expert on the ground that his opinion was unreliable because he had not done enough testing on his proposed seatback design. The Georgia judge disagrees and lets the jury hear the expert's testimony. The court does, however, grant Kawasaki's motions relating to the expert's other reasonable alternative designs, such as an engine cut-off switch and fixed handles.
The jury finds for the plaintiff on the design defect claim and in favor of Kawasaki on the failure-to-warn claim, awarding, incredibly to me, $3 million for past and future medical expenses but nothing – nothing? – for pain and suffering. The jury also finds the plaintiff half responsible for her damages, cutting her award in half.
It sounds like a win for Kawasaki if you ask me. They appeal anyway, arguing that the trial court abused its discretion in letting the expert testify. The 11th Circuit disagreed, finding that the trial court's call was not unreasonable.
Plaintiff appealed too on the zero damages for pain and suffering award, arguing that it is just plain illogical. I can't believe the court would have sustained this appeal anyway, but they had an easy out: under Georgia law, inconsistent verdicts must be objected to before the jury is released.
I think Kawasaki has to be feeling pretty good about this verdict. This woman's life is destroyed, she has $3 million in past and future medical expenses Kawasaki walks away with a $1.5 million verdict.
Scares me now, I have taken my kids on these things.  Humans are just stupid, I guess because I will again one day.