Our firm is handling Camp Lejeune water contamination lawsuits around the country.
One of the most common questions we get from clients is how long it will take for their Camp Lejeune water contamination case to settle.  You have heard of mass tort class action lawsuits that take years to settle.  Our attorneys think this litigation will be very different from that stereotype.
In this post, our lawyers explain how long this litigation will likely last. We discuss what the range of time might be for your Camp Lejeune lawsuit to reach a settlement (and what that settlement payout might be).
 Camp Lejeune Water Contamination
As anyone reading this knows, Camp Lejeune is a large Marine Corps base in North Carolina that has been a home and workplace to millions of marines, families, and civilian contractors over the years. Before 1988, the drinking water supply at Camp Lejeune was heavily contaminated with dangerously high levels of harmful industrial chemicals.
The chemical levels in the Lejeune water were several thousand times above the maximum safety levels set by the EPA. Residents and employees at Camp Lejeune were drinking and bathing in carcinogenic water for decades. Not surprisingly, public health studies have found that individuals who worked or lived at Lejeune before 1988 had significantly higher rates of various types of cancer and other major health conditions.
An estimated 1 million people were exposed to the contaminated water at Camp Lejeune. Our Camp Lejeune lawyers anticipate between 100,000 in 200,000 water contamination lawsuits to be filed.
Camp Lejeune Justice Act Allows Civil Lawsuits
Previously, victims of the water contamination at Camp Lejeune could not bring civil lawsuits and get financial compensation for their injuries. This is because of an unforgiving North Carolina statute of  limitation law. This year, however, Congress finally took action to address this injustice.
In August 2022, a new federal law called the Camp Lejeune Justice Act (CLJA) was enacted. The CLJA gave victims of Camp Lejeune water contamination the right to bring civil lawsuits against the government. The CLJA only gives prospective plaintiffs a limited 2-year window to bring claims.
Procedure for Camp Lejeune Lawsuit
Before a Camp Lejeune civil lawsuit can be filed in court under the CLJA, all plaintiffs must first file an administrative claim with the Navy. These claims are very similar to administrative claims under the Federal Tort Claims Act. The CLJA administrative claim must either be accepted or denied within 6 months, after which the claimant can move on and file their civil lawsuit in court.
All Camp Lejeune administrative claims must be filed with the Office of the Judge Advocate General (JAG) of the Navy's Tort Claims Unit (TCU) in Norfolk, VA. The JAG TCU will handle the Camp Lejeune claims under the oversight of the Department of Justice.
JAG has created a special CLJA claim form to be used when filing new Camp Lejeune cases. The claim form outlines the basic information that will be required from CLJA claimants. There are essentially 2 main things that CLJA claimants will need to show: (1) residency or employment at Camp Lejeune, and (2) diagnosis with a disease or medical condition that can be linked to the water at Camp Lejeune.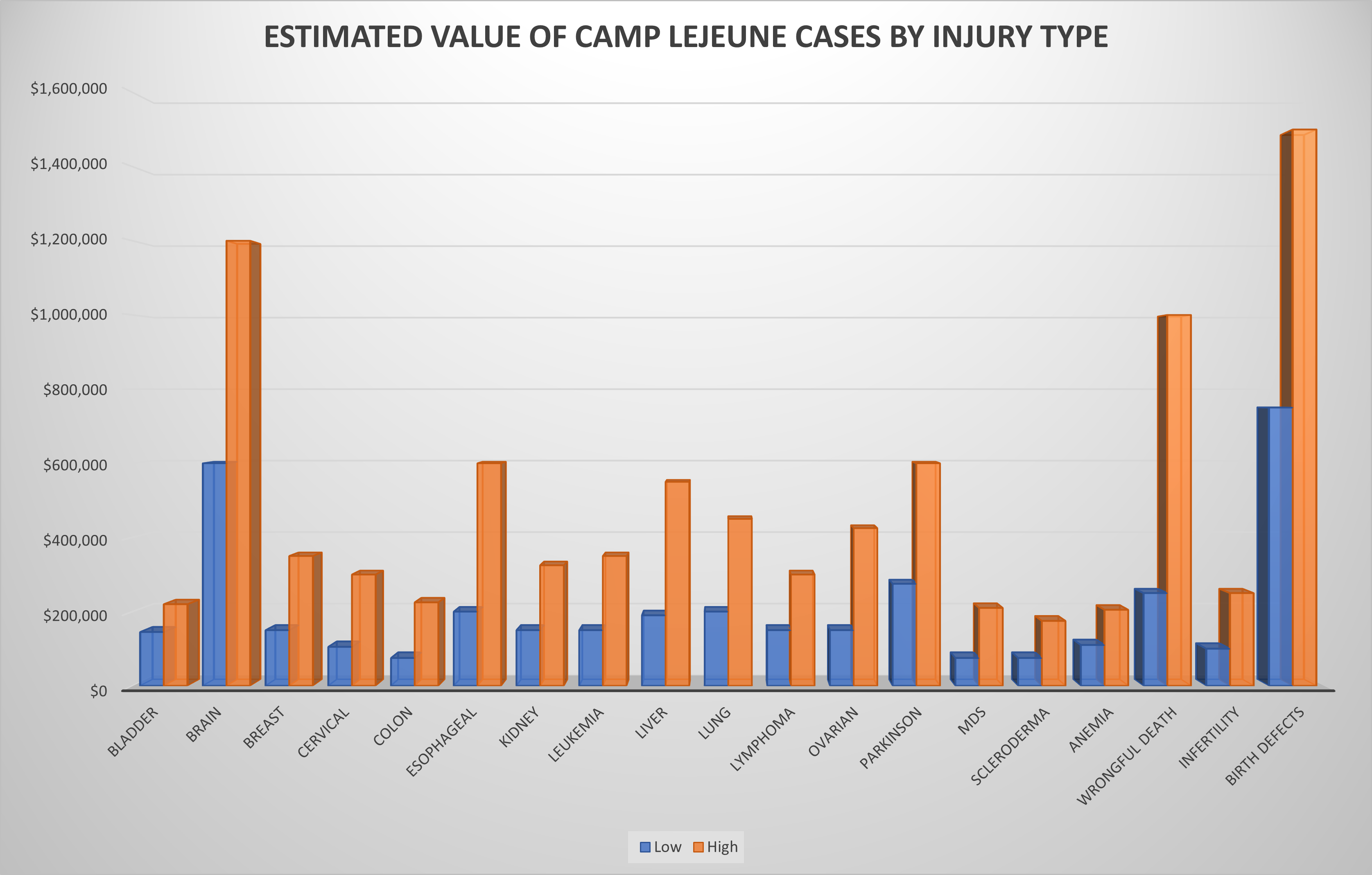 CLJA claimants will need to have some sort of documentary evidence to support both of these two primary elements of their case. Veterans who were stationed at Lejeune can prove residency by obtaining their Official Military Personnel File with a DD214 request. Family members of veterans who were stationed at the base will need additional documentation establishing their connection (e.g., marriage license, birth certificate, etc.).
Civilians who worked at Camp Lejeune will need documentary evidence of that employment. Paystubs, tax returns, or a work history report from the Social Security Administration will all satisfy this.
This video also explains how the settlement process will work in terms of time and how much money you can expect
JAG Claims Must be Resolved Within 6 Months
The administrative claim must be resolved before a civil lawsuit can be brought under the CLJA. However, JAG has a strict 6-month deadline to take action on these claims. JAG must either accept or deny the claim 6 months after it is filed.  If the claim is accepted, the Department of Justice, which seems to be carrying most of the heavy water on these cases, will offer a settlement amount to compensate the victim.  The settlement offer will be the settlement payout demanded or a lesser amount.  If the claim is denied before the 6-month deadline, the claimant can immediately file a Camp Lejeune lawsuit.
There is currently a lot of speculation about how the administrative claim process will be handled by JAG for Camp Lejeune cases. Normally, in cases under the FTCA, the administrative claim is just a procedural hoop to jump through and claims are either denied right away or the 6-month deadline is allowed to expire.
Our lawyers think that the process could be much different for Camp Lejeune lawsuits and that will impact how long it takes to settle a Camp Lejeune lawsuit. These cases are unique because the government has made it very clear that it wants Camp Lejeune victims to receive fair compensation. Keep in mind, congress passed the CLJA with the express purpose of compensating Camp Lejeune victims.
Strong Camp Lejeune Lawsuits Could Settle Quickly
Our lawyers think that JAG will seek to identify the strongest Camp Lejeune water contamination claims and then make a deliberate effort to settle those cases. The deadline for the JAG administrative claim is 6-months, which means that these top-tier cases could potentially lead to Camp Lejeune settlements in just a few months.
The strongest Camp Lejeune cases (and those that we think JAG will try to settle early) will be those in which the plaintiff was diagnosed with a disease that the VA has previously categorized as "presumptively related" to the contaminated water at Lejeune:
Another element that will make a CLJA case stronger is the length of the plaintiff's residency or employment at Camp Lejeune. Plaintiffs who lived or worked at Camp Lejeune for longer periods (e.g., years as opposed to months) will have stronger claims because they had more exposure to the contaminated water.
Second Tier Camp Lejeune Cases May Take Longer to Settle
Plaintiffs with health conditions that are not considered presumptively connected to Camp Lejeune will still be able to bring CLJA cases and get compensation. There is evidence connecting the Camp Lejeune water to several other diseases and adverse health conditions. However, these cases may not settle as quickly. Diseases that may be in this second-tier group include cervical cancer, prostate cancer, colon cancer, ovarian cancer, lung cancer, and breast cancer.
JAG may make some attempt to settle these "second tier" Camp Lejeune cases during the administrative claim phase. But the offers will probably be lower. A higher percentage of these cases will probably move past the administrative claim phase. So a Camp Lejeune lawsuit would need to be filed in the U.S. District Court for the Eastern District of North Carolina.
The normal time frame for a civil tort case in federal court is anywhere from 16 to 26 months from the start of the jury trial. Again, however, our lawyers expect that the Camp Lejeune cases will be somewhat different. Something will probably handle similarly the Camp Lejeune cases that end up in the Eastern District of North Carolina to MDLs in mass tort cases.
There will probably be some type of consolidated discovery process established that will be more streamlined and efficient than discovery in a normal tort case. Part of the reason for this is that only two facts will be in dispute in Camp Lejeune cases: (1) did the plaintiff live or work at Camp Lejeune during the relevant period, and (2) is there sufficient evidence linking the plaintiff's injury to the water at Camp Lejeune.  But each Camp Lejeune lawsuit is its own individual claim and how long that case takes to settle will depend on the facts of that claim.
Contact Our Camp Lejeune Water Contamination Lawyers
Our Camp Lejeune attorneys offer legal assistance to victims harmed by exposure to the bad water at Camp Lejeune who meet the following criteria:
You served, lived, or worked at the Camp Lejeune Marine Corps base in North Carolina for at least 30 days between the years before 1988
Were diagnosed with Parkinson's disease, leukemia, bladder cancer, kidney cancer, or other disease or cancer listed on the graph above.
Contact our Camp Lejeune lawyers today for a free consultation at 800-553-8082 or get a free no-obligation online consultation. Our attorneys only get paid if you get a settlement or jury payout.