NFL star quarterback Deshaun Watson is defending civil tort lawsuits filed by 22 women who allege that Watson sexually assaulted them during private massage sessions. After Harris County declined to pursue criminal charges against Watson, he was traded to the Cleveland Browns who promptly gave him a new fully guaranteed contract worth – my goodness! – $230 million.
In the wake of the Watson trade and his new blockbuster contract, many people wondered if he would opt to settle the civil lawsuits and how much that settlement might be. In this post, we will offer an analysis of the potential settlement value of the Deshaun Watson sexual assault lawsuits.  The cases have settled. But the amounts are confidential.  But we speculate here on the terms of the Watson settlement agreement with these women.
Our estimated settlement value for the Deshaun Watson civil lawsuits is between $1.5 to $2.5 million for each plaintiff for a total of $33-55 million. The basis for this estimated settlement amount is spelled out in this post.
RELATED POSTS:
Sexual Abuse Lawsuit Settlements
Suing for Sexual Assault
---
Deshaun Watson Settlement Update
Before we get into the Watson settlement, here is the latest news and updates related to these lawsuits.
Update – December 31, 2022
No new developments off the field.  But it is interesting that for all of this trouble, Watson has not been very good at football so far, right?
Update – December 4, 2022
Women who alleged they were assaulted by Watson and have agreed to settlement amounts with him are going to his first Browns game.  No confidentiality agreement says you cannot say you are going to a football game.
Update – December 3, 2022
Buzbee Law Firm has sued another Texas law firm and lawyer – Gutierrez Law Firm and attorney Jose Gutierrez – claiming the firm improperly signed clients the Buzbee's firm was already representing.
Update – October 22, 2022
We thought the Deshaun Watson saga was essentially over at this point after he settled all of the civil lawsuits and agreed to an 11-game suspension with a $5 million fine. Not so fast, apparently. On October 14, yet another massage therapist filed yet another civil lawsuit alleging that Watson pressured her into performing oral sex during the massage. The lawsuit was filed with the plaintiff using the pseudonym Jane Doe, and it was a different lawyer who filed for the plaintiff this time. Watson's lawyers immediately filed a motion seeking to force the plaintiff's lawyer to disclose the real name. Last week, a judge in Harris County, Texas, granted that motion and ordered the plaintiff's lawyer to disclose the name within 24 hours. This presumably has already happened, so no we move forward with this post-script to the Watson ordeal.
Update – August 4, 2022
Earlier this week, the independent arbitrator (Sue Robinson) ruled that Deshaun Watson should receive a 6-game suspension for violation of the NFL's personal conduct policy. In her opinion, Robinson noted that Watson essentially had a clean record going into this, but she noted that he displayed an apparent lack of any remorse for actions in connection with the numerous massage therapists turned civil plaintiffs.
The NFL has already announced that it will appeal the arbitrator's decision. The league is reportedly looking for both a longer suspension and a major monetary fine. Thanks to the way Watson's contract with the Cleveland Browns was deliberately structured, a 6-game suspension at the start of this season would only cost him about $350,000 in lost salary.
What makes the NFL's appeal of the arbitrator's decision somewhat awkward is that the NFL can decide the appeal itself. Under the current CBA rules with the NFLPA, Roger Goodell can appoint another independent party to hear the appeal, or Goodell can simply appoint himself to hear the appeal.
Meanwhile, Watson has reached final settlements with 23 out of the 24 massage therapists who brought civil lawsuits against him. Numerous reports are indicating that a settlement with the one remaining plaintiff could be announced very soon. Watson's former team, the Houston Texans, has already settled with all 30 of the women who brought civil lawsuits against them related to Watson's actions.
Update – June 21, 2002
The lawyer representing all 24 of the plaintiffs with pending civil lawsuits against Deshaun Watson publicly disclosed today that settlement agreements have been reached in 20 of the cases. 
Update – June 14, 2022
Two more Deshawn Watson lawsuits are expected.
Update – June 14, 2022
Tony Buzbee, the lawyer representing all 24 plaintiffs in the civil lawsuits against Deshaun Watson, publicly announced yesterday that he intends to name the Houston Texans as an additional defendant in the lawsuits. In his statement, Buzbee claimed that "the Texans organization was well aware of Watson's issues, but failed to act." The Texans have previously stated that they did not know about Watson's alleged misconduct until the first lawsuit was filed. 
This latest move comes just days after a story in the New York Times which reported that Watson had hired at least 66 different massage therapists (including the 24 plaintiffs in the lawsuits) over 17 months between 2019 and 2021. Joining the Houston Texans as an additional defendant appears to be an obvious move to generate public attention and increase the plaintiffs' settlement leverage.
Update – June 8, 2022
Two additional women have now come forward and filed civil lawsuits against Deshaun Watson based on alleged sexual misconduct during massage sessions. This brings the total number of civil lawsuits against Watson up to 24. All of the cases have been filed by the same attorney.
These most recent lawsuits came shortly a month after a grand jury in Brazoria County, Texas reviewed the evidence against Watson and determined that he did not engage in any criminal conduct. Another grand jury in Houston had previously heard evidence against Watson and reached the same conclusion. Together, these two decisions effectively ended any possibility of Watson facing criminal prosecution.
Meanwhile, the NFL appears to be ever so slowly wrapping up its investigation into the allegations against Watson. NFL investigators have reportedly taken statements from more than half of the women who are plaintiffs in the civil lawsuits. At the end of March, league officials met with Watson as part of the ongoing investigation.
When the NFL investigators conclude the league's official investigation (which may have already happened) the report on their findings will be submitted to an independent arbitrator who will decide on how the league should discipline Watson. The arbitrator will be retired federal judge Sue L. Robinson. Robinson is from Delaware and was appointed to the bench by President Bush in 1991.
Predictions for the Length of Deshaun Watson Suspension
In deciding what discipline the NFL should impose on Deshaun Watson for his conduct in connection with the massage therapists, Judge Robinson will likely rely on precedent in the form of previously documented suspensions by the NFL. Like any good jurist, Judge Robinson will compare the facts of Watson's misconduct to previous cases of player misconduct involving similar circumstances.
There are only 2 prior NFL player suspensions that involved sexual misconduct without criminal charges (but not involving physical violence or domestic abuse, e.g., Ray Rice). These comparable cases will guide Judge Robinson in determining an appropriate punishment for Watson.
Jameis Winston – 3 Game Suspension (2018): in 2018 the NFL suspended Winston for 3 games for allegedly touching or "groping" a female Uber driver in a "sexual manner without her consent."
Ben Rothlisberger – 6 Game Suspension (2010): in 2010 Ben Roethlisberger was accused of sexually assaulting a 20-year-old woman in the bathroom of a nightclub. Criminal charges were dropped, but the NFL suspended Roethlisberger for 6 games.
The nature of the misconduct involved in the Jameis Winston suspension is probably the most similar to the Watson case. Both involved unwanted sexual touching. The main distinction between the two cases is that the Winston case involved 1 touching of a single woman compared to 22 (now 24) in the Watson case. The Roethlisberger case involved a single incident/victim, but the allegations were much more serious because the victim accused Roethlisberger of raping her.
Based on these previous cases, we predict that Judge Robinson will suspend Deshaun Watson for 8 games. A suspension of 8 games would be consistent with the Winston precedent (3 games for unwanted touching) plus the aggravating factor that Watson's misconduct was repeated 24 times.
---
About Deshaun Watson
Deshaun Watson is 26 years old and one of the top quarterbacks in the National Football League. Watson was a star quarterback in college where he led the Clemson Tigers to a national championship in 2016. In 2017, Watson was selected in the first round of the NFL draft by the Houston Texans. In his first 4 seasons with the Texans, Watson established himself as one of the top quarterbacks in the league.
At the start of the 2020 season, the Houston Texans rewarded Watson with a new 4-year, $156 million contract which included a $27 million signing bonus and roughly $110 million of the salary was guaranteed. At the time, it made Watson one of the highest-paid players in the NFL.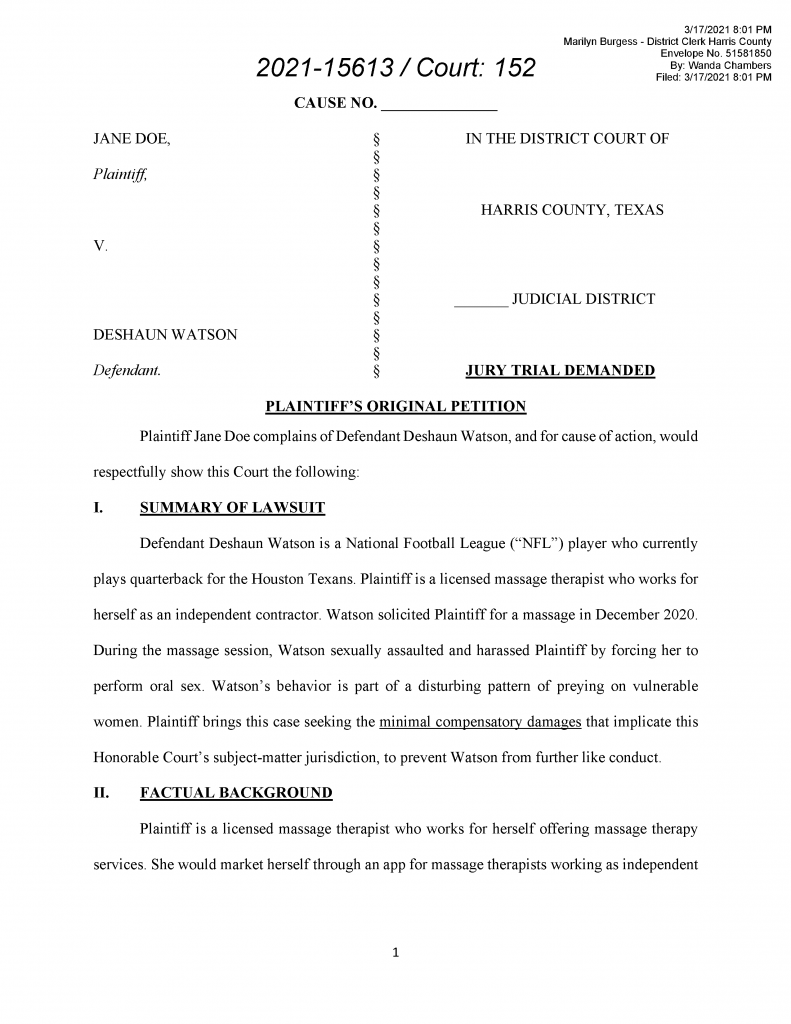 Just six months after inking this new deal, however, Watson soured on the Texans when they failed to consult with him about whom to hire as the next head coach of the team.  If this sounds insane, it is because it is insane.
Watson publicly demanded a trade and vowed that he would sit out the upcoming season and never play for the Texans again until they complied. The Texans stated that they had no intention of trading Watson, resulting in a two-month impasse that only ended when the sexual assault lawsuits were filed against Watson in March 2021.
As soon as the sexual assault allegations became public, the trade market for Watson evaporated. The civil lawsuits sparked a criminal investigation by Harris County and the NFL, which initiated its internal investigation of Watson. No team was willing to trade for a player who might be facing years in jail and a prolonged suspension by the league. The Texans ended up paying Watson his full salary to sit out the entire season.
Sexual Assault Civil Lawsuits Against Deshaun Watson
In March 2021, 22 women filed sexual assault civil lawsuits against Deshaun Watson in the District Court of Harris County, Texas. All 22 of the women are represented by the same lawyer and make very similar allegations of sexual misconduct and coercion in their complaints against Watson.
All 22 of the plaintiffs worked as independent private massage therapists and claim that Watson contacted them through social media to hire them for a massage session.
All sessions with Watson occurred between March 2020 and March 2021. All plaintiffs allege that during the massage session, Watson exposed himself and subjected them to unwanted sexual touching and/or coerced them into sexual conduct. Two of the 22 plaintiffs claim that Watson coerced or forced them to perform oral sex.
It is a decent time to point out how bizarre it would be to hire this many people for massages in one year. My point?  The Deshaun Watson allegations seem very credible.
Now, could a few of these women be, for lack of a better term, money grabbers?  Yes. These two things can both be true at the same time.
Deshaun Watson Allegations
The complaints filed against Watson assert claims for: (a) Civil Assault, and (b) Intentional Infliction of Emotional Distress, which was alleged to violate Texas Penal Code §§ 22.01(a)(1); 22.012; and 42.07.
In the two cases where the plaintiffs alleged that Watson forced them to perform oral sex, the complaints also include a third cause of action for Sexual Assault in violation of Texas Penal Code § 22.01(a)(3).
Almost every Deshaun Watson lawsuit involves an assault during a massage session in the Houston area, although a few of the incidents occurred in California and Arizona. The lawsuits were filed in Harris County, Texas (Houston) which is where Deshaun Watson lives.
Harris County Declines to Bring Criminal Charges
None of the 22 Watson accusers reported the alleged assaults to police when they first happened, however, 10 separate criminal complaints against Watson were eventually submitted to the police in Harris County, Texas (the jurisdiction where Houston is located). 8 of the criminal complaints were brought by plaintiffs in the civil lawsuits against Watson, but 2 of the criminal complainants were not participants in the lawsuit.
The Harris County police initiated an investigation into the incidents. That criminal investigation dragged out for almost a year. Eventually, the criminal investigation was brought before a grand jury to determine whether there was sufficient evidence to press charges. On March 11, 2022, the Harris County Grand Jury found that there was not sufficient evidence to pursue a criminal prosecution against Watson.
The following week, a second grand jury in a different jurisdiction also declined to pursue criminal charges against Watson, effectively ending the possibility that Watson will face any type of criminal penalty for his actions. But a civil suit is another matter.
Watson Traded to the Browns and Signs a $230 Million Contract
As soon as the grand jury in Harris County cleared Deshaun Watson of criminal charges stemming from the sexual misconduct allegations, the Houston Texans actively started shopping around for trade offers.
What followed was an intense bidding war in which at least 10 different NFL teams (including the Panthers, Saints, Commanders, Browns, and Eagles) made aggressive efforts to work out a trade for Watson.
The trade process was somewhat unusual, however, because Watson's contract with Texans contained a "no-trade" clause, which effectively gave Watson the power to pick which team he wanted to go to. All the potential bidders for Watson's services made comparable trade offers (including multiple first-round draft picks), which the Texans approved and then left it up to Watson which team to pick from.
At first, Watson rejected several potential teams (including the Browns) and seemed to be narrowing his choices down to either the Atlanta Falcons or the New Orleans Saints. But the Browns were desperate to move on from Baker Mayfield so they offered to give Watson a new, record-setting contract if he agreed to approve their trade. On Friday, March 18, news broke that Deshaun Watson had been traded to the Cleveland Browns.
As part of the trade deal, the Browns immediately signed Watson to a new 5-year $230,000 million contract which is 100% guaranteed (most NFL contracts are only guaranteed for the first 1 or 2 years). It is the largest fully guaranteed contract in NFL history and it includes a $47 million signing bonus.
Under the contract, Watson will earn an annual average payout of $46 million. However, in the first year of the contract, Watson's salary will only be $1.03 million. This will benefit Watson because he will likely be suspended by the NFL for at least half of the upcoming season.
The suspension is without pay, so by lowballing his first-year salary Watson, will not have to forfeit as much salary due to the suspension.  Will NFL commissioner Roger Goodell fall for such a blatant attempt to game the system?  Anyone following the NFL's handling of sex abuse allegations knows the answer.
Estimated Settlement Value of a Deshaun Watson Civil Lawsuit
With criminal charges and the Houston Texans in the rear-view window, the only cloud still hanging over Deshaun Watson as he starts his career in Cleveland will be the 22 civil lawsuits in Texas. Watson and his attorney have denied the allegations and insisted that there was no wrongdoing, but there is zero chance at this point that Watson will seek vindication by taking these cases to trial. The negative attention that would surround a trial would be cost-prohibitive.
Deshaun Watson needs to get the civil lawsuits resolved and behind him, if he wants to move on and get a fresh start with the Browns. Watson desperately needs to get the civil lawsuits settled and dismissed.
This has led to a lot of speculation about how much Watson will have to pay to settle all 22 of the civil lawsuits. Now that Watson has his new record-setting contract from the Browns, he has the financial "cap space" to get a settlement done.
This is speculation. But our lawyers think a reasonable estimate for how much Deshaun Watson had to pay out to settle the civil lawsuits is around $1.5 million to $2.5 million per plaintiff.  That would put the total price tag somewhere between $55 million and $35 million for all 22 plaintiffs.
This is the current "going rate" – depressing as it is to say – for the settlement of sexual abuse or assault lawsuits involving comparable allegations to those in the Watson civil lawsuits. For example, actor James Franco recently had to pay $2.2 million to settle sexual misconduct lawsuits by students at his acting school. UCLA, Ohio State, and the University of Michigan also recently settled lawsuits alleging unwanted sexual touching by former team doctors with an average payout of around $1-2 million per plaintiff.
The alleged assaults by Watson are arguably a level above the conduct at issue in the college cases and the case against James Franco, which gives them slightly higher potential settlement amounts in a Deshawn Watson civil suit with similar allegations.  The other factor driving up the price tag on the Watson cases is that everyone (including the plaintiffs and their lawyers) recognizes that Watson will likely – if he approaches this rationally – be desperate to settle these cases before he steps onto the field for the Browns sometime next season.
The one thing that might push the settlement price tag on these cases down, however, is that despite his new deal with the Browns, Watson probably can't afford to simply write a check for $50 or $30 million to make all 22 cases go away. Watson may be rich and famous, but he doesn't have the same resources as a major university like UCLA or Ohio State and there is no insurance coverage for the settlement will come directly out of his own pocket.
Watson's contract from the Browns includes a $47 million signing bonus, but it's not clear when that is payable and he obviously won't get to keep all of it after taxes. Moreover, Watson lost all of his endorsement contracts in the wake of the scandal so his only income now is from his contract.
Deshaun Watson Deposition Clips Leaked
As part of the normal discovery process in the 22 civil lawsuits currently pending against him in Texas, Deshaun Watson was required to give deposition testimony last month. Watson's defense lawyers in the civil cases fought to have his deposition postponed due to the criminal proceedings which were still ongoing. When that effort eventually failed, however, Watson had no choice but to allow lawyers for his accusers to depose him under oath.
Depositions of defendants in civil lawsuits serve a variety of purposes. They can be used as a powerful fact-finding tool, but they can also serve to lock a defendant into a version of events that can later be used against them if the case goes to trial.
In certain types of cases, deposing a defendant can also be a powerful way of breaking their resolve and motivate them to settle the case. Watson's deposition was probably more about motivating him to settle than it was about fact-finding.
Leaked Watson Depositions
Just a few days after two separate grand juries declined to move forward with criminal charges against Watson, the video of certain 5 minutes worth of clips from Watson's deposition testimony was leaked to a local news station in Cleveland. The deposition clips were promptly released by the new station and have been replayed by countless national news organizations across the country.
The selected clips were almost certainly leaked by lawyers for the 22 civil plaintiffs to make Watson look bad and turn public opinion against him (even more than it already is). We can make this assumption based on two facts. First, the plaintiff's lawyers took the deposition and would have been the only people with access to the video (other than the court reporter service). Second, the 10 minutes of released clips appear to be deliberately selected "lowlights" picked out of hours of testimony.
Watson Looks Terrible in Deposition
The bits of testimony captured in the released video clips certainly accomplish their goal of making Watson look completely dishonest.  Watson admits he did not tell his trainer or anyone at the Texans about his private massage sessions. He also admits that he found the women through social media and had no idea if they were licensed, certified, or trained massage therapists.
When asked to make more embarrassing admissions, however, Watson started getting significantly less forthcoming. When asked why he drove 30 minutes to have a massage at a woman's mother's house and had to bring his own towel, Watson answered "I'm not sure, sir."
Here is the best. When asked a simple question about whether he thought a masseuse was "attractive" (a subjective question he easily could have answered "no" to if he wanted), Watson said "I can't answer that . . . I have a girlfriend, so that wasn't my intention."
Finally, when the lawyer called him out on an obvious dishonest post on social media (an Instagram post claiming that he was in New York when he was actually outside of Houston getting one of his massages), Watson pled the 5th Amendment.
Contact Us About Sexual Abuse Lawsuits
If you have been the victim of sexual abuse or assault, call our lawyers today for a free consultation at 800-553-8082.