The FDA recently issues a public safety announcement warning that the Volara home car oxygen systems (manufactured by Baxter International, Inc.) can potentially malfunction and cause users to suffer acute oxygen deprivation and lung tissue damage. The product liability lawyers at Miller & Zois are currently evaluating new cases from individuals who suffered serious injuries as a result of a malfunction in their Volara home oxygen system.
About the Volara Home Oxygen System
The Volara is a home oxygen delivery system which is manufactured by Hillrom (now a subsidiary wholly owned by Baxter International, Inc.). The Volara administers oscillation and lung expansion (OLE) therapy at home. The device uses continuous positive expiratory pressure (CPEP) and continuous high frequency oscillation (CHFO) along with a unique aerosol delivery system.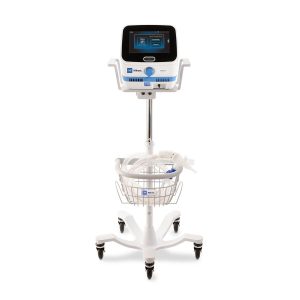 The CPEP and CHFO features provide OLE therapy for the prevention of pulmonary atelectasis. The aerosol delivery system simultaneously administers medication to help expand and keep the airways open. The Volara system is small and portable and is designed to be used at home.
Safety Announcement About Volara Home Oxygen Systems
On June 2, the Food and Drug Administration (FDA) and Baxter International, Inc. issued a public safety announcement warning users about a potentially dangerous problem with the Volara home oxygen systems. The safety announcement warned patients to immediately stop using their Volara systems if they started to suffer respiratory distress or other symptoms during usage.
The announcement about the potential safety hazard with the Volara was a precaution. The Volara devices are not being recalled, at least at this point. There has been at least one reported incident in which a Volara user suffered sudden oxygen desaturation as a result of the system malfunction.
Problem With the Volara
The issue with the Volara home oxygen system that prompted the safety announcement occurs when the device is used along with a ventilator. When the Volara is on the same line as a ventilator it has a tendency to cause acute overexpansion of the patients' lungs.
When this sudden overexpansion of the lungs and airways occurs, it can trigger a condition called rapid oxygen desaturation. Oxygen desaturation can cause a very dangerous drop in oxygen levels. This can result in symptoms of acute respiratory distress such as difficulty breathing, wheezing, gasping, bluish coloration in the face, and disorientation.  If this oxygen desaturation results in a sudden drop in oxygen levels occurs as a result of using the Volara system, it can potentially cause permanent damage to the user's lungs.
Sometime last month, Baxter International, inc. received an adverse event report about a patient who was using the Volara system suffering sudden oxygen desaturation. In response, Baxter issued a preliminary safety warning which advised all patients of the potential issue and cautioned them to stop using the Volara immediately if they develop symptoms of respiratory distress. This was then followed by the FDA's own public safety announcement.
Which Volara Systems are Covered By the Warning?
The safety warnings from Baxter and the FDA relate to almost the entire line of Volara oxygen system devices. This includes Volara system devices with model numbers PVL1HCBA, M08594, and M08594A, all of which include the in-line ventilatory adaptor. It also covers the Volara Optimus Handset 2 and the M07937 Module. The Volara Patient Circuit Kit is also included.
Baxter has indicated that is will be publishing revised operating instruction manuals for all Volara home oxygen systems. These revised user manuals will help ensure proper usage of the device and eliminate the risk of oxygen desaturation. Baxter has also indicated that it will be contacting individual patients to offer in-home training on how to properly use the Volara device to avoid the risk of this complication.
In the meantime, users with questions or concerns are advised to contact Hillrom's customer support line at 800-426-4224 or Baxter's product surveillance team at 800-437-5176.
Contact a Medical Device Lawyer
If you suffered oxygen desaturation resulting in serious injury as a result of a malfunction in a Volara home oxygen system, you may be entitled to financial compensation. Our product liability lawyers are currently evaluating Volara home oxygen system injury cases. Contact us today at 800-553-8082 for a free consultation.