Adam DiSarro sued five companies – EzriCare LLC, EzriRx LLC, Delsam Pharma LLC, Aru Pharma Inc., and Amazon.com Inc. – last week for causing an awful infection that led to blindness.  This eye drop lawsuit was filed in the United States District Court in Florida (case number 2:23-CV-120).
Mr. DiSarro was a firefighter and first responder in Naples, Florida. He was diagnosed with a type of bacteria in his left eye called  Pseudomonas aeruginosa.  This awful bacteria is know to be resistant to antibiotics so the medication he took did not help.  He had to undergo intense medical treatment and was confined to his bed for several days. Eventually, he was able to get rid of the bacteria, but he still suffered from long-term effects, including disfigurement of his left eye, headaches, dizziness, and blindness in his left eye.
This EzriCare Lawsuit
The companies he is suing are responsible for making and selling artificial tears that were contaminated with the bacteria. This contamination caused a multi-state outbreak of eye infections and at least one person has died from it. The companies violated good manufacturing practices, which is why the FDA recommended a recall of the products.
Mr. DiSaro will probably need more medical treatment in the future, including a cornea replacement surgery. He is suffering from emotional distress and is seeking compensation for his damages.
The lawsuit filed by the Plaintiff against the Defendants is based on four counts: Count I – Strict Product Liability, Count II – Negligence, Count III – Negligence Per Se, and Count IV – Florida's Deceptive and Unfair Trade Practices Act.
Strict Liability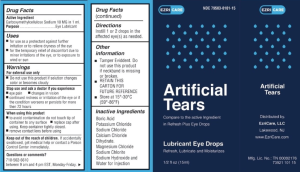 In Count I, Plaintiff alleges that Defendants are in the business of manufacturing, selling, and distributing artificial tears and that the product Plaintiff used was contaminated with the harmful and deadly bacteria known as Pseudomonas aeruginosa. The Plaintiff claims that the product was defective and unreasonably dangerous, causing him significant injuries and that the Defendants are strictly liable for the harm caused.
Negligence
In Count II, the Plaintiff claims that the Defendants owed a duty to the public to design, manufacture, and sell products that were free from unreasonable risk of harm and that they were negligent in doing so. The Plaintiff also claims that the Defendants failed to properly supervise and monitor their employees, failed to comply with health and safety regulations, and failed to exercise reasonable care in the preparation and sale of the product, causing him injury.
Negligence Per Se
In Count III, the Plaintiff claims that the Defendants were negligent per se because they failed to comply with applicable state and federal regulations intended to ensure the purity and safety of their products. The Plaintiff alleges that the violations of these regulations constituted negligence per se and that he was in the class of persons intended to be protected by these regulations.
Unfair Trade Practices
In Count IV, the Plaintiff claims that the Defendants engaged in deceptive and unfair trade practices by knowingly distributing and selling contaminated artificial tears products and that their actions were a direct and proximate cause of the Plaintiff's harm and damage.
The Plaintiff prays for judgment against the Defendants, including past and future economic and non-economic damages, costs, attorney's fees, pre- and post-judgment interest, and punitive damages.
EzriCare and Other Eye Drops Recalls
The FDA has recalled three brands of eye drops, including one that has been linked to severe infections, vision loss, and even death:
EzriCare Artificial Tears Lubricant Eye Drops: This product has been linked to severe eye infections and should be discarded. The over-the-counter product was associated with severe eye infections in 55 patients, including one death, caused by a drug-resistant bacteria called Pseudomonas aeruginosa. The FDA issued a warning against using EzriCare Artificial Tears on February 2 due to potential bacterial contamination.  As of March 14, 2023, the CDC, in collaboration with state and local health departments, has reported 68 patients across 16 states in the United States who have been diagnosed with VIM-GES-CRPA, a rare and extensively drug-resistant strain of Pseudomonas aeruginosa. These 16 states are California, Colorado, Connecticut, Florida, Illinois, North Carolina, New Jersey, New Mexico, New York, Nevada, Pennsylvania, South Dakota, Texas, Utah, Washington, and Wisconsin.
Brimonidine Tartrate Ophthalmic Solution, 0.15%: Apotex Corp. initiated a voluntary recall for six lots of this product on March 1 due to cracks in the caps. The prescription drops are used for patients with open-angle glaucoma or ocular hypertension and no infections have been associated with the product.
Global Pharma Healthcare Artificial Eye Ointment due to possible bacterial contamination, but no infections have been associated with this over-the-counter product.
Purely Soothing 15% MSM Drops: Pharmedica USA voluntarily recalled two lots of this over-the-counter product on March 3 due to non-sterility. No illness or infection has been reported related to the product.
Symptoms of eye infections may include redness, itching, swelling, discharge, pain, sensitivity to light, or problems with vision. If you have taken these eye drops and have any problem you think could be sign of an eye infection, you should see your doctor immediately.
What Is Pseudomonas Aeruginosa?
Pseudomonas aeruginosa is a type of bacteria that is commonly found in the environment, such as in soil and water.  This is why it spreads so well with eye drops, it thrives in a wet environment.  It can spread to people who are in healthcare settings through contaminated surfaces, hands, and equipment. People who have weakened immune systems, such as those who are in the hospital, are at higher risk for serious infections from this bacteria.
Pseudomonas aeruginosa has developed resistance to multiple antibiotics over time. Antibiotic resistance occurs when bacteria change in a way that makes them no longer susceptible to the drugs designed to kill them. This can happen through the acquisition of resistance genes, which allow the bacteria to resist the effects of antibiotics, or through mutations in their DNA that make them less susceptible to the drugs.
What Is VIM-GES-CRPA?
VIM-GES-CRPA is an extensively drug-resistant strain of Pseudomonas aeruginosa, a type of bacteria that is commonly found in the environment, such as soil and water. This is the strain of Pseudomonas aeruginosa found in EzriCare's artificial tears.
VIM is found all over the world. In the U.S., about 200 cases of VIM-CRPA were found among 15,000 different samples tested during the years of 2017 to 2018. So this strain is considered rare.
But VIM can be a serious problem in healthcare settings, where outbreaks of this highly antibiotic-resistant "superbug" have become increasingly common in recent years.
VIM-GES-CRPA has been identified as a cause of healthcare-associated infections, including bloodstream infections, pneumonia, surgical site infections, and urinary tract infections. In some cases, this strain of bacteria can be life-threatening, especially for individuals with weakened immune systems.
Getting a Lawyer to Fight for You
If you have suffered an injury from EzriCare eye drops or other artificial tears, you may have a compensation claim. You can reach us at 800-883-8082 or get a free online consultation.  You pay nothing for attorneys' fees or costs unless you get a settlement amount or jury payout.