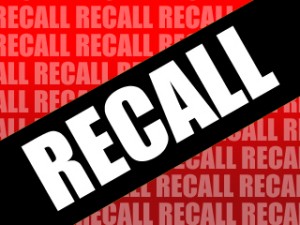 The U.S. Consumer Product Safety Commission (CPSC) and Ballard Designs have issued an immediate recall of "Stafford" step stools. It has been reported that the plastic tabs on the feet of the step stools can cause the stools to be unstable, posing a fall hazard. To date, there have been two reports of falls, with minor injuries.
This recall affects the "Stafford" step stools, ones that are made of wood and painted black or white. The stools, made in China, have a "Ballard Designs" sticker on the bottom. Also printed on the underside bottom of the step stools is one of the following five numbers:
100097963
100099019
100097230
100100584
100102942
All recalled stools also have four plastic tabs affixed to the feet of the step stool. Consumers should immediately remove the four plastic tabs from the feet of their step stools.
A few months ago, we told you of two recalls, affecting almost 550,000 step stools. These stools, while sold in Target stores, were made in China as well. This recall affects approximately 2,500 stools, the last, over 550,000. That's a WHOLE LOT of stools that can't be stood on which, arguably, is the purpose of a stool in the first place.