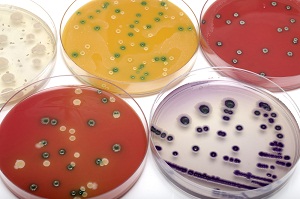 Concerns with produce containing Listeria monocytogenes have plagued the nation since August, as affected cantaloupes have been reported to have caused at least 72 illnesses, including up to 16 deaths. This has made it the deadliest food outbreak in the United States in more than a decade. Today, we add Romaine lettuce to the list of concerns.
True Leaf Farms is voluntarily recalling 2,498 cartons of chopped romaine because of the potential of contamination with Listeria. The recalled product was shipped between September 12th and 13th, to wholesale food service distributors in 19 states and Alberta, Canada. The states include Alaska, Alabama, Arizona, California, Colorado, Connecticut, Florida, Illinois, Kentucky, Maryland, Minnesota, Missouri, Nevada, New York, Ohio, Oregon, Pennsylvania, Tennessee and Vermont. The romaine affected by this recall has a "use by date" of 9/29/11, and is labeled with the bag and box code B256-46438-8.
Further produce recalls include Andrew Williamson Fresh Produce who is voluntarily recalling one lot of organic grape tomatoes. This time, the possible health risk is from Salmonella. The affected produce is that which is sold under the Limited Edition® and Fresh & Easy labels. The recalled organic grape tomatoes are packaged as follows:
10.5 oz. plastic "clam shell" containers, UPC barcode: 033383655925
7 oz. plastic "clam shell" containers, UPC barcode: 20025465
The containers also have the words, "LIMITED EDITION" and "Product of Mexico" printed on the label.
While the recall originally only applied to Canada and eighteen states within the U.S., the scope of the recall has now expanded to all states in the U.S. (and continues to include Canada), as the company recognized some customers may have distributed the organic grape tomatoes beyond the original recalled areas.