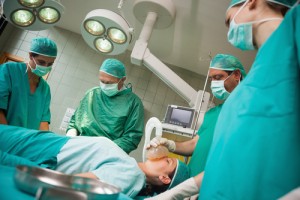 The Da Vinci Robotic Surgery System has had its fair share of the limelight lately, and we have told you a whole lot about it. In summary, we have a very cool new product to help surgeons. But it has had more than its fair share of problems on the path to becoming a game changing medical advance.
The U.S. Food and Drug Administration (FDA) has recently approved a new robotic surgery for certain gynecological procedures. The oophorectomy, removal of an ovary, is only the second FDA approved, robotic single-site gynecological surgery, with the first being a hysterectomy.
The procedure is performed through a one inch hole in the belly button and takes about an hour. In most circumstances a patient can go home that day or the next, and back to work in a week or two.
Whether or not this newly approved surgery will be as problematic as others we have seen before remains to be seen. It can be a great system in the right hands, which all too often seems not to be the case.
I'm not a betting man, but if you held my feet to the fire on this one, I'd be willing to bet that the approval of this new surgery will only bring about a whole new onslaught of problems. Unless the problems that have plagued this new medical device are being cleaned up at a rapid pace.
If you believe that you have been injured during a da Vinci robotic surgery, we can help you. Call us toll-free at 1.800.553.8083.
da Vinci Robotic Surgical Claims (okay, we beat the drum a little on this… big overview here)