The Arthrex iBalance Total Knee Arthroplasty (TKA) is an implant device that assists surgeons with performing total knee replacements in patients suffering cartilage loss from osteoarthritis or post-traumatic arthritis. Arthrex markets this product as an improved and longer-lasting alternative to traditional total knee replacement devices. They claim it is a "complete, minimally invasive instrument." Traditional devices need their metal plates and screws replaced, which necessitates further surgery. Arthrex intended this device to reduce the likelihood for further surgeries. By reducing this likelihood, the iBalance TKA is meant to be convenient and less expensive than its competitors.
The iBalance TKA System comes with a pamphlet providing detailed instructions and several tools to assist with knee replacement surgery. Arthrex intended this device to match the normal knee's curvature, to ensure that the knee bends naturally. Its parts are made of metal and polyethylene plastic.
Knee replacement surgery
Knee replacement surgery, also known as knee arthroplasty, intends to alleviate pain and help with. A total knee replacement involves replacing the entire knee with an artificial joint, while a partial knee replacement involves replacing only one specific part of the knee.
Knee replacements are a fairly common surgical procedure. Approximately 4 million Americans live with a total knee replacement. Why are they common? It is because most of the body's weight is put on it. As a result, knees are prone to injury, trauma, and wear. Physical activity, especially sports, increases this likelihood. Wear can develop into osteoarthritis, which is the most prevalent joint disorder in the United States. It affects about 10% of men and 13% of women over the age of 60. With increasing life expectancies, knee replacements will become increasingly common as many elderly individuals will experience wear to their knees.
The surgical procedure begins with administrating either a general or regional anesthesia. The surgeon then makes an 8 to 10 inch cut over the knee. Once the knee is open, the surgeon moves the kneecap and cuts the thigh and shin bones' ends to ensure a proper fit for the prosthetic. Next, the surgeon cuts the kneecap's underside, in preparation for attaching new pieces there. Then, they fasten one of the device's parts to the thigh bone's end and the other to the shin bone. Either bone cement or screws are used to attach these two parts. After, they attach the kneecap's underside using special bone cement. Once that is done, the surgeon repairs muscles and tendons around the part, then closes the cut. This procedure usually takes about 2 hours. Recovery takes several weeks.
Recall of iBalance TKA
 Around December 2015, Arthrex issued a recall of over 2,300 units. Their reason for the recall was that the device's outer surface's smooth texture, which contrasts with the rough textures of previous knee replacement models. A smooth texture can cause difficulties regarding the device's adhesion to the bone.
Some of the iBalance TKA's adverse effects include:
Loosened tibial tray
Dislocated knee
Inflammation
Excruciating pain
Muscle or bone damage
Swelling
Implant position change
These adverse effects necessitate revision surgery, which has a higher infection risk than the initial implant surgery. This defeats the iBalance TKA's purpose, which was to reduce the chances of further surgery. The product may cause more inconveniences and expenses than it was meant to reduce.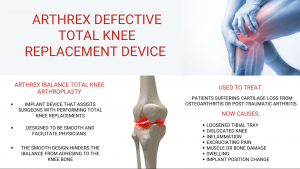 Lawsuit filed in the U.S. District Court of Arkansas
Around February 2019, an Arkansas woman filed a lawsuit in the U.S. District Court against Arthrex. Her surgeon implanted the iBalance TKA in her left knee around November 2015, one month before the recall. Following the procedure, she experienced recurring pain, swelling, and numbness in that same knee. Six months later, her surgeon performed a surgical removal of the device. During this procedure, he identified a significantly loose tibial tray. The lawsuit alleges that this part was the cause of the woman's pain, swelling, and numbness. It also alleges that the woman had no knowledge of the recall until after this procedure. The lawsuit claims that Arthrex should have reasonably known about the defect.
Arthrex intended the iBalance TKA to make life easier for both physicians and patients. It was designed to decrease the likelihood for further surgery. Instead, this product appears to increase it. By utilizing a smooth texture, the product is at high-risk for adverse effects. These effects necessitate revision surgery. As a result, this product fails to fulfill its intended purpose. If you think you may have a claim, let me know.